Cheap car hire at Chamartin Madrid Train Station
Book on our web instead of comparison websites
Avoid insurance surprises sold by third parties

No additional charges, final price guaranteed

No deposit, no excess option
Our customers trust the quality of our service provided
Currently of 374 reviews received from our customers, 82.0% said they were satisfied with the service provided during their car hire
Latest user reviews on service provided by Centauro Rent a Car
Review of Tulasi Prasanth about our office at Madrid - Chamartín Powered by Google™
I rented the car for couple of days there was no hassles while picking up or dropping off. Car is fully cleaned and well maintained. People are quite generos our there.
Review of Antonio Balta about our office at Madrid - Chamartín Powered by Google™
Wonderful.
Review of Pratik about our office at Madrid - Chamartín Powered by Google™
Very good customer service. I had rented twice with them and both time I was satisfied with their service at chamartin office. Their staff also speaks English. My fuel deposit was immediately refunded when I returned the car with full tank.
Review of Laura Martinez about our office at Madrid - Chamartín Powered by Google™
Wonderful experience renting by Centauro. We won't hesitate to book again and ask for Ana. She was fantastic from the beginning till the end of our trip.
Previous
Next
How to locate the Centauro Rent a Car car hire office at Madrid Chamartín
If you have a mobile with connection to internet, the best option is to use Google maps to give you direct instructions from your location.
However, on this page you can download a map with instructions for collection and return of your Hire car.
Opening hours and contact
---
From Monday to Friday from 07:00 to 22:00.From Saturday to Sunday from 07:00 to 21:00.34966360360
Address
---
Calle de la Hiedra 26, Planta -1 Parking EMT Nuestra Señora del Recuerdo
Madrid, Madrid, 28036
Latitude: 40,47235
Longitude: 3,67903
Maps & instructions for collection and return
---
When you arrive at Madrid Chamartin, go to the Centauro Rent a Car office located outside the station. Leave the station by the Pío XII exit, and once you are outside, turn left and continue to the end of the walkway. Next go down the escalator. Keep walking until you reach the pedestrian crosswalk to cross to the other side. Turn right and continue straight ahead until you find the parking lot of Centauro Rent a Car. Our office is located on floor -1.
General information and further assistance from the Centauro Rent a Car car hire office at Madrid Chamartín
Road assistance for breakdowns or accidentsPhone number: (+34) 966 365 365
For reclaims or queries
If you have any reclaims or queries we recommend you visit the section "Help" on our website where you can find answers to many frequently asked questions.
To make a new booking or to check availability
By using our website you will always find the best price on offer and you will know instantly if the vehicle type that you require is available for the dates selected.
To view your account, change a booking, view your invoices & contracts
Access your account and you can find a selection of icons to allow you to modify your details, change a Booking or view your invoices and past contracts.
Information about Centauro Rent a Car car hire company at Madrid Chamartín
If you hire a car from Centauro Rent a Car at Madrid's Chamartin train station, you will enjoy the security and reliability of a fleet of rental cars that is renewed year after year. Plus, you can add to your reservation any extra service you may need in a rental car, additional drivers,  GPS, full coverage with no deductible, approved children's seats, etc...…
Your rental car is waiting for you at Madrid Chamartin Station!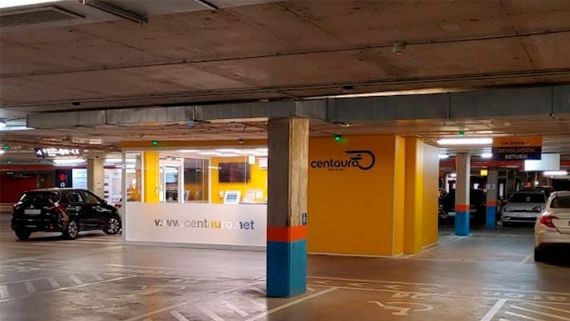 Car hire types available at Madrid Chamartín
At Centauro Rent a Car we offer a wide selection of cars available to hire at Madrid Chamartín which is renewed yearly.
Our range of cars at Madrid Chamartín includes economical, family, convertibles, automatics, vans, minibuses…
What to see, do and visit in Madrid Chamartin  and the surrounding area with your rental car
Madrid Chamartin train station
Madrid-Chamartin train station is one of the most important stations in the Spanish capital, and just as its name indicates, it is located in the Chamartin district, in the north of Madrid. It is important because it centralizes the rail connectionswith the northwest quadrant of the peninsula, from Salamanca to Irún. It also features connections with Spain's relevant train stations, such as Barcelona Sants, Seville Santa Justa or Valencia Joaquín Sorolla. It is worth noting moreover that it is in the very center of Madrid and connects the different parts of the city, such as Atocha or the airport by metro, train and bus, and hence it is easy to reach any point in the metropolis from here. 
Car hire at Madrid's Chamartin train Station
One of the best ways to discover the city is with a rental car from Madrid  Chamartin Station, taking atour in car, since it enables you to visit the sites that you prefer freely, without depending on public transportation. There are many options for renting vehicles so that you can tour by car and get around as you wish. You can even visit nearby towns or interesting natural sites and enjoy the car ride with your travel companions. 

Discover Madrid with your rental car
The Spanish capital is full of places to visit with your rental car. Monuments, streets, museums, squares… It is one of Spain's loveliest and most perfect cities, and it is surely worth your while to get to know it well so as to appreciate fully the charm and magic of each of its special spots. At the same time it is a place where you can enjoy excellent Spanish cuisine and an unparalleled ambience, either on a business trip or renting a car as a couple or with your family or friends. 
What to see in Madrid
Madrid is a boundless city with thousands of possibilities, both by day and at night, where you can discover the versatility of Spain's culture. Take note of some of the places you won't want to miss that we recommend you visit with your rental car in Madrid Chamartin: 
Puerta del Sol: This square is one of the capital's indispensable sites, and also one of the most popular with visitors; it is a place where you will always find people and things to do. You will find there three iconic emblems of Madrid: At kilometer zero, the figure of the Bear and the Strawberry Tree, the place where Spaniards celebrate the chimes of New Year's Eve each year.
El Prado Museum. This is one of the major museums in Spain and in the entire world, since it features one of the most extraordinary art collections including works by artists such as Velázquez, Goya, Rubens or Hieronymous Bosch. Essential for art lovers. 
Gran Vía. This is Madrid's most famous street, packed with countless entertainment options: shops, restaurants, theaters, national and international chains, etc. It is an avenue where Madrid comes to life and where you will always discover new ideas for enjoying yourself with your rental car. Don't miss it!

Reina Sofía Museum: Together with El Prado and the Thyssen, this is one of Madrid's and of Spain's most important attractions, especially because Picasso's famous Guernica is waiting for you inside, together with many other contemporary Spanish artworks. 
El Retiro: This large-scale historical garden is full of green areas, statues and lovely trees that provide the city with a breath of fresh air. Here you will be able to enjoy sports in the fresh air, take a rest on your trip and enjoy a picnic or even a romantic boat ride on its lake. Don't miss the gorgeous Palacio de Cristal, one of its most captivating attractions. 
Plaza Mayor. Located very near Puerta del Sol, this is Madrid's main square, where you will enjoy the fantastic atmosphere, as well as many entertainment and fine dining options.
El Palacio Real. One of Madrid's most elegant and captivating buildings, surrounded by gorgeous gardens, with exquisite and luxurious interiors, it is a visit that you won't be able to pass up. It was the residence of the King and Queen of Spain until they moved to Zarzuela Palace. 
Car tour around Madrid
Enjoy your car hire in Madrid Chamartin by taking a historic tour through the city, and seize the opportunity to make an excursion only one hour outside of Madrid, where you can enjoy towns like Aranjuez, Alcalá de Henares, Toledo, Ocaña or Segovia and discover these splendid cities. 
If you are a nature-lover, we recommend that you take a tour by car of natural destinations near Madrid. Don't miss nature sites such as La Pedriza, Las Hoces del Río Duratón Natural Park or Hayedo Forest or visit the Finnish forest of Rascafría, the Santillana Reservoir or Sierra del Rincón, real gems of the natural world that you might not even imagine were so close to the Spanish capital. 

Fine dining in Madrid
Are you ready to discover authentic Spanish cuisine? Since Madrid is the capital of Spain, it is the ideal setting to sample thefinest culinary specialties of Spanish cuisine. 
But if there is one thing that you can't miss on your visit to Madrid, it is the opportunity to sample its "tapas" at one of its bars or restaurants. Would you like a suggestion? A sandwich of squid with mayonnaise, a Spanish potato omelet or a stew typical of Madrid are some of the best tasting options in the capital. 

Climate in Madrid:
If you are going to visit Madrid, we suggest that you take into account the season of the year in which you are going to travel. Minimum temperatures in the winter are usually as low as 5º, and the summer is usually very hot, with maximum temperatures of 33º. The average temperature usually fluctuates between 10º and 20º. If you travel to Madrid in the Fall or Spring remember to take a raincoat, since there is often light precipitation.
Related posts
Parking for free in Madrid can seem like an odyssey. We're letting you in on the best-kept secrets to navigate the capital by car and not die trying.