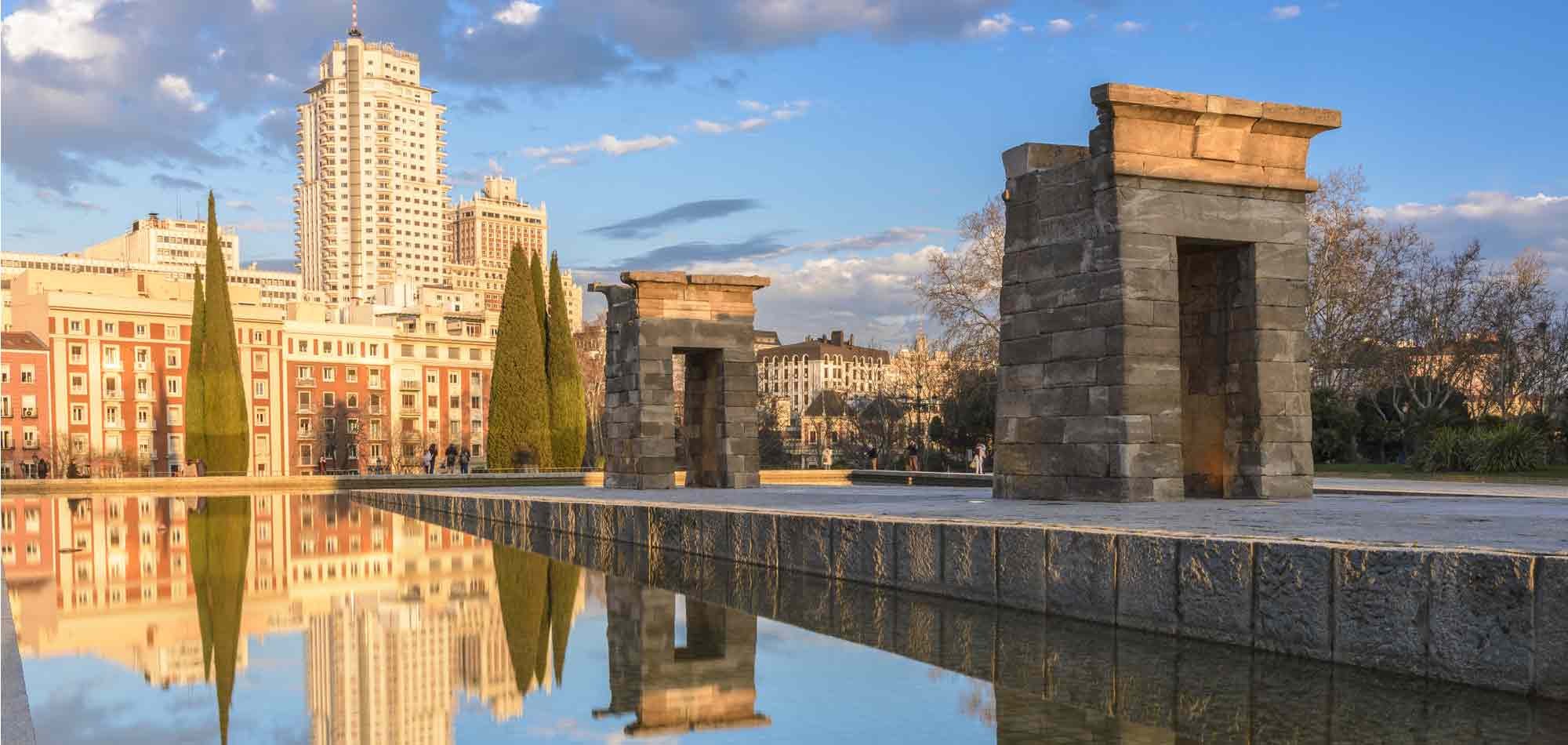 Car hire in Madrid, Plaza de España
Centauro Smartkey collection office in the Plaza de España car park.
In this office, we only offer the unattended office service with Smartkey connected car. Pick up your car on level -1 of the Plaza de España car park, with just your mobile phone. There is no need to go to the counter.

Book on our web instead of comparison websites
Avoid insurance surprises sold by third parties

No additional charges, final price guaranteed

No deposit, no excess option
Our customers trust the quality of our service provided
Currently of 5 reviews received from our customers, 100% said they were satisfied with the service provided during their car hire
Latest user reviews on service provided by Centauro Rent a Car
Review of Simas Ulevičius about our office at Pisa Airport Powered by Google™
Car was good, new and clean, service was perfect, pickup and return were easy and smooth. Would recommend this company for anybody who needs good service. Price is not the lowest in the market but you get what you are paying for. 10/10.
Review of Márk Erdős about our office at Madeira Airport -Funchal Powered by Google™
Everything went good, they are friendly, I waited at the airport max 2 minutes :) I received a car that matches the description. Returning was also fast and perfect. If you go to Madeira, I really recommend you to rent a car.
Review of Adrian Cardona about our office at Thessaloniki Airport Powered by Google™
Our flight was heavily delayed due to a diversion. The Centauro office personnel were very helpful and friendly when we explained the issue, we were even given a car upgrade. Car was very clean and worked perfectly fine. Pick up and drop off were simple and efficient. Excellent service as always from Centauro
Review of Adam Kňaze about our office at Milan Airport Malpensa Powered by Google™
Great price, fair and transparent conditions, quick service, doesn't require credit card, helpful staff, new and clean cars. On pick-up they didn't have a car available from the class we booked originally, so they upgraded us free of charge to higher class. Can highly recommend.
Review of Constantine Poltyrev about our office at Rome Airport Fiumicino Powered by Google™
We recently rented a compact car from Centauro for a two-week period and had a thoroughly positive experience. Unlike our experiences with other companies, there were no surprise fees, and the usual meticulous inspection for minor scratches (of which we made none) was refreshingly absent. The process of handling paperwork was swift and straightforward, with every aspect of the rental agreement being clearly and thoroughly explained. Additionally, the car was in good condition, contributing to a hassle-free rental experience. We would recommend Centauro to everyone seeking a reliable and straightforward car rental service, as our experience was nothing short of excellent.
Previous
Next
How to locate the Centauro Rent a Car car hire office at Madrid Plaza de España
If you have a mobile with connection to internet, the best option is to use Google maps to give you direct instructions from your location.
However, on this page you can download a map with instructions for collection and return of your Hire car.
Opening hours and contact
---
From Monday to Sunday from 08:00 to 20:00.+34966360360
Address
---
Parking EMT, Plaza de España S/N, planta -1
Madrid, Madrid, 28008
Latitude: 40.423516
Longitude: -3.711859
Maps & instructions for collection and return
---
Go directly to the parking located underneath the 'Plaza de España'. The Centauro Smartkey parking spaces are located on level -1 which you can access from any of the 4 pedestrian entrances located on streets 'Calle Princesa', 'Gran Vía & 'Cuesta de San Vicente' & 'Plaza de España'. Once at the Smartkey pick up & drop off area, access your customer area on your mobile and follow the instructions given to open your car.
At the end of your rental, you can leave your car at the same parking area using the access points from streets 'Calle Princesa', 'Gran Vía & 'Cuesta de San Vicente'
Before leaving the parking area, make sure that your leave the key inside the car and close the doors. Start the return process following the instructions given on your Centauro customer area on our website.
General information and further assistance from the Centauro Rent a Car car hire office at Madrid Plaza de España
Road assistance for breakdowns or accidentsPhone number: (+34) 966 365 365
For reclaims or queries
If you have any reclaims or queries we recommend you visit the section "Help" on our website where you can find answers to many frequently asked questions.
To make a new booking or to check availability
By using our website you will always find the best price on offer and you will know instantly if the vehicle type that you require is available for the dates selected.
To view your account, change a booking, view your invoices & contracts
Access your account and you can find a selection of icons to allow you to modify your details, change a Booking or view your invoices and past contracts.
Information about Centauro Rent a Car car hire company at Madrid Plaza de España
The Centauro SmartKey space in the Plaza de España car park is a pick-up and drop-off point for vehicles. Centauro is once again shaking up the car rental service with an unattended space where you pick up and drop off your car in a matter of minutes.
Renting a Centauro connected car in Plaza de España (Madrid) with the SmartKey express pick-up service is a very convenient option to get a vehicle quickly, without having to go to the counter. It's really easy. You book from our website and go directly to our car park to pick up your car. All you need is your mobile phone to unlock it and get going.
What to see, do and visit in Plaza de España and around Madrid with your rental car.
There are many reasons to rent a car at Plaza de España with SmartKey. As many as there are types of people and needs. Whether you need it for your everyday life, for work, in your free time, for sightseeing, or for a getaway with your family or friends, with Smartkey, you can rent your car 100% online and pick up your vehicle without having to queue at an office counter.
Centauro connected Smartkey car, the perfect urban mobility option for Madrid Central
Mobility in large cities such as Madrid is one of the great challenges to be faced in the 21st century when it comes to urban planning and environmental quality. Traffic limitations in urban areas lead to the development of more efficient transport formulas, which in turn adapt to people's needs.
This is the primary motivation behind SmartKey, a leap forward in urban mobility, which lets you rent a car without having to show up at an office to sign the contract. A car rental that adapts to you.

Pick up your SmartKey connected car at the Plaza de España car park.
The Plaza de España is one of Madrid's nerve centres. Its proximity to important parts of the city makes it a regular transit point, whether you live or work in Madrid or are just passing through.
From Plaza de España it is easy to reach anywhere in Madrid city centre, take in the majesty of the Royal Palace, enjoy a musical on Gran Vía, watch the sunset from the Temple of Debod, go on a shopping spree in Puerta del Sol, check out the flea market in the Lavapiés neighbourhood, take a stroll and enjoy the Barrio de las Letras...

With your Centauro car you can then easily get to wherever you need to go. Whether to any suburban city such as Leganés, Pinto, Majadahonda, or anywhere else you want to go to.
Journeys by car from Plaza de España in Madrid
There are many points of interest in Madrid that can be reached from Plaza de España in your Centauro connected car. Not far away is Casa de Campo, one of Madrid's green lungs, which houses the Parque de Atracciones and the Zoo. You can also check out the spectacular Madrid Río park, a space that has been reclaimed in recent years which runs alongside the Manzanares River with lots of green areas, swings for children, and play and leisure areas for the elderly.
Getting out of the city can also be an adventure that takes you to amazing places. Toledo is less than an hour's drive from Plaza de España and is one of Spain's most beautiful cities. Aranjuez is another place you can quickly reach with your Centauro car. What are you waiting for? Book your Centauro SmartKey now?