Car hire in Leganés Madrid
Book on our web instead of comparison websites
Avoid insurance surprises sold by third parties

No additional charges, final price guaranteed

No deposit, no excess option
Our customers trust the quality of our service provided
Currently of 390 reviews received from our customers, 86.0% said they were satisfied with the service provided during their car hire
Latest user reviews on service provided by Centauro Rent a Car
Review of Garreth Nunn about our office at Madrid - Leganes Powered by Google™
My insurance gives me a substitute car if my car needs to go into the garage and last week I needed to use that service. The first time I have ever used Centauro and the experience was great. Attended by an extremely nice gentleman in reception, who explained everything perfectly. The car was perfect and extremely clean and it was brand new. Brought it back and it was the same. Great service, everything clearly explained and no problems at all. Recommend them highly
Review of Jonatan Ramos Rubio about our office at Madrid - Leganes Powered by Google™
Excellent when explaining everything to me, incredible cleaning of the van, speed in signing all the papers ... recommended 200%
Review of Isaac Romero about our office at Madrid - Leganes Powered by Google™
Quick, they even gave me a better car than I had rented, they are also quick to return the deposit for fuel, impeccable cars inside and out
Review of Danieldf88 COD about our office at Madrid - Leganes Powered by Google™
I have had for 10 days a replacement vehicle paid by mutual Madrileña in this branch. The person who attended me was very nice, and answered my doubts. The car provided by this branch well, a Nissan juke automatic and gasoline (small engine and high consumption). But all very well, to put something but it would be that what is the office is very small and is a bit hot, but otherwise everything is great.
Previous
Next
How to locate the Centauro Rent a Car car hire office at Madrid Leganes
If you have a mobile with connection to internet, the best option is to use Google maps to give you direct instructions from your location.
However, on this page you can download a map with instructions for collection and return of your Hire car.
Opening hours and contact
---
From Monday to Friday from 09:00 to 19:00.Saturday from 09:00 to 14:00.+34966360360
Address
---
Av. Carlos Sainz, 7
Leganés , Madrid, 28914
Latitude: 40.318789
Longitude: -3.762000
General information and further assistance from the Centauro Rent a Car car hire office at Madrid Leganes
Road assistance for breakdowns or accidentsPhone number: (+34) 966 365 365
For reclaims or queries
If you have any reclaims or queries we recommend you visit the section "Help" on our website where you can find answers to many frequently asked questions.
To make a new booking or to check availability
By using our website you will always find the best price on offer and you will know instantly if the vehicle type that you require is available for the dates selected.
To view your account, change a booking, view your invoices & contracts
Access your account and you can find a selection of icons to allow you to modify your details, change a Booking or view your invoices and past contracts.
Information about Centauro Rent a Car car hire company at Madrid Leganes
You will enjoy the security and reliability of a fleet of rental cars that is renewed year after year. Plus, you can add to your reservation any extra service you may need in a rental car, additional drivers,  GPS, full coverage with no deductible, approved children's seats, etc...…
Your rental car is waiting for you at Leganes Madrid!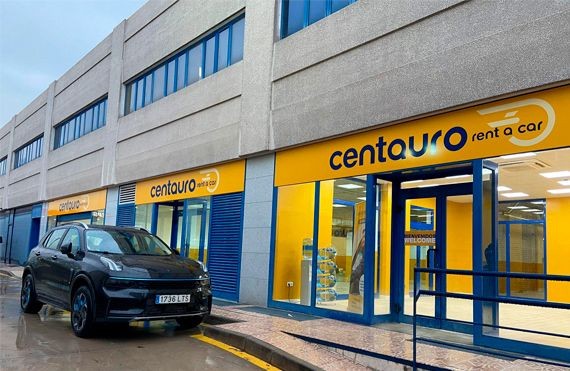 Car hire types available at Madrid Leganes
At Centauro Rent a Car we offer a wide selection of cars available to hire at Madrid Leganes which is renewed yearly.
Our range of cars at Madrid Leganes includes economical, family, convertibles, automatics, vans, minibuses…
Car hire in Leganes Madrid
Renting a car in Leganes Madrid is the best option for travelers who want to rent their vehicle in the south of Madrid, in order to move around the city comfortably.  In addition, you can choose to rent your car at the Adolfo Suárez Madrid-Barajas Airport, located only 12 kilometers from the center of the capital, with direct connections to Spain's main cities, such as Barcelona o Seville as well as the main cities of other European countries such as Italy, Greece or Portugal. 
If you prefer to travel by train to Madrid from Seville or Barcelona, you may prefer to rent your car at the main AVE stations of Chamartín and Atocha. Rent your car in Leganes Madrid and get ready to discover the most authentic side of Madrid and its surroundings, its landscapes, its traditions and its most singular villages. Renting your car in Leganés Madrid will allow you to enjoy car itineraries in Madrid and surroundings, so that you can tour central Spain from start to finish. 
Business trips with your rental car in Leganes Madrid
Renting a car in the south of Madrid is the ideal option to optimize your time on business trips and visits to trade fairs, events or conventions. When you rent a car in Leganés you will be able to travel with complete freedom between your hotel and the congress center, IFEMA or the business park and also tour the capital's most interesting districts in your free time. There are many advantages of having a rental car in Leganes Madrid.

Tourist information for Leganes Madrid
The Community of Madrid is rich in monuments, emblematic buildings, villages with their own unique personalities, mountain ranges, natural beauty, cultural attractions and fine cuisine. There's so much to see and enjoy. Don't think twice! Plan your itinerary with a rental car starting from Leganes in Madrid.
What to see in Madrid
As one of the most important cities in Europe, comparable to Rome or Lisbon, Madrid offers many nooks and crannies to discover. We recommend you enjoy a walk along the authentic Gran Vía and a coffee in the emblematic Plaza Mayor, take a selfie at the Puerta del Sol, rent a boat on the lake of El Retiro, admire the splendor of the Royal Palace, have a look at the famous Puerta de Alcalá or enjoy some of the most important art collections in the Prado Museum, the Reina Sofía Museum or the Thyssen-Bornemisza Museum.
Rent your car in Leganes Madrid and travel freely to any point of the city.

Car itinerary through the Community of Madrid
Besides the impressive capital city, just a few kilometers away, you can enjoy a car itinerary through monumental villages with your rental car in the south of Madrid. 
Only 40 minutes by car from the center of Madrid, heading northeast, you will find Alcalá de Henares. This is the town where Miguel de Cervantes was born, which was declared a World Heritage Site by UNESCO in 1998. There are two spots you won't want to miss: the museum in the house where Cervantes was born and the University with the façade of the Colegio Mayor de San Ildefonso, which dates from the 16th century.
In the opposite direction, about 60 kilometers away, a beautiful car itinerary through the Sierra de Guadarrama leads to San Lorenzo del Escorial.  It is known as the site for the impressive Royal Monastery built in 1561 by King Philip II. This is a work of Renaissance architecture where you can find the Royal Palace, its basilica, a monastery, a library, a school and a pantheon. 
If you prefer to travel to the south of the Community of Madrid, in less than an hour you can reach the Royal Town of Aranjuez on the banks of the Tajo River. The Royal Palace will take you back to the Renaissance, and it is nestled in the natural beauty of the Gardens of the Prince and the Gardens of Isabel II. 
On the way to Aranjuez we recommend you stop in Chinchón. It is a charming little town, undoubtedly one of the most beautiful in the Madrid region. Take a walk around the Plaza Mayor in the center of the town, which dates back to the Middle Ages and which has up to 234 balconies all painted green, giving the square its distinctive personality.

Fine dining in Madrid
Fine cuisine is one of Spain's main tourist attractions, and Madrid is second to none when it comes to delighting the palate.
If you arrive in Madrid during the festivities of San Isidro, we recommend you try the typicalglazed and plain doughnuts or their special chitterlings called "gallinejas." If you visit the city at any other time of the year, you will be able to enjoy Madrid's "tapas" and appetizers along with its renowned calamari sandwich. If you prefer to sample some of the city's traditional sweets, try some Spanish-style French toast, known as****"torrijas"**** or enjoy a fried-dough pastry known "porras" with your coffee.

Climate in Madrid:
The climate in Madrid is dry and hot in summer, although at night it usually cools down; it is quite cold in winter, with an average temperature of 6º C. Most of the year it is sunny with little rainfall, since precipitation is usually concentrated in the autumn and spring months.
The best time to visit is in May and September, when temperatures are more pleasant without being as extreme as in winter or summer. If you are going to travel in winter, bundle up well, and if you are a skiing enthusiast, you can visit the resorts in the Navacerrada and Guadarrama mountain ranges.
If you prefer to visit in summer, remember to take a hat to protect you from the sun and water to keep you hydrated, and remember to travel by rental car starting from Leganes Madrid so as to make use of the air-conditioning.