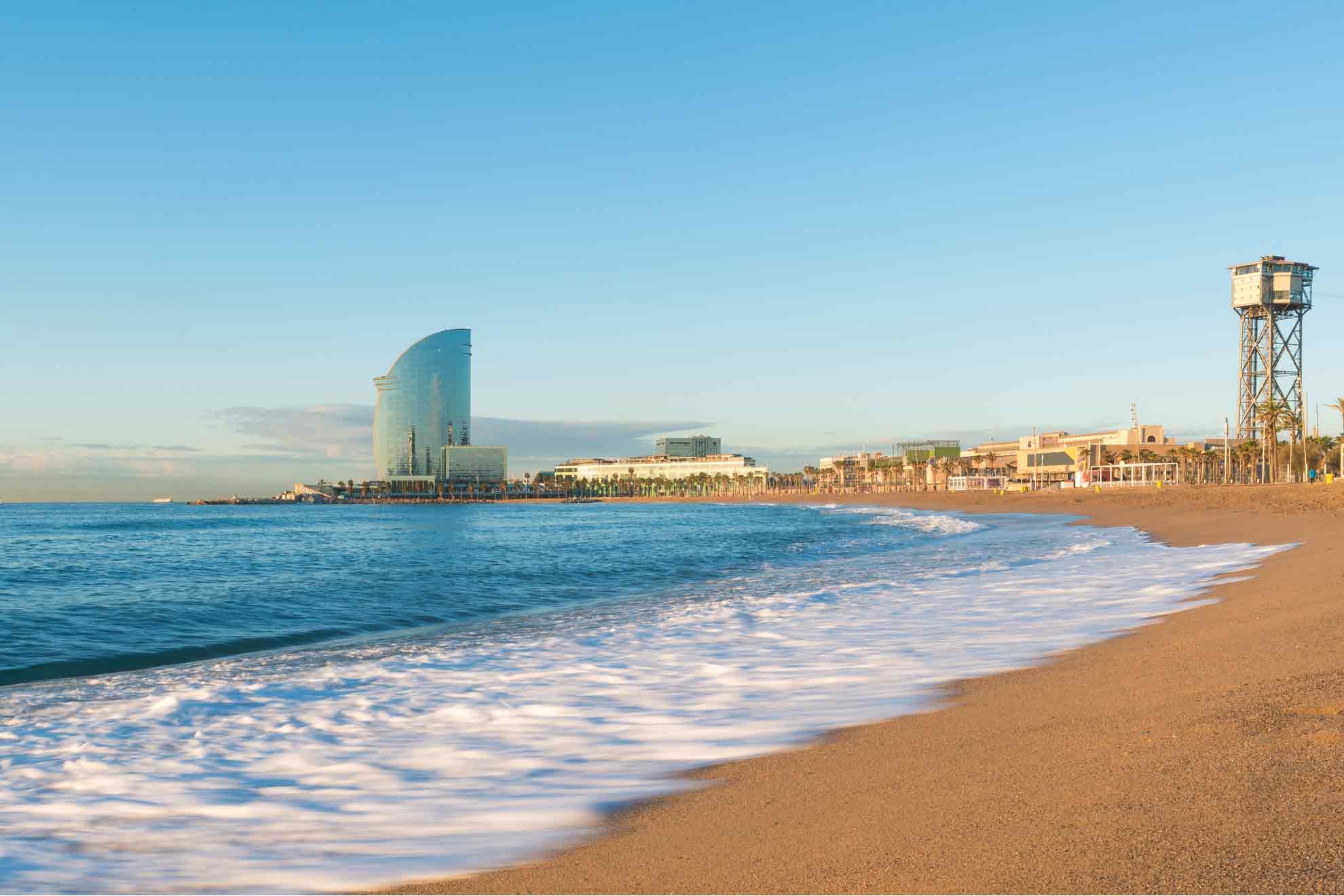 Car hire Barcelona airport Spain
Book on our web instead of comparison websites
Avoid insurance surprises sold by third parties

No additional charges, final price guaranteed

No deposit, no excess option
Our customers trust the quality of our service provided
Currently of 3620 reviews received from our customers, 76.0% said they were satisfied with the service provided during their car hire
Latest user reviews on service provided by Centauro Rent a Car
Review of Katie Moore about our office at Barcelona - Airport Powered by Google™
rented a car for 3 days and couldn't have been easier & smoother! they charge you €85 when you pick up the keys which is refunded to you if you return the car with a full tank of petrol. it was back in my account within 4 hours of returning the car. we didn't come from the airport to rent the car so never used the shuttle bus. coming from barcelona city the metro to Mas Blau leaves you a 2 min walk away - soooo easy!
Review of Sangwon Oh about our office at Barcelona - Airport Powered by Google™
Car hire in Centauro Barcelona airport was cost efficient. There was no hidden extra cost, and I was satisfied. I have an experience of car-hire in the Centauro at Rome airport, Italy. Their service was also good. And I would like to come back to Centauro in next travel.
Review of Ros Ring about our office at Barcelona - Airport Powered by Google™
Our flight was delayed and we missed our connection: we knew this would make us miss the last train up the coast, so while waiting in Heathrow we made a last minute booking for a car for the same evening with Centauro. Booking directly on their website, we got a very good deal for an electric Fiat 500 for 10 days, including comprehensive insurance and a second driver. We were able to upload photos of our passports, driving licences and selfies directly to the website which worked well. On arrival at the airport the instructions for finding the shuttle bus stop were very clear, we only had to wait a few minutes for a shuttle, and after a short drive we reached the Centauro depot. There, the staff were very friendly and spoke excellent English. The process was quick because we had already uploaded the ID documents and completed the online form. We hadn't driven an electric car before, so we were given clear and helpful information about battery life and where to charge. It was late, and we were tired, so we were very relieved by how smooth the whole process was. The car was very easy to drive and charge. Returning it at the end of the holiday was also very easy. Recommended. Probably best to book direct through their website.
Review of Katya Mantrova about our office at Barcelona - Airport Powered by Google™
We recently rented a car at the Barcelona Airport Centauro location. Fatima, who took care of us, was exceptionally helpful and friendly and went above and beyond to make our travel comfortable and safe. We greatly appreciate the company's service and specifically acknowledge Fatima's efforts in making our travel in Spain memorable.
Review of Aneta Musilová about our office at Barcelona - Airport Powered by Google™
We let the car in front of the gate because our early morning flight today morning 10.10.2023 Luckily there were another people and they knew that they can let the car key in the box. Nobody told us about this option‼️ I have called many times and also texted mail and no answers, because our deposit money to give back. Anyways the car was fiat 500 was good. Please contact us back as soon as possible, Thanks
Previous
Next
How to locate the Centauro Rent a Car car hire office at Barcelona Airport
If you have a mobile with connection to internet, the best option is to use Google maps to give you direct instructions from your location.
However, on this page you can download a map with instructions for collection and return of your Hire car.
Opening hours and contact
---
From Monday to Sunday from 07:00 to 23:00.+34966360360
Address
---
C/ Alta Ribagorça, 30-34 Poligono Mas Blau II
El Prat de Llobregat, Barcelona, 08820
Latitude: 41,31026
Longitude: 2,07365
Maps & instructions for collection and return
---
Terminal 1: Once in the arrivals hall, walk behind the cafe 'Go Natural' and follow signs for Parking (P) G . Continue for 100 metres, come outside and at the end of the walkway use the escalators to go down to the lower level, then on your left you can wait in the bus area for the yellow Centauro Rent a Car shuttle bus which comes every 15-20 mins
Terminal 2 A & B:
Come out of the building and without crossing, turn right and pass the taxi rank continuing along you will find the minibus area where you can wait for the Centauro Rent a Car Shuttle which comes every 15/20 mins.
Terminal 2 C:
Come out of the building and on your left you will see an elevated walkway, walk under this, and then after a few meters to your left you will find the minibus area where you can wait for the Centauro Rent a Car Shuttle which comes every 15-20 mins
General information and further assistance from the Centauro Rent a Car car hire office at Barcelona Airport
Road assistance for breakdowns or accidentsPhone number: (+34) 966 365 365
For reclaims or queries
If you have any reclaims or queries we recommend you visit the section "Help" on our website where you can find answers to many frequently asked questions.
To make a new booking or to check availability
By using our website you will always find the best price on offer and you will know instantly if the vehicle type that you require is available for the dates selected.
To view your account, change a booking, view your invoices & contracts
Access your account and you can find a selection of icons to allow you to modify your details, change a Booking or view your invoices and past contracts.
Information about Centauro Rent a Car car hire company at Barcelona Airport
The Centauro Rent a Car fleet of rental cars in Barcelona is renewed every year so you can drive your hire car with peace of mind. Our car hire in Barcelona is perfect for you to visit this great city with everything you need: full cover without excess, GPS, or baby seats, etc.
With Centauro Rent a Car you can enjoy cheap car hire in Barcelona airport and enjoy this city which is in in the top 10 worldwide tourist attractions. The Gothic Quarter, Las Ramblas, La Boqueria market, the art of Gaudí and the Picasso museum are waiting for your visit during your holiday in Barcelona with your rental car. Visit the stadium and the facilities of FC Barcelona, just rent a car and tour the city.
We hope to see you in our car rental office in Barcelona!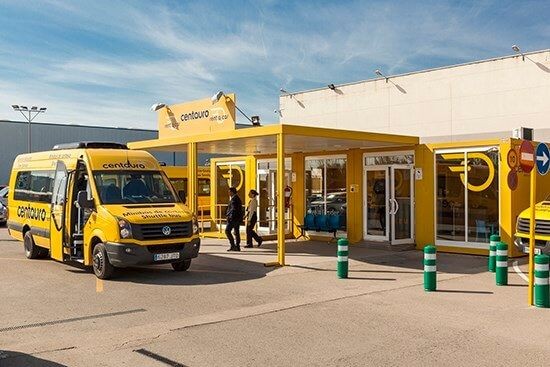 Car hire types available at Barcelona airport
At Centauro Rent a Car we offer a wide selection of cars available to hire at Barcelona which is renewed yearly.
What to see and do and where to visit in Barcelona province with your hire car
Barcelona Airport
The Barcelona Airport, also known as the Prat Airport is located in Viladecans, in Sant Boi de Llogregat, just 15 kilometers from Barcelona and 3 km from the city port. 
After the Madrid Airport, this is the airport with the most air traffic in Spain, it has direct flights to Madrid, Malaga, Mallorca, Madeira, Olbia, and Catania, among other.  It is well connected to the city, which you can access driving on the C-31 access route or the C-32 motorway. You can also use trains, metro or buses with day and nighttime connections. But without a doubt, the option that will give you the most freedom in your Barcelona trip is to rent your own car. 
Car hire at the Barcelona Airport
Renting your car at the Barcelona El Prat Airport will allow you to enjoy your driving route in Barcelona, discovering new places that you wouldn't have otherwise visited.
Barcelona has many tourist and cultural amenities. In addition to the best known spots, such as Sagrada Familia, Casa Batlló, La Pedrera, Parc Güell, the National Museum of Art, etc., it also has other charming places, such as the Gothic quarter or its green expanses in the outskirts: Montjuic o the Tibidabo. To visit these places, we recommend you to rent your own vehicle and enjoy your own route, exploring magical landscapes and nearby towns such as Cardona, Sitges, Montblanc or Cadaqués. 
Tourist information for Barcelona
Barcelona is the second largest city in Spain and the sixth in the Europe. A well-known city which has one of the largest sea ports in the Mediterranean. Barcelona throughout its history has been the location of many international events which has helped to consolidate the city and project itself to the world. From Universal Exhibitions to the Olympics Games of 1992 and the Universal Forum of Cultures in 2004. We are talking about an immense city in every sense and one that you can enjoy with a hire car from Centauro Rent a Car and make the most of your visit.
Barcelona or the 'Ciudad Condal' as it's known locally is also recognized by the wonderful architecture, the magic of Gaudi surrounds you with every step you take. A 'must' visit is to the 'Pedrera or Casa Milá', the 'Sagrada Familia', the 'Colonia Güell' crypt, 'Balló' house and the Park 'Güell' among others.

The cuisine in Barcelona is notable for its diversity and richness. Use your car hire to travel to rural areas, to discover typical traditional Mediterranean cooking. In the city you can find a great number of dishes from around the world; North Africa, China, Africa which only enriches the variety of different flavors available to you. Also worth a special mention is a visit to the 'Boquería' market in the well know area of the 'Ramblas', here you can also find some well-known restaurants and fabulous cakes and pastries of the area.
Another great advantage of this city is the wonderful climate, you can also count on great weather on the Catalan Coast. Travelling around Barcelona with your hire car will be a great experience.
With Centauro Rent a Car we offer you a car rental to discover and enjoy what this great city and surrounding areas have to offer.
Barcelona beaches and bay areas
When you hire a rental car at Barcelona you can reach the fantastic beaches the area has to offer with crystal clear water and soft sand, the choice is yours. You will be able to find more secluded beaches & small bays, or if you prefer others that are more alive and busier.  Watersports or nudism, there is something to suit everyone. Also, you will find that most of the beaches are able to welcome visitors with reduced mobility.

Golf courses in Barcelona
The lovely mediterranean climate in Barcelona is great for playing golf. If you are a keen player you can find some great golf courses to practice your swing. Well know professional golfers have helped design some of the courses in the area and make them very attractive for tourist to come and play golf.
FC Barcelona
Another experience enjoyed by many tourist when they come to the city is related to the most followed sport in Spain; Football. This is because Barcelona is home to one of the best football teams in the world, FC Barcelona.  Making a visit to the Camp Nou and taking the tour around the museum is a must for football or sports fans alike.
The impressive stadium and amazing museum which holds memorabilia from past and present and which is renewed every year. Don't hesitate, hire your car with Centauro Rent a Car and drive to the stadium!
Restaurants in Barcelona
They say that Barcelona is one of the best cities in the world for food and drink. In fact, many of their chefs are well known internationally and recognized with highly prestigious awards. The gastronomy in Barcelona is very rich and diverse. From the typical tapas bars to the most elite Michelin starred restaurant, any can offer you a cuisine of local produce to delight the palate with amazing tastes and flavors. Many travelers are known to come to Barcelona just for the food and to dine in the famous restaurants and experience their cuisine. In this city popular restaurants are the 'El Bulli',' 'ÀBaC', 'Agua', 'Saüc' to name a few with young new talents being recognized every year.
Car routes around Barcelona
Barcelona is a wonderful city with colorful streets and fantastic places to visit and enjoy, however we must not forget the other 100km of coast that are also within your reach. The beautiful landscape area of Montjuic, or the charm of the surrounding areas like the rivers of Besòs & Llobregat or the Tibidabo mountain.
With your car hire in Barcelona you can get the most out of your car hire experience. Rent a car with Centauro Rent a Car now and get to know one of the world's favorite cities.

Events in Barcelona
Barcelona is an important European capital and as such, many important events are held here. Whether it is the latest in technology, major music festivals, motor sports, or fashion events amongst others. Event organisers continue to choose, year after year, Barcelona as its headquarters with the events being following all around the world. So, why not hire a car with us and that way you will not miss any of the events we detail below:
Mobile World Congress
Since 2006, the Fira de Barcelona holds one of the world's largest mobile events. The MWC or WMC is an annual event where all the latest news and advances in wireless and mobile communication is presented to the world. The event brings together a significant number of scientists, engineers and investors, as well as experts and global company executives of the sector. In terms of numbers, the last edition attracted more than 100,000 mobile technology professionals with around 5,000 journalist to cover the event that also created around 13,000 jobs. This event is held in Barcelona once a year and whether you are a professional or just a fan of new technology, we recommend you rent a car and take a visit to the world's largest technological event.

Music Festivals in Barcelona: Primavera Sound & Sonar
These are two of the major music events held in Barcelona every year. At the Primavera Sound, you can enjoy three days of music of many different kinds; electronic, alternative, indie, pop, folk, dance, metal, jazz and even experimental music. If your passion is electronic music then you cannot miss the very popular Sonar event. Another three days of non-stop music which is separated by events that take part during the day in the city and others at night and which is celebrated at grounds of over 10,000 square metres on the outskirts of the city. Every year each event brings in over 100,000 music lovers with many of them renting a car at Barcelona to enjoy these amazing events.
Sporting Events in Barcelona: Spanish F1 Gran Prix, Moto GP, Barcelona tennis Open Banc Sabadell (Trofeo Conde de Godó)
Barcelona also celebrates many important sporting events during the year. The most popular are the F1 Gran Prix and the Catalonia MotoGp, both held at the Circuit de Catalunya (Montmeló). These events are at the highest level in motorsport and are two of the most followed sporting events in Spain and around the world. Many customers rent a car to be able to travel to the circuit to enjoy and not miss a minute of this fantastic sport. Not only are motorsports held in Barcelona, other sports like tennis also have a lot of representation and attract a large number of fans. The Conde de Godó Trophy is celebrated every year in the city of Barcelona. Over time, it has become an event not be missed, extremely popular and a very important social event for the city. This tournament is part of the ATP World Tour 500 with prize money reaching millions of dollars.

Barcelona International Motor Show (Salón Internacional del Automóvil)
If we talk about the importance of events in terms of the gathering of people, then this International Motor Show will undoubtedly be in one of the top positions as it receives about one million visitors over the 9 days of the show that is held every two years. In this exhibition, we can find all the latest developments in the motor world. The latest in electric cars, convertible cars, sports cars, luxury cars, family cars and any other vehicle type known using the word 'car'! Of course, the best way to visit the Barcelona International Motor Show is renting a car with Centauro Rent a Car.
Salón del Manga & Salón del Comic de Barcelona
In Barcelona, there is a wide variety of culture events available, the Salon del Manga we can say is the most important manga, anime and Japanese comic event in Spain. Both this event and the Salon del Comic beat attendance records every year, smaller events are held all over Spain, but the Barcelona event is by far the most popular basically because part of this culture began here in Catalonia. If you need a car hire in Barcelona to visit the Salon del Manga or the Salon del Comic, don't hesitate to contact us.

Popular fiestas in Barcelona
In Catalunya, as in many other parts of Spain there are many popular festivals and popular celebrations.  It is about uniting tradition, leisure and festivity. Celebrations like the Mercè, the day of Sant Jordi or the night of Sant Joan are just some of the things to enjoy in this city.  To follow are our recommendations of some of the most popular to visit with your rental car.
La Mercè
La Mercè is a festival held every year in Barcelona in honour of the city patron, the 'Mare de Déu de la Mercè' and the 'Madre de Dios de la Misericordia'. Celebrated on the 24th September, on this day we can enjoy the 'Gegants I Capgrossos' or giant heads made of paper maché that dance around the city, a competition of 'Castellers', human towers, the dance of the 'sardana' and the 'Correfoc'  with devils, dragons and other beasts throwing fireworks and dancing to a drum beat in front of the crowds. Another popular event of this festival is 'La Fira de Vins' held in the neighbouring area of La Barceloneta , next to the Port Vell pier. Barcelona also holds a large number of concerts and shows around the city, especially in the Forum and in the Cathedral Square. Starting from the 'Pregó' to the last minute of the party, this is an unforgettable fiesta not to be missed.

Día de Sant Jordi (day of Sant Jordi)
Some people know of this holiday as the Catalan Valentine's day. Sant Jordi is the patron of Catalonia and on the 23rd April, the custom is to give a rose to a woman and a book to a man. This custom comes from the legend of Sant Jordi in which the patron faced a dragon to save a princess. The legend says that a rose appeared from the blood of the dragon that Santi Jordi then gave to the princess, she in turn gave him a written poem.
Also, a coincidence is that both Shakespeare and Cervantes both died on this day. The UNESCO declared this day International Book Day in 1996.
The noche de Sant Joan (night of Sant Joan)
The night of Sant Joan, the shortest night of the year is celebrated on the 23rd June, the summer solstice. A combination of pagan and Christian traditions, the Saint is honoured during the day and the solstice at night. Traditionally celebrated with the whole family with a 'Coca de Sant Joan' and some champagne. Another tradition is to make a bonfire at the beach and to jump over them; this they say will frighten all the evil spirits, diseases and misfortunes in general.
The beaches of La Barceloneta on the night of Sant Joan are filled with people, fire and music. It's time to park your rental car and join in with this fiesta of the solstice.

The most requested car rental in Barcelona is one that lets the whole family enjoy this fantastic city, with this link we give more information about the advantages of renting a family car in Barcelona.
Related posts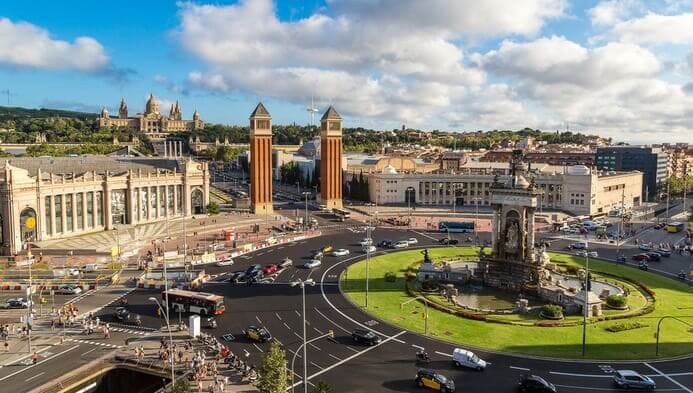 Are you traveling to Barcelona with your rental car and don't know where to park? Don't worry, #Roadlover because we've got good news for you. In this post, we'll show you the best places to park for free in Barcelona. So the only thing you'll have to worry about is finding the best spots to enjoy your getaway in this beautiful city.

Have you lived the experience of travelling the world driving a van with your family? Discover this route by van through the most beautiful villages from Barcelona to the Pyrenees

The most beautiful villages in the Mediterranean: a route by car from Alicante to Barcelona travelling through Valencia.