Car hire in Olbia Sardinia Airport
Book on our web instead of comparison websites
Avoid insurance surprises sold by third parties

No additional charges, final price guaranteed

No deposit, no excess option
Our customers trust the quality of our service provided
Currently of 717 reviews received from our customers, 74.0% said they were satisfied with the service provided during their car hire
Latest user reviews on service provided by Centauro Rent a Car
Review of Kirit about our office at Olbia Airport - Sardegna Powered by Google™
Excellent service, we arrived later than expected at 10pm. Shuttle arrived at the designated location and was expecting us, all paperwork was completed promptly as we were on our way. We got a super new Fiat 500 Sport and drove all around Sardinia. The return of the car was super smooth, we were greeted by a very smiley and courteous team and were promptly dropped off at the Airport.
Review of Mihály Both about our office at Olbia Airport - Sardegna Powered by Google™
I was maximally satisfied! Everything went easy and instant. I highly recommend this car rental agent and will definitely use their services for future holidays in Sardinia. :)
Review of Eugene Smyrnov about our office at Olbia Airport - Sardegna Powered by Google™
It is a great car rental. No problems at all. The stuff was friendly and energetic. I was suspicious of Sardinia car rental after reading a lot of reviews about all the rentals. But there was nothing to worry about. I booked a small Hyundai three month before my vacation with a price lower than average directly from a companies website. I paid full insurance and nothing more. On car checkout I was told that they can switch the car to Fiat 500, that was great for me. The car was clean and like brand new, with full tank. I returned the car dirty and dusty outside with full tank. There was no problems and no additional charges. Next time on Sardinia I will probably rent from Centauro again.
Review of Javier CA about our office at Olbia Airport - Sardegna Powered by Google™
Great service overall, good price and new cars. We even had an small logistic issue and a member of the staff in Olbia was really kind and helped us a lot! I will rent a car with them if I come back to Olbia.
Review of Stace Gothard about our office at Olbia Airport - Sardegna Powered by Google™
From booking to pick up and car collection, everything was a great experience. The car itself was in great condition and the 2 car seats for our kids were easily the best quality seats we've ever had. Both isofix and kids found them very comfy. Staff at the office we're really helpful and friendly. Drop off was quick and efficient. Probably the best car hire experience we've ever had from start to finish. Wouldn't hesitate to use Centauro again
Previous
Next
How to locate the Centauro Rent a Car car hire office at Olbia Airport Sardegna
If you have a mobile with connection to internet, the best option is to use Google maps to give you direct instructions from your location.
However, on this page you can download a map with instructions for collection and return of your Hire car.
Opening hours and contact
---
From the 1st April to 31st OctoberFrom Monday to Sunday from 07:00 to 23:00.+390683662959
Address
---
Via Antonio Melis, 7,
Olbia, SS, 07026
Latitude: 40,91186
Longitude: 9,50202
Maps & instructions for collection and return
---
Once you have collected your luggage come out of the main exit of the terminal and straight in front of you continue walking on the pedestrian path in the direction of the parking area 'Settore A'. At Parking A3 you can wait for the Centauro Rent a Car Shuttle which comes every 10-15 mins.
General information and further assistance from the Centauro Rent a Car car hire office at Olbia Airport Sardegna
Road assistance for breakdowns or accidentsPhone number: (+39) 0694 806 800
For reclaims or queries
If you have any reclaims or queries we recommend you visit the section "Help" on our website where you can find answers to many frequently asked questions.
To make a new booking or to check availability
By using our website you will always find the best price on offer and you will know instantly if the vehicle type that you require is available for the dates selected.
To view your account, change a booking, view your invoices & contracts
Access your account and you can find a selection of icons to allow you to modify your details, change a Booking or view your invoices and past contracts.
Information about Centauro Rent a Car car hire company at Olbia Airport Sardegna
Rent a car in Olbia, Sardinia with Centauro Rent a car and enjoy the safety and confidence offered by a fleet of rental cars that is renewed every year. Add to your reservation any extra you may need in a rental car, GPS, full coverage with no deductible, approved children chairs, etc...
We will be waiting for you at our car hire office at the Olbia - Sardinia airport!
Car hire types available at Olbia Airport Sardegna
At Centauro Rent a Car we offer a wide selection of cars available to hire at Olbia Airport Sardegna which is renewed yearly.
Our range of cars at Olbia Airport Sardegna includes economical, family, convertibles, automatics, vans, minibuses…
What to see, do, and visit in Sardinia and its environs with your rental car.
Sardinia Airport: Olbia Costa Smeralda Airport
The Olbia Costa Smeralda Airport is the main airport of this magnificent island located in the middle of the Mediterranean Sea. The airport is located northeast of the island and southeast of the town of Olbia, it serves as a national and international connecting point with different cities in Italy, Europe, and Africa. The so-called Emerald Coast is one of the central and most popular vacation spots for Italian tourists.
The airport is located just four kilometers from the historic city of Olbia, and north of Cagliari, capital of the island and most populated city. Its fastest road accesses are the SS125 and the SS729; some of the most popular destinations are Rome, Madrid, Barcelona, ​​London, Paris, Palermo, Naples, Milan, Lisbon, Palma or Berlin.

Car rental in Sardinia
The island of Sardinia, which belongs to the Republic of Italy, is a place that will leave no visitor indifferent. It will take several days to get to know the island and explore it at ease, since there are many outstanding places to visit, starting with its two most important cities, Olbia and Cagliari. So it is preferable to drive since there are numerous ways to enjoy the route by car, driving through unforgettable places, enjoying the trip and visiting all the nooks and crannies of this place, making as many stops as you may want.

What to see in Sardinia
You cannot miss this Mediterranean island's most important archaeological site. The Ruins of Nora are what is believed to be the first city or populated site of Sardinia, settled by the Phoenicians and the Tartessians.
Just 30 km from the ruins you can visit Cagliari, the capital of Sardinia. It is located in the south of the island and has a historic center from the 14th century. It is a village with cobblestone streets and a classic Italian Renaissance style, with plazas where you can stop and watch the time go by while enjoying a meal or an aperitif.
If you like driving, you can go from the capital to the Gulf of Orosei through a road that runs, almost in its entirety, very close to the Mediterranean coast. This zone includes all the north of the island, and its great importance resides in its towering cliffs, its coves, and beaches. Some of them, such as Cala Gonone or Poetto, are close to the lagoon of Molentargius, where flamingos abound.
Gallura is located about 130 km to the northwest of the Gulf of Orosei, a section of the island made up of important regions such as Santa Teresa, Capo Testa and its granite landscapes. You can visit the beach of Cala Grande or the village of Calangianus, as well as the so-called Tomb of the Giants, a Neolithic archaeological complex.
The island of Sardinia is the largest in the Mediterranean, so although at first glance it may seem easy to cover, the truth is that getting to know it well is a time-consuming task. Therefore, the best option is to spend ten days of your vacation to enjoy one of the most beautiful road trips of your life.  Of course, if you can't spend so much time, focus on the most relevant places.
Our optimal route to see the island starts in Cagliari, capital of the island and where you should stay prior to starting the journey. From there, the best option is to get to the town of Quartucciu and the Monte Urpino Park. From that point the trip continues to the Colostrai Beach and the Orosei area; although the destination schedule is flexible depending on your interest in beach, mountain or historical places.
Further on, it is essential to visit the Goloritzé cove, Olbia, the Moon Valley, the village of Alghero, Palmavera, the famous Neptune's Grotto, the Castelsardo, Bosa, Tharros, Oristano, the Nuragic Village of Barumini and the complex of Buggerru. As we have said, these are the most important destinations and the optimal route.

Sardinia Weather
In general, the climate in Sardinia is one of the mildest in the world, as found in many areas of the Mediterranean Sea. The island reaches an average temperature of 20 degrees in summer, and up to 12 degrees in the cold season, although extreme temperatures are very rare.
Gastronomy of Sardinia
The Sardinian cuisine presents most of the features of the Italian cuisine, plus some typical dishes such as the Culurgioni, the Malloreddus, the Grilled fish and sweet cookies called Amaretti. Other typical foods are: goat cheese, traditional sausages, ice cream and Pan'e saba, a bun with almonds, chocolate or cream.
Related posts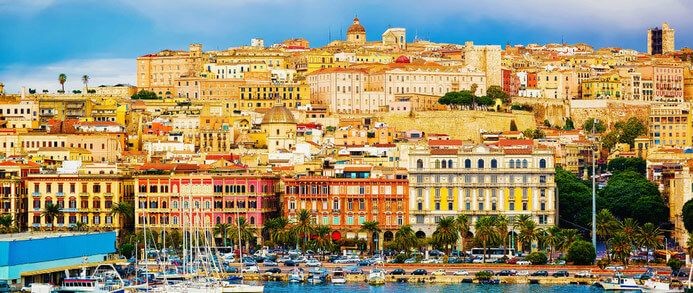 If you're looking for a travel plan that won't fail, consider taking a road trip through the island of Sardinia. Beaches with crystal clear waters, ancient cities with charming churches and ruins of Roman constructions, and rich and diverse gastronomy are just some of the attractions that will make you fall in love with every part of this Mediterranean paradise.