Book on our web instead of comparison websites
Avoid insurance surprises sold by third parties

No additional charges, final price guaranteed

No deposit, no excess option
Our customers trust the quality of our service provided
Currently of 4043 reviews received from our customers, 68.0% said they were satisfied with the service provided during their car hire
Latest user reviews on service provided by Centauro Rent a Car
Review of Armands Dzalbs about our office at Lisbon/Lisboa - Airport Powered by Google™
Great service and nice staff. Got almost a new car with 14k of mileage and even bigger size than I ordered for the same price. Took the option with full coverage and did document approval online to avoid waiting once I got there. They took a deposit for the tolls and fuel. The toll-pay device is very useful and saves a lot of time so no need to worry about anything just go through the gates without stopping. Also, an unused deposit of the toll box is returned the same as the deposit for fuel if you bring back the car with the same level of fuel. Good experience, definitely suggest this company. A shuffte bus may be delayed a little bit more than every 15 minutes ( in my case waited approximately 30 min.). In case you do not return the car at the last second before the flight everything is more than fine. :)
Review of Stephanie Geise about our office at Lisbon/Lisboa - Airport Powered by Google™
Everything went smoothly and very friendly. I had ordered and received a Fiat 500 convertible, everything was great! Super friendly and really cheap, we only pay for what you have used! I would choose this car rental company again and again and recommend it to everyone. I'll be back in October!
Review of Derya Mincu about our office at Lisbon/Lisboa - Airport Powered by Google™
I honestly had a great experience from beginning to end. We got picked up from the airport just like mentioned in the email. We got an upgrade because the actual car class we paid for was not available so that was a plus. The car was in optimal condition, basically brand new, the lovely smell of brand new car was still there. The car performance was great! We paid 2 different deposits, one of 100€ for the via verde which is used on Portuguese highways and one of 130 for the fuel. Everything will be sent back to your account minus the used fuel+highway usage price. But overall, would recommend and do it again!!!
Review of Carter Dadey about our office at Lisbon/Lisboa - Airport Powered by Google™
Best service. I always them over other rentals companies. They accept visa and credit cards for deposit or buy their smart plan which cover you on any damages that might occur.. but I love using them .. the best I have used so far . Cars are always clean updated. Lovely staff
Review of Sibele Lazzaretti about our office at Lisbon/Lisboa - Airport Powered by Google™
Great experience! We reserved the car we wanted to rent online, made the payment online as well, round 78€ (for 2 days, and there was sale at the time). We got the shuttle at the airport and they left us at Centauro parking lot. We had to pay 123€ (for gas and tolls) plus a deposit of 100€ (for other costs). This included full insurance, 2 drivers, and the car had Via Verde, for automatic tolls. We rented a Peugeot 3008(online) and we got a C5, the same category. We returned the car an hour late, round, and they didn't charged us.
Previous
Next
How to locate the Centauro Rent a Car car hire office at Lisbon/Lisboa Airport
If you have a mobile with connection to internet, the best option is to use Google maps to give you direct instructions from your location.
However, on this page you can download a map with instructions for collection and return of your Hire car.
Opening hours and contact
---
From Monday to Sunday from 07:00 to 23:00.+351308810777
Address
---
Av. Severiano Falcão 2
Prior Velho, Lisboa, 2685-378
Latitude: 38,78382
Longitude: -9,12438
Maps & instructions for collection and return
---
Once you have collected your luggage, come out of the arrivals hall turn right and use the exit by the Vodafone shop to come out of the terminal. Cross the first zebra crossing and here you can wait for the yellow Centauro Rent a Car Shuttle which comes every 10-15 mins.
General information and further assistance from the Centauro Rent a Car car hire office at Lisbon/Lisboa Airport
Road assistance for breakdowns or accidentsPhone number: (+351) 308 810 816
For reclaims or queries
If you have any reclaims or queries we recommend you visit the section "Help" on our website where you can find answers to many frequently asked questions.
To make a new booking or to check availability
By using our website you will always find the best price on offer and you will know instantly if the vehicle type that you require is available for the dates selected.
To view your account, change a booking, view your invoices & contracts
Access your account and you can find a selection of icons to allow you to modify your details, change a Booking or view your invoices and past contracts.
Information about Centauro Rent a Car car hire company at Lisbon/Lisboa Airport
Hire your car in Lisbon with Centauro Rent a Car and you can travel around the most popular city in Portugal. This Portuguese city has pleasant temperatures all year round and with its rich culture, the history and amazing architecture seen in its buildings together with the immense beauty Lisbon has to offer you for your holiday or short break, there will be plenty to see and do.
Known as the 'white city' because of the way the light reflects off of the 'Tajo' river, there are plenty of places to visit with your car hire. Do't miss the 'Torre de Belém', the very majestic 'Arco de la Rua Augusta' the Zoo or the fantastic Oceanographic (one of the largest in the world).
Here you can also discover the wide variety of different local dishes, breathtaking scenery and of course the famous 'Fado' (typical Portuguese singing).
Get your cheap car hire at Lisbon airport with Centauro Rent a Car, where we offer a fleet of cars that are renewed every year so you can drive with complete peace of mind. You can also add to your car hire  other services such as comprehensive insurance without excess, GPS or child seats, etc.,
We are waiting for you at Lisbon airport!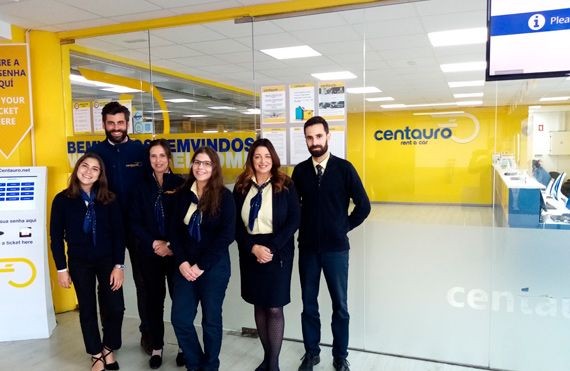 Car hire types available at Lisbon/Lisboa Airport
At Centauro Rent a Car we offer a wide selection of cars available to hire at Lisbon/Lisboa Airport which is renewed yearly.
Our range of cars at Lisbon/Lisboa Airport includes economical, family, convertibles, automatics, vans, minibuses…
What to see and do and where to visit in Lisbon with your hire car
Lisbon tourist information
In Lisbon you can find the charming historical centre just as any other modern city. It is also the best place to sample some of the local dishes at any one of the many restaurants the city has to offer. Take in the fantastic streets of 'Alfama', 'Baixa`, `'Barrio Alto', 'Belem' or the 'Parque de las naciones' and enjoy the local ambience. Lisbon is a charming city in the day, with over 50 museums, medieval architecture, natural landscapes and also a vibrant and bustling nightlife.

Without a doubt we highly recommend a car hire in Lisbon to get the best of what this beautiful city has to offer.
Sporting de Lisboa, Benfica y Os Belenenses 
Football is the most popular sport in Lisbon. The Portuguese  first division, has some of the most important teams in Europe, home to Sporting de Lisboa and Benfica. When you hire a car in Lisbon you can go to either of these stadiums and even take in a match known as the "Derby da Capital" o "O Clássico" (the Classic), a match between these two rival teams. Also worth a mention is the other local team from the district of 'Lisboeta de Belém, Os Belenenses'
Popular architecture to see with your car rental in Lisbon
The 'San Jorge' castle, the 'Barrio de la Alfama', Lisbon Carhedral, the 'Casa dos Bicos' and the 'Do Carmo' Convent are just a few examples of the fantastic medieval architecture which we mentioned at the beginning. With your car hire go and visit  the 'Belém dos'buildings, classified as a World Heritage Site; the 'Torre de Belém' touched by the river 'Tajo'  or the 'Jeronimo' Monastery. In the parish of 'Belém' why not see the 'Belém Palace' which is the official residence of the President of Portugal.
Throughout the whole of this region you can find some beautiful examples of modern architecture together and with a wide selection of fabulous museums.

Beaches in Lisbon and the surrounding areas
The average temperature in Lisbon is around 17 degrees. The fantastic climate together with the refreshing breeze from the Atlantic Ocean during the hot summer months brings the beauty of the surroundings areas for tourists to enjoy its fantastic beaches all year round.
Hire a cheap car in Lisbon and you can get to some amazing beaches with soft sand and crystal clear waters just like any tropical paradise.
From the center of the city you can reach any of these superb beaches in under 30 minutes and where you can also try some of the Portuguese cuisine in the many restaurants of the region.
Lisbon Oceanarium & Zoo
In Lisbon you can also get a close look and learn more about the animal world. Take a visit to the ' Parque das Naçõesal`' with your car hire and visit Europe's second largest Oceanarium. Here you can find examples of the flora and fauna from the Atlantic, Pacific, Indian & Antartic Oceans.
Also, whether you are travelling or not with children, why not go to the Zoo located in the Portuguese capital and where you can see a variety of animals from every continent which belong to the EEP – European Breeding Program for Endangered Species. This zoo is said to be one of the best in the world.

Related posts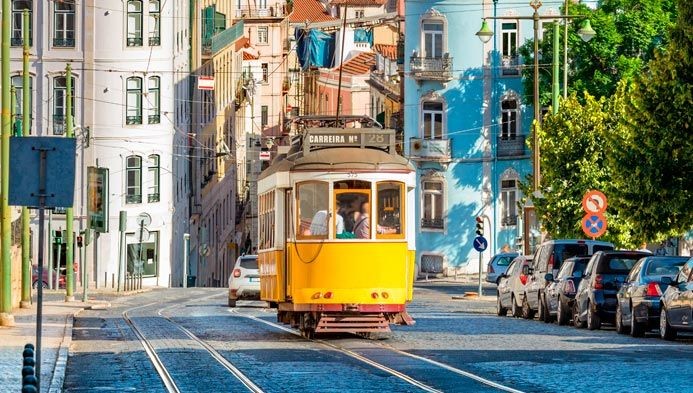 The Portuguese capital is one of our favourite destinations. Getting lost on its charming streets, its museums and taking in its breathtaking panoramic views are some of the things we recommend doing in Lisbon. Like any large city, Lisbon has a lot of traffic and there are traffic restrictions in most central areas. That's why today we've got the best tips for parking in the capital of Portugal, take note.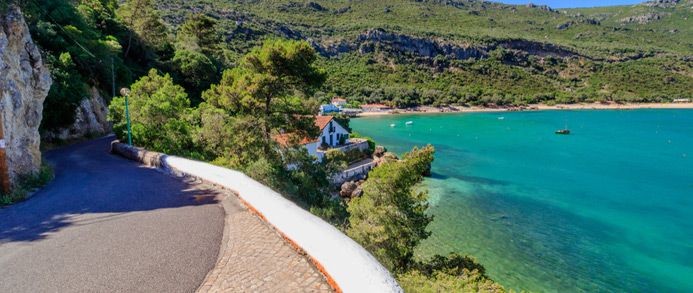 The driving routes around Lisbon reveal incredible sites such as Sintra, which is known as the city of palaces, Belem, and Cascais, which all have a special charm thanks to their coastline and astonishing beaches that you won't want to miss. Will you join us on our route?

Sintra is quintessentially the most mystical and romantic destination in Portugal. Its sudden and mysterious mists, farms, palaces and mansions that dot the green of the mountainsides help to make this village a unique, magical and absolutely enthralling destination. Rent your in Lisbon and prepare for an absolutely unforgettable journey.