Book on our web instead of comparison websites
Avoid insurance surprises sold by third parties

No additional charges, final price guaranteed

No deposit, no excess option
Our customers trust the quality of our service provided
Currently of 2023 reviews received from our customers, 76.0% said they were satisfied with the service provided during their car hire
Latest user reviews on service provided by Centauro Rent a Car
Review of Piotr about our office at Madrid - Airport Powered by Google™
I had rented directly at Centauro page and chosen F4 Group car with full cover package (insurance) which is the BEST option and paid deposit 136 EUR (gasoline). At place I asked for better car from F4A with additional payment. I wasn't problem. We got very nice CAR ! An idiot during our stay broke part of rear light at a street. With that cover that wasn't problem. Returning car with full tank as it is in agreement they promised to give deposit back. And they kept the promise! I'll chose Centauro NEXT TIME !
Review of Ivan Petrov about our office at Madrid - Airport Powered by Google™
Clean new comfortable car Hyundai Tucson at 15k km), no hidden charges. Quick pickup (at Barajas) and dropoff (Barcelona), using their shuttle from the airport. Andoid Auto enabled, airconditioning cooler than needed :). 2500 km in 10 days without any problem.
Review of Sean Seraphin about our office at Madrid - Airport Powered by Google™
Outstanding all around service. Great rates and extremely pleasant, attentive and accommodating staff. Extremely efficient pick-up and drop-off process; I highly recommend this group.
Review of Piet Den Haese about our office at Madrid - Airport Powered by Google™
I usually look for a car rental via a broker. Several times I got directed to centauro as their prices are competitive. On top of that, I really appreciate their services and professionalism. The staff at the desk spoke English very well, clear, no nonsense contract, no rip off with fuel charges or anything else nonsense. Correct handling with payment, refunds, deposit. I'm very happy with them, and I rent cars quite often, all over the world. Centauro stands out for their quality and service... I just wish there were more rental car service like Centauro... As the location is not on the airport itself, a shuttle bus is provided from all terminals. Hence their good price as they don't have to pay excessive prices for airport parking ( airport tax). Only drawback is that it might be difficult to drop your car before 7am, as their office is closed.
Review of Irene Ferrera about our office at Madrid - Airport Powered by Google™
Excellent. Staff members were kind, efficient and very helpful, and their service was superb. The car was in great condition and the process itself for pick up and return was easy and smooth. They offer a free bus shuttle service to and from the airport which was also very satisfactory. Everyone I interacted with was incredibly kind and profesional. 100% recommended. I will continue to use their services in the future without a doubt.
Previous
Next
How to locate the Centauro Rent a Car car hire office at Madrid Airport
If you have a mobile with connection to internet, the best option is to use Google maps to give you direct instructions from your location.
However, on this page you can download a map with instructions for collection and return of your Hire car.
Opening hours and contact
---
From Monday to Sunday from 07:00 to 23:00.+34966360360
Address
---
Calle Trespaderne 17
Madrid, Madrid, 28042
Latitude: 40.453322
Longitude: -3.581759
Maps & instructions for collection and return
---
Terminal 1:
Come out of the the  terminal building, turn right and continue for about 150 metres until you see the green Hotel Bus Information sign opposite the Left Luggage Office and wait here for the Centauro Rent a Car shuttle bus that passes every 10-25 minutes, this will take you to the office situated a few minutes away.
Terminal 2:
Once you have collected your luggage, follow the Bus Connecting sign.
In the arrivals hall, go to your left and follow the Bus Connecting sign until you see the P. Expres sign.
Exit the terminal here, once outside cross at the zebra crossing and on your right follow the signs for Bus Stop EMT Hotels-Agencies
Wait here for the Centauro shuttle bus which passes every 10-15 minutes, this will take you to the office situated a few minutes away.
Terminal 4:
Once you have collected your luggage, follow the Bus & Shuttle sign to your left, use this exit, cross at the zebra crossing and follow the Bus Hotel, sign to the left.
Wait here for the Centauro shuttle bus which passes every 10-15 minutes, this will take you to the office situated a few minutes away.
General information and further assistance from the Centauro Rent a Car car hire office at Madrid Airport
Road assistance for breakdowns or accidentsPhone number: (+34) 966 365 365
For reclaims or queries
If you have any reclaims or queries we recommend you visit the section "Help" on our website where you can find answers to many frequently asked questions.
To make a new booking or to check availability
By using our website you will always find the best price on offer and you will know instantly if the vehicle type that you require is available for the dates selected.
To view your account, change a booking, view your invoices & contracts
Access your account and you can find a selection of icons to allow you to modify your details, change a Booking or view your invoices and past contracts.
Information about Centauro Rent a Car car hire company at Madrid Airport
Hire a car in Madrid with Centauro Rent a car and enjoy the security and confidence that comes with a fleet of rental cars that is renewed each year. Add to your booking any extras you need when you hire a car, GPS, comprehensive insurance without excess, approved child seats, etc.
Get cheap car hire at Madrid airport and drive through the land which guarantees good weather most of the year.
We hope to see you in our car rental office in Madrid Airport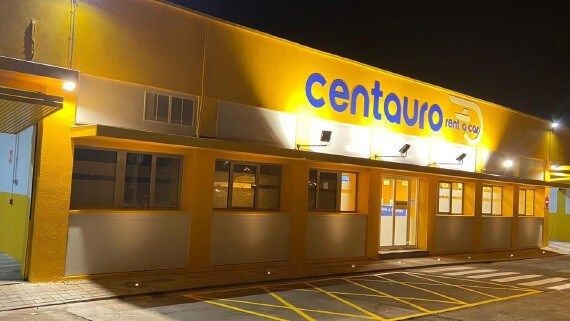 Car hire types available at Madrid airport
What to see and do and where to visit in Madrid with your hire car
Madrid Airport
Madrid - Barajas Airport opened in 1931 with both national and international flights. In 2014 the airport changed its name to Adolfo Suárez Madrid Barajas Airport. Located in the area of Barajas, just 12km from the centre of Madrid the airport has good connections to the city by metro, bus, rail or taxi, although the most convenient way to access the centre of the Madrid with a rental car.
Madrid Airport is considered the most important airport in Spain, and according to passenger traffic it is ranked in 5th position most popular European airports and 15th in the world. Currently more than 70 major airlines provide both national and international flights to communicate with more than 175 destinations around the world. The direct route to Barcelona Airport has the highest frequency of flights between the two destinations in the world and also Madrid airport offers the most connections to Latin America.
Made up of 4 terminals, passengers can enjoy unlimited WIFI connection, public computers with internet connection, printer and free chargers for mobile phones. The airport also offers VIP rooms, an optional service for travellers who want to enjoy a more relaxed atmosphere whilst waiting for their flight.
Car Rental in Madrid
Renting a car in Madrid is the best option to enjoy this imperial city home of the Austrias and Bourbon dynasty. It is nowadays considered as one of the most cosmopolitan and important cities in the world.
Touring Madrid with your rental car allows you to visit the main areas of the city, such as the Austrias, Castellana, Chamberí, Barrio de Salamanca, Chueca, Latina or Casa de Campo, among others. You can also take a route by car through some of the best tourist areas which are located on the outskirts of Madrid, such as the Palacio del Pardo, Aranjuez, San Lorenzo del Escorial, the "Valle de los caídos" or Alcalá de Henares.
Don't worry about where to park your rental car in Madrid, here we offer you some tips to have everything under control when you visit the capital of Spain.

Madrid Tourist Information
Madrid is a cosmopolitan city where traditional Spain of the Austrias and Bourbons Dynasties coexist in perfect harmony with the latest gastronomy, cultural and technology trends in Spain.
The origins of the city date back to 1561 when King Felipe II decided to move his court from Toledo to Madrid because of it is strategic location right in the centre of Spain. From this moment a new period was born and during the reign of the Austrians Dynasty this would contribute to the development of the city which would leave a legacy of tradition and history in the "Old Madrid" area, also called Madrid of the Austria's and one of the most charming places in Madrid.
Whether you are visiting Madrid for business or wanting to wander through its streets and enjoy the history surrounding you, we recommend that you rent a car to discover everything the city has to offer.
Museums And Attractions In Madrid
Culture in Madrid & the Paseo del Arte
Madrid can boast as being one of the cities with the highest concentration of art per meter. We recommend that you park your rental car and visit on foot the artistic core of the city.
Along a stretch of just over one kilometre you can visit three of the main national and international art galleries in the area known as the 'Paseo del Arte' (Art Walk): the Prado Museum, the Thyssen - Bornemisza Foundation and the Reina Sofia Museum. Here you will find valuable masterpieces by great artists such as Velázquez, Goya, El Greco, El Bosco, Picasso, Dalí or Miró.
In addition to these essential visits, Madrid is also home to other 'must visit' places such as the Temple of Debod, a genuine Egyptian temple from the second century BC, the Naval Museum, which has 25 rooms and gathers one of the most important naval collections in the world or the National Library (1982), where a copy is saved of each book published in Spain.
Another fantastic plan is to enjoy a musical show on the famous Gran Via Street, also known as the "Madrid Broadway" or take in a play in one of the numerous theatres.

Shopping in Madrid
If you are a fashion follower we recommend that you take your rental car to visit Madrid at your own pace, the city is considered as the second most important shopping destination in Europe.
Along the Golden Mile, located in the Salamanca district you can find the most exclusive brands with luxury products and the latest trends, although their prices are not suitable for all! The neighbourhoods of Chuecha and Fuencarral are home to smaller shops offering a more bohemian style. On the other hand, if you want to shop in the popular fashion houses at more affordable prices we recommend you visit Princesa, Preciados, Gran Vía and La Puerta del Sol.
Eating in Madrid
Madrid has become a national & international reference thanks to the varied gastronomy on offer. From top cuisine from one of the 16 Michelin starred restaurants, to century old bars where you can enjoy typical Spanish food. Why not try the Restaurante Botín, opened in 1725 and considered the oldest in the world, or Café Gijón, where recognized Spanish poets and novelists from the generations of 98 and 27 got together.
Every year Madrid is host to the most important international gastronomy congress in the world: 'Madrid Fusión'. At this event the best national and international chefs meet to bring together and share the latest trends.

Nature & Sports in Madrid
Football stadiums
Madrid is home to two of the best football teams in the world; Real Madrid CF who play at the famous Santiago Bernabéu stadium and Club Altético de Madrid at the Vicente Calderon. Don't miss the chance to take in a tour of either of these stadiums or even a chance to see a match of the Spanish league.
Natural parks in Madrid
We recommend you to travel to Sierra de Guadarrama National Park with your rental car, which is located only 60km from the city. In less than an hour you can enjoy this beautiful protected natural space of enormous ecological value.
If you like to enjoy nature, we invite you to visit "El Monte de El Pardo", "Reserva de la Biosfera Cuenca Alta del Río Manzanares" or "Sierra Norte". In any of these parks you can go skiing, hiking, climbing, or do multi-adventure sports, such as zip lines, horse routes or 4x4 routes, among others.
Madrid Río
Madrid Río is an extensive park of over six kilometres, it has become one of the main meeting points of the city for sport enthusiasts. In Madrid you can participate in activities as varied as skateboarding, ice skating, climbing, football, paddle tennis, tennis, basketball and enjoy over 30km of bike paths.

Routes in Madrid
Old Madrid or Madrid de los Austrias
If you want to discover the essence of Madrid in all its splendour, you cannot miss the 'Madrid de los Austrias', the historical centre of the old city. The cardinal points of the old city are located around the Plaza Mayor, which was inaugurated in 1620, and the Plaza de la Villa, where the old City Hall of Madrid was located. Take a wander through the aristocratic centre of Madrid and travel back in time to the eighteenth century, during the dynasty of the Bourbons, the time when the Royal Palace was built surrounded by the gardens of the "Plaza de Oriente" and located next to the beautiful "Cathedral de la Almudena".
Another must visit in 'Madrid de los Austrias' is the Market of San Miguel, with more than 30 different places of delicious food and bars and where you can enjoy a tasty Squid sandwich a popular plate of the people of Madrid. Another plan here would be to enjoy the nightlife or any one of the traditional bars or restaurants and a place to buy your souvenirs for your loved ones.
The 'Must-do's' in Madrid
Our tour of Madrid is coming to an end, so we highly recommend you take note of these essentials areas to tour the city with your rental car:
Drive with your car to the famous 'Fuente de Cibeles' with access to the 'Parque del Retiro' going through the majestic 'Puerta de Alcalá', here you can discover its beautiful lakes and gardens, not forgetting a visit to the Romantic Crystal Palace, built at the end of the 19th century and make a stop at the Royal Botanical Garden to surprise you with the wonderful fragrances coming from its flowers.
Walk on foot the streets that connect the 'Neptune Fountain' with the famous 'Puerta del Sol', to see Spain's Kilometre 0 and the statue of the 'El Oso y el Madroño', symbol of the city of Madrid. From there, continue your walk to the 'Temple of Debod' to see the sunset in the city with an Egyptian feel.

World Heritage of Madrid
In Madrid, we can visit 3 magical places that have been declared World Heritage by Unesco: Aranjuez, San Lorenzo del Escorial and Alcalá de Henares. If you have enough time during your visit to Madrid, we recommend you to discover everything they have to offer. You won´t regret it!
Related posts
Parking for free in Madrid can seem like an odyssey. We're letting you in on the best-kept secrets to navigate the capital by car and not die trying.