Car hire Milan Malpensa airport
Book on our web instead of comparison websites
Avoid insurance surprises sold by third parties

No additional charges, final price guaranteed

No deposit, no excess option
Our customers trust the quality of our service provided
Currently of 1588 reviews received from our customers, 76.0% said they were satisfied with the service provided during their car hire
Latest user reviews on service provided by Centauro Rent a Car
Review of Adam Kňaze about our office at Milan - Airport - Malpensa Powered by Google™
Great price, fair and transparent conditions, quick service, doesn't require credit card, helpful staff, new and clean cars. On pick-up they didn't have a car available from the class we booked originally, so they upgraded us free of charge to higher class. Can highly recommend.
Review of Manos Korakakis about our office at Milan - Airport - Malpensa Powered by Google™
One of the best rental companies I have used. Booked the premium service on their website which meant no deposit and no extra insurance charges and really no hassle. Car was brilliant, service was fantastic. The shuttle bus took a little longer on arrival day but it was a busy day at Malpensa.
Review of Ionut Boca about our office at Milan - Airport - Malpensa Powered by Google™
Everything was perfect. Rented an Opel Corsa for almost 3 days. The car was good. I paid 84 euros for it in the beginning with my Debit Card. No Credit Card required. Paid 100 euros in the beginning for the full fuel tank. I should receive the money for the fuel that was left when I came back in the next few days in my bank account. I did not have to leave any other guarantee or deposit. They pick you up from the airport and drop you back there. Everything was perfect. Thank you very much!
Review of Jon Metz about our office at Milan - Airport - Malpensa Powered by Google™
Very easy rental, car was nice and clean and just what we expected. No issues and the staff were very helpful.
Review of Fernando García Corona about our office at Milan - Airport - Malpensa Powered by Google™
Really nice experience for me ! I have reserved a car with the cover of insurance so all was pretty easy and fast ! When I returned the car they only check for the fuel and that's it. Only problem maybe it's to get to the office you have to take their van or walk like 40 min. But besides that great deal for the car and price. When returned the car they take you to the terminal your flight departures.
Previous
Next
How to locate the Centauro Rent a Car car hire office at Milan Airport Malpensa
If you have a mobile with connection to internet, the best option is to use Google maps to give you direct instructions from your location.
However, on this page you can download a map with instructions for collection and return of your Hire car.
Opening hours and contact
---
From Monday to Sunday from 07:00 to 23:00.+390683662959
Address
---
Via per Tornavent SP52 5
Vizzola Ticino, Varese, 21010
Latitude: 45,63467
Longitude: 8,70528
Maps & instructions for collection and return
---
T1: Once you have collected your luggage go to Departures on the upper level. Come out of the terminal building and use the zebra crossing in front of the exit door nº 16. Right in front of the terminal building you can wait for the yellow Centauro Rent a Car Shuttle which comes every 10-15 mins.
T2: Once you have collected your luggage, make your way to the parking area situated in front of the departure terminal building that you will see on your right hand side. Here you can wait for the Centauro Rent a Car Shuttle which comes every 10-15 mins.
General information and further assistance from the Centauro Rent a Car car hire office at Milan Airport Malpensa
Road assistance for breakdowns or accidentsPhone number: (+39) 0694 806 800
For reclaims or queries
If you have any reclaims or queries we recommend you visit the section "Help" on our website where you can find answers to many frequently asked questions.
To make a new booking or to check availability
By using our website you will always find the best price on offer and you will know instantly if the vehicle type that you require is available for the dates selected.
To view your account, change a booking, view your invoices & contracts
Access your account and you can find a selection of icons to allow you to modify your details, change a Booking or view your invoices and past contracts.
Information about Centauro Rent a Car car hire company at Milan Airport Malpensa
Hire a car in Milan Malpensa with Centauro Rent a car and enjoy the security and confidence that comes with a fleet of rental cars that is renewed each year. Add to your booking any extras you need when you hire a car, GPS, comprehensive insurance without excess, approved child seats, etc.
We hope to see you in our car rental office in Milan Malpensa Airport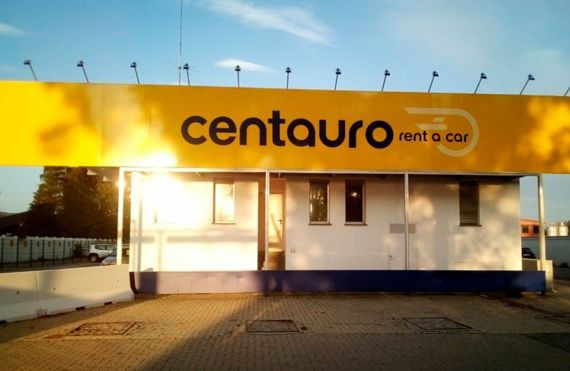 Car hire types available at Milan Airport Malpensa
At Centauro Rent a Car we offer a wide selection of cars available to hire at Milan Airport Malpensa which is renewed yearly.
Our range of cars at Milan Airport Malpensa includes economical, family, convertibles, automatics, vans, minibuses…
What to see and do and where to visit in Milan - Malpensa with your hire car
Airports in Milan - Malpensa
Milan is the second largest city in Italy and has two airports which connect the country; Malpensa & Linate. Malpensa Airport is the most important and with air passenger numbers only being beaten by Rome.
Milan-Malpensa Airport is situated 50 kilometres from Milan, in the province of Varese and forms part of the Parque Lombardo del Valle del Tesino, created in 1974. It has two different terminals which are separated from each other, so it is vital to know which terminal your flights arrives and departs from.
To get to Milan city centre from Malpensa airport, you must take the A8 highway. By hiring a car with us, this is an easy and quick way to reach this amazing city famous for its spectacular fashion. 
Discover Milan with a rental car
Capital of the Lombardy region and Rome's eternal rival, Milan is one of Italy's most important cities and known throughout the world. It is one of the country's main economic engines and a global icon of the fashion world.
The best way to discover this wonderful city? By renting a car in Milan. You can then decide where you want to visit, where to go and what to see all at your own pace and without having to rely on public transport of expensive taxi service.
What to see in Milan
Milan is internationally known for its prestigious fashion shows, however, its history and important works of art also needs to be taken into account.
Milan Art
In addition to Da Vinci's extraordinary work of art 'The Last Supper', the city of Milan has several museums and cultural centres that house some of the best art collections in the country. The Pinacoteca di Brera, away from the hustle of the city houses a collection of amazing creations from artists such as Rafael and Caravaggio for you to enjoy.
The history of Milan
We begin with its imposing Cathedral, one of the largest and most spectacular cathedrals in the world which is located in the splendid 'Plaza del Duomo' square. The views of the whole of the city from the top of this religious temple are simple incredible.
The Columnas de San Lorenzo (The Columns of San Lorenzo) in front of the beautiful Basilica of the same name, is another example of the rich heritage in Milan, this is a place visited by thousands of tourists and is also the starting point for a night out in Milan.

Continuing with this amazing architectural heritage, you cannot go to Milan and not visit the Galleria Vittorio Emanuele II, one of the most beautiful shopping areas in the world, the lively Plaza de la Scala, the Castillo Sforzesco (Sforzesco Castle), the relaxing Parque Sempione (Sempione Park) or the Teatro alla Scala, which, although not as spectacular as Paris or Vienna is a true temple for lyrical music.
The Piazza Affari, home to the Milan Stock Exchange will be our next stop. Here you can see the controversial sculpture of Cattelan with its enormous hand with its raised finger cannot go unnoticed.
To finish this architectural visit, we will take our rental car in Milan and head to the outskirts of Milan to visit the majestic Cementerio Monumental (Cemetery). Yes, you have read this correct! The Milan cemetery is a real open-air museum where each of the tombs is a true work of art.

Fashionable Milan
Back to the city and we put on our best dress to take a walk along the most fashionable streets such as the Montenapoleone & della Spiga, these are undoubtedly the most prestigious shopping areas of the city. You can see some amazing shop windows which also carry some very expensive price tags.
Time for an aperitif
Around the squares that we have mentioned before, there is a whole selection of restaurants and bars where you can taste the famous Cotoletta alla Milanese; a classic dish of saffron-stained risotto with osso buco & panettone, as well as other popular dishes so typical in Italy.
To taste the authentic Italian appetizer, we must go the Navigli area after seven thirty in the evening.  We can enjoy our drink or cocktail (for example the lighter Spritz of the traditional 'Negroni' and we can accompany with a panini, some rice, pizzas or cheese among other delights!
Surrounding areas
Now we know the real Milan, we take our car rental in Milan and we set off to see the beautiful lakes around the city of Lake Como, a holiday retreat made famous by personalities such as Napoleon or Da Vinci. The Lake Iseo is also another beauty spot and similar to the landscapes of the Norwegian Fjords.
To make the most of our car rental in Milan, our Italian getaway should also include a visit to some other interesting towns in the country such as Vila Real de Monza or the picturesque and beautiful Bergamo, one of the most enjoyable places in Italy and just 52 kilometres from Milan.

Related posts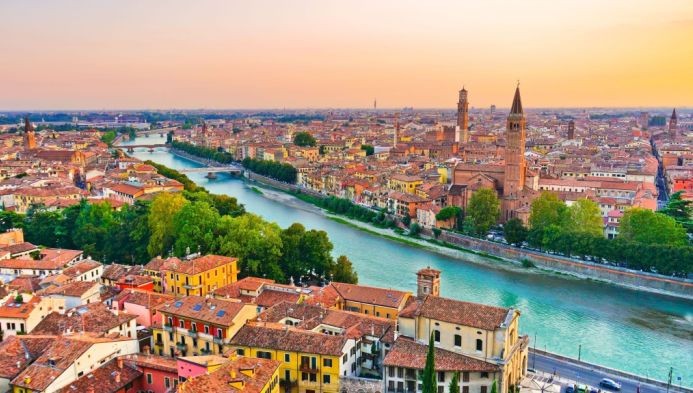 Looking for information for your #road trip around Italy? In this post we suggest some chilled out, beautiful routes for you to follow. You just need to get a vehicle to get going. Take note of our suggested destinations to make the very best of your Italian getaway.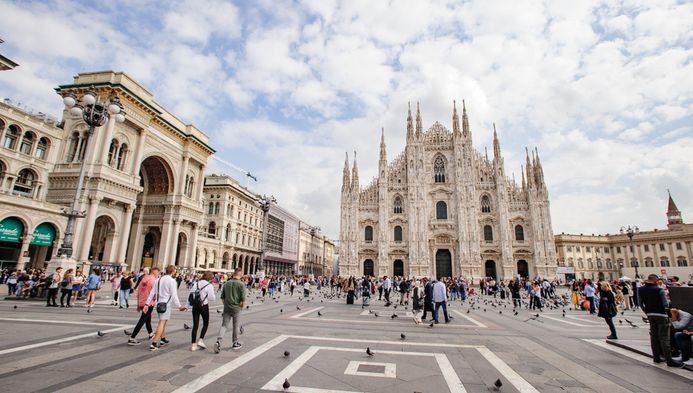 As is the case in almost all cities in Italy, the streets of Milan are a museum in and of themselves; so you will need to get around fast if you want to see everything that has made this Italian city an icon for tourism, and there's nothing better than the freedom and comfort that a rental car provides. Pay attention, because we're going to give you the best tips for parking in the city if you plan on travelling around Milan by car.
Could you enjoy a getaway any time of the year? We would like to suggest to you an unforgettable car itinerary for your winter getaway. Get ready! We're going on a road trip from Milan to Switzerland, through the Alps.