Book on our web instead of comparison websites
Avoid insurance surprises sold by third parties

No additional charges, final price guaranteed

No deposit, no excess option
Our customers trust the quality of our service provided
Currently of 5724 reviews received from our customers, 80% said they were satisfied with the service provided during their car hire
Latest user reviews on service provided by Centauro Rent a Car
Review of Ondrej Kmeťo about our office at Mallorca - Palma - Airport Powered by Google™
Totally satisfied with the car rental. We got a new KIA (only 5000 km driven) which was absolutely amazing and clean. I recommend to reserve the car directly on their website with full coverage insurance and you dont have to worry. Only deposit you have to pay at car rental is deposit for fuel.  After car returnal you will receive the deposit back shortly (we got it a day after we returned the car). Just return it fully fueled. Free shuttle bus from car rental to airport and back is a huge benefit :-)
Review of Simon Feldman about our office at Mallorca - Palma - Airport Powered by Google™
I was pleasantly surprised by Centauro. I was a bit worried reading online about some people had returned their car and not got their deposits back so we went for the Smart Cover. I'd recommend just booking directly from their website as that includes it and works out cheaper than adding it on later. Efficient pickup and drop off service. When you come out the airport terminal walk towards the car park and their yellow minibus is on the right parked up alongside the other minibuses before you cross the road
Review of Brian S about our office at Mallorca - Palma - Airport Powered by Google™
Great rental for 9 days, I've rented through Centauro many times and it's my favorite one for sure. Super fast, great cars and received my fuel deposit back within one hour. I'm looking forward to my upcoming rentals in different locations, thanks centauro!
Review of Daniel Ciobotaru about our office at Mallorca - Palma - Airport Powered by Google™
It was my first experience with a car rental company and I was very satisfied. From the airport we were immediately picked up by their transport car to their rental office and from there in a maximum of 20 minutes we had the car. The car I received (Hyundai Bayon) was like NEW (1500km) which I was very happy with, it was clean and disinfected. After leaving the car that lasted 5 minutes they took us to the airport. It was a wonderful experience and I can't wait to rent through them again! When I picked up the car I paid for the fuel in the car and after handing over the same fuel I received the money on the card the next day. Very welcoming, fast and serious. We could not pay in cash only by card, so you must have money on the card
Review of Stefan Naghi about our office at Mallorca - Palma - Airport Powered by Google™
Best rental service. We chose the premium service with full car insurance, got free transport from airport, clean car, full fuel, no waiting time for returning the car.
Previous
Next
How to locate the Centauro Rent a Car car hire office at Mallorca Palma Airport
If you have a mobile with connection to internet, the best option is to use Google maps to give you direct instructions from your location.
However, on this page you can download a map with instructions for collection and return of your Hire car.
Opening hours and contact
---
From Monday to Sunday from 07:00 to 23:00.+34966360360
Address
---
Camino Son Fangos, 147
Can Pastilla, Baleares, 07199
Latitude: 39,53595
Longitude: 2,73379
Maps & instructions for collection and return
---
Once you have collected your luggage, go outside of the terminal building and in front of you is the car park building. Walk towards this and just before you reach and, on your right, you will find an area which is for minibus parking. The yellow Centauro Rent a Car shuttle comes every 10-15 mins.
General information and further assistance from the Centauro Rent a Car car hire office at Mallorca Palma Airport
Road assistance for breakdowns or accidentsPhone number: (+34) 966 365 365
For reclaims or queries
If you have any reclaims or queries we recommend you visit the section "Help" on our website where you can find answers to many frequently asked questions.
To make a new booking or to check availability
By using our website you will always find the best price on offer and you will know instantly if the vehicle type that you require is available for the dates selected.
To view your account, change a booking, view your invoices & contracts
Access your account and you can find a selection of icons to allow you to modify your details, change a Booking or view your invoices and past contracts.
Information about Centauro Rent a Car car hire company at Mallorca Palma Airport
Centauro Rent a Car renews its fleet of rental cars in Majorca each year so you can drive your rental car with greater security and confidence to even one of the islands most remote places "L'illa of Calm". Our car hire in Palma de Majorca Airport is ready to meet any of your needs; gps, insurance, child seats, etc.
Get cheap car hire in Majorca Airport and get to know the best beaches on the island such as Ca'n Pastilla, El Arenal or Cala Estancia. In addition, Mallorca has much more to offer its visitors with car rental; places such as Palma Cathedral, Bellver Castle and La Seu . Together with the great weather on the Island, hire a car and make your visit to the Island a memorable one.
We hope to see you in our car rental office in Majorca Airport!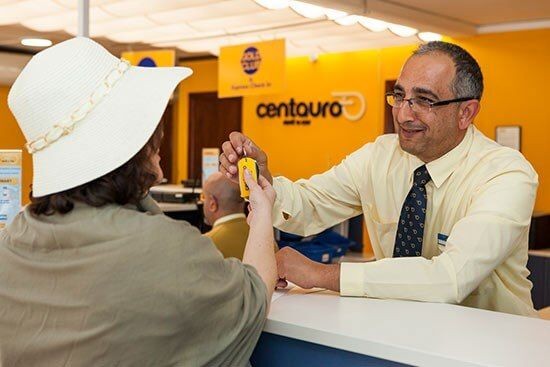 Car hire types available at Majorca Airport Palma
What to see and do and where to visit in Majorca with your hire car
Mallorca airport
The Palma Airport, also known as Sant Joan International Airport, is located 8 kilometers from the center of Palma de Mallorca. It has an air connection with numerous Spanish cities and also with some of Europe's main cities, such as Lisbon, Palermo, Porto, Milan Malpensa, Rome Fiumicino, and many others. The most convenient option to visit the city of Palma de Mallorca is to rent your car at the Airport and get to the city by road, taking the Llevant/Ma19 motorway. 
Car hire at the Mallorca Airport
Car hire at the Airport of Mallorca is a great option for those travelers who want to explore the island with total freedom and enjoy its most remote corners, whether alone, with their partner, friends or family. Rent your car at the Mallorca Airport and enjoy an  unforgettable driving route in Mallorca.
The island of Mallorca, on the shores of the Mediterranean Sea, is one of the most beautiful destinations you can visit in Spain. This province is full of charms and small towns to visit, such as Andratx or Sóller, which you will find are full of magic, and beaches (Playa del Arenal, Cala Major, Cala Estancia, and Es Trenc) and dream-like natural spaces, as well as all the wonders that await you in the city of Palma de Mallorca. An unparalleled destination to enjoy your next holidays. 
Tourist information for Mallorca
The Balearic island of Mallorca has the largest population of any of the islands and is also the largest. Like the others; Ibiza, Menorca and Formentera, Mallorca is an extremely important tourist destination with both national and international visitors.

One of the many attractions of the island are the number of beaches and coves to see. Beaches of the highest quality with water so transparent they are often referred to as 'natural pools'.
Mallorca has a good climate all year round. The great weather, cuisine, architecture and local festivals gives you a great reason to hire a car and discover all the wonders the island has to offer. Renting a car gives you're the flexibility to fully discover Mallorca and visit places such as Palma cathedral, Arab baths or the Bellver Castle. These are just a few examples of the diverse architecture that emphasizes the beauty of the historical heritage in Majorca.
Mallorca beaches and bay areas
The bay areas of the island allows you to swim in waters so clear you think you are in a swimming pool, in an idyllic setting. White soft sand or stone, the choice is yours, with such a selection available to you. Here are a few to discover with your car hire; Caló des Moro, Cala Varques in Manacor, Cala Mondragó in Santanyí, Torrent de Pareis in Sa Calobra, Formento Beach in  Pollença or Es Trenc in Campos, are highly recommendable for their amazing beauty and tranquility which will make you feel as if you are in Majorcan paradise.
In Mallorca, over 300 beaches are waiting for you. Beaches of fine white sand bathed by warm, crystal waters. A wide selection of beaches with something to suit everybody, un-spoilt hidden beaches in their natural beauty. 

Golf courses in Majorca
At Centauro Rent a Car we have made a selection of some of the best golf courses in the Mallorca island so that you can get practicing that swing: Son Antem Golf Club, Son Vida Golf, Son Muntaner Golf, Real Golf de Bendinat, Golf de Poniente, Golf Santa Ponsa, Golf de Andratx, Son Termens Golf Club, Golf Pollença, Alcanada Golf, Capdepera Golf, Canyamel Golf, Golf Son Server, Golf de Pula, Golf Vall d'Or, La Rotana Golf are just some of the golf courses that you can get to with your car Hire.
RCD Mallorca
If you like your football then use your hire car to visit the Son Moix football stadium home to Mallorca RCD and see a game in one of the best leagues in Europe. Here, you can also make a visit to the clubs museum and enjoy the best moments of the club's 100 year history. Have a walk on the pitch and see how it feels to be a pro football player.
Restaurants in Majorca
The local cuisine is very rich and varied, but the specialty has to be fresh fish and shellfish. Typical products such as the famous 'ensaimada', almond milk or 'Sobrasada' are made here.
In Mallorca we can find a great selection of restaurants of the highest quality in some beautiful areas with spectacular views. Be it on the beach or in the mountains, the island has some amazing restaurants on offer such as the Faro, Mirador de la Victoria, El Castillo del Bosque,  Km1 or  Pura Vida. Bon appetite!
Car routes around Mallorca
We start by taking a walk around the old town of the city passing through the center to stop for something to eat or to have a look in the numerous shops offering local products & crafts. Back in our hire car if we go north we will arrive to Deià and a little further along Sóller where you can take in the spectacular views of the mountains, beaches and surrounding areas.
On the west side from Sant Elm to Palma we can find the road where Jaime I was conquered. During the local fiestas in August for the Moors & Cristians, this historic event is recreated.
Another attraction of this lovely island is the amazing array of different cuisines available to you. The wonderful local traditional dishes enjoyed together with the fantastic scenery whether it be by the beach or at the mountains will make your visit spectacular, all in easy reach with your hire car.
We also recommend routes in  Palma de Mallorca, Valldemossa, los Jardines de Alfabia & Sóller, Sa Calobra y Torrent de Pareis, Son Marroig y Sa Foradada, Alcudia and the Cuevas de Mallorca.

Weather in Mallorca
The marvellous weather in Majorca is enjoyed by both residents and visitors who can participate in all kinds of outdoor activities any time of the year due to the wonderful climate this Mediterranean Island has to offer.
Majorca boasts warmer temperatures of between a minimum of 19º and a pleasant 32º during summer & temperatures of between 5º and 10º minimum & 15º to 25º maximum during winter.
To make the most of the wonderful weather we recommend you hire one of our rental cars and take your time to travel around the island with your car hire. Another fantastic idea is to rent one of our convertible cars in Majorca to admire the beautiful landscapes and discover Majorca in all its splendour while touring the island and driving your rental car.
Hotels, Apartments & Villas in Mallorca
Majorca has an extensive offer of more than 5.000 accommodation types for you to enjoy your holiday or business trip on the island. Whether you want to enjoy your holidays with all the amenities of booking a hotel in Palma de Majorca, or if on the other hand you are more adventurous and prefer to book a rental apartment or villa in Majorca to have more freedom. Majorca offers everything you need. Undoubtedly, renting a car in Majorca will be the best option to travel around during your trip to a paradise of white sandy beaches and crystal clear waters.