Car hire in Palermo Airport Sicily
Book on our web instead of comparison websites
Avoid insurance surprises sold by third parties

No additional charges, final price guaranteed

No deposit, no excess option
Our customers trust the quality of our service provided
Currently of 655 reviews received from our customers, 86.0% said they were satisfied with the service provided during their car hire
Latest user reviews on service provided by Centauro Rent a Car
Review of Ivan Jurisko about our office at Palermo Airport - Sicily Powered by Google™
Excellent service, fast pick-up and drop-off, good Opel Corsa :) We booked the Opel Corsa online with Smart Cover which has the full cover. Car was in great condition, super clean. Pick-up was very smooth in Palermo, we paid on the spot there using the debit card, no credit card was needed because of the smart cover. Drop off was in Catania, also very smooth, they just checked the fuel level and wished us happy travels. I can definitely recommend Centauro. At the time we were booking, Centauro was much cheaper with full cover than the other rent-a-cars.
Review of Bartłomiej Styczeń about our office at Palermo Airport - Sicily Powered by Google™
New cars in high standards, very reasonable prices, and most of all great service! Everybody speaks English well (not a standard in the region!), everything went smoothly for me. Both getting and returning the car took no more than 20 minutes and this is including the transfer to/from the airport. Without counting the transfer it literally took 5 minutes. Next time I am in the region, I will no doubt get a car from here.
Review of Laurie Vandervoort about our office at Palermo Airport - Sicily Powered by Google™
Great experience renting with Centauro. Good car and friendly staff. We picked up in Catania and dropped off in Palermo. There is a short shuttle bus to take you to Palermo airport from the car rental parking lot. Fast and efficient service. We would recommend to others. We purchased full insurance with smart cover directly with the company. We would recommend that for peace of mind when driving in Sicily.
Review of Edmond Cheng about our office at Palermo Airport - Sicily Powered by Google™
Was worried about car scam in Sicily, read tons of reviews. But super satisfied with Centauro. Customer service was excellent upon pick-up and drop off. No scam, no extra charges, everything went smoothly. Just get the full coverage insurance, it's worth it. Have peace of mind throughout your holiday. 100% recommend
Review of Jorge about our office at Palermo Airport - Sicily Powered by Google™
I'm very happy with the service. Most trustful car rental service in Sicily. I booked everything easily, reasonable price; and they have a shuttle bus service that will pick you up. It's a shuttle bus, yellow color, that will pick you up as you go out the main door at the arrivals section of the airport. Just cross, and it comes within 15-20', where you see all the buses. Once you return the car, hey will take you back in the shuttle to the airport. Cars are brand new, and well cleaned and managed!
Previous
Next
How to locate the Centauro Rent a Car car hire office at Palermo Airport Sicily
If you have a mobile with connection to internet, the best option is to use Google maps to give you direct instructions from your location.
However, on this page you can download a map with instructions for collection and return of your Hire car.
Opening hours and contact
---
From 1st April to 31st OctoberFrom Monday to Sunday from 07:00 to 23:00.+390683662959
Address
---
Via Paolo Borsellino, 22
Cinisi, Palermo, 90045
Latitude: 38.183222
Longitude: 13.122379
Maps & instructions for collection and return
---
Once you have collected your luggage go to Departures on the upper level. Come out of the terminal using the main exit located in front of the police office and cross the street in front of you using pedestrian crossing. Right in front of the terminal building you can wait for the yellow Centauro Rent a Car Shuttle which comes every 10-15 mins.
General information and further assistance from the Centauro Rent a Car car hire office at Palermo Airport Sicily
Road assistance for breakdowns or accidentsPhone number: (+39) 0694 806 800
For reclaims or queries
If you have any reclaims or queries we recommend you visit the section "Help" on our website where you can find answers to many frequently asked questions.
To make a new booking or to check availability
By using our website you will always find the best price on offer and you will know instantly if the vehicle type that you require is available for the dates selected.
To view your account, change a booking, view your invoices & contracts
Access your account and you can find a selection of icons to allow you to modify your details, change a Booking or view your invoices and past contracts.
Information about Centauro Rent a Car car hire company at Palermo Airport Sicily
Rent a car in Palermo with Centauro Rent a car and enjoy the safety and confidence offered by a fleet of rental cars that is renewed every year. Add to your reservation any extra you may need in a rental car, GPS, full coverage with no deductible, approved children chairs, etc...
We will be waiting for you at our car hire office at the Palermo aiport!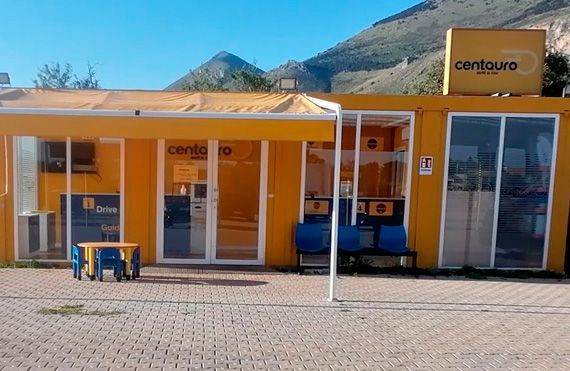 Car hire types available at Palermo Airport Sicily
At Centauro Rent a Car we offer a wide selection of cars available to hire at Palermo Airport Sicily which is renewed yearly.
Our range of cars at Palermo Airport Sicily includes economical, family, convertibles, automatics, vans, minibuses…
What to see, do, and visit in Palermo and its surroundings with your rental car.
Palermo Airport - Punta Raisi
It is the Palermo-Punta Raisi Airport, although it can also be called Falcone-Borsellino Airport or Punta Raisi Airport. It takes its name from the place where it is located: Punta Raisi, about 35 kilometers west of Palermo. Get to the city by road easily, via the A29 and E90. It has connections with other important Italian cities such as Rome and Milan, where you may have to stop, although there are direct flights from Madrid.
Car rental in Palermo
Palermo is the capital of Sicily and its largest city, so driving is a good option if you do not want to miss anything. Palermo is a city full of history and charming places: the Palermo Cathedral, the Palace of the Normans or the Catacombs of the Capuchins are just some of the places that will leave you breathless.
What to see in Palermo
Palermo is a city with a lot to offer, it already has that air that makes it one of the most interesting and rich cities in the Mediterranean. Enjoy the drive by submerging in the atmosphere of a road traveler, determined to cover every nook and cranny of the island's capital. Here are our recommendations:
Historic Palermo and Temples of the city
The Palermo Cathedral, from the 12th century, is one of the must-sees in the city for any traveler, other temples that you cannot miss are the Church of San Cataldo or the Church of the Martorana, where you can see some spectacular Byzantine mosaics.

Drive around the historic streets of Palermo and see its open-air monuments, visit the Vucciria neighborhood and stroll through its market, drop by the Piazza Marina, which once was Palermo's meeting point; the Piazza Vigliena or Quattro Canti, surrounded by four baroque palaces. Fontana Pletoria also awaits you in its homonymous plaza; there you can see countless statues of naked mythological beings.
The Palace of the Normans, built in the 9th century by the Arabs, is also one of the places you can not miss, and today it is the seat of the Sicilian Regional Parliament. However, if you want to see a quaint place, although somewhat grotesque, go visit the Catacombs of the Capuchins, a 15-minutes drive just outside the city.
Driving route through Palermo and its environs
If you rent a car, you can visit any place of interest without having to rely on public transport, something to take into account considering that Palermo has several attractive places in its surroundings. We offer you some driving routes.
One of the tours par excellence in the vicinity of the Sicilian capital is Monreale, located just 30m with your rental car, where you can walk through its streets and see the cathedral built by the Norman King Wilhelm II to compete with the Palermo Cathedral. From there, you can go to Mondello to relax on the beach. Back to Palermo, the Monte Pellegrino Nature Reserve is a must-see, this is a haven of peace where you can walk through nature and forget about the world. It is possible to take a closer look at this natural reserve, since it is only 13 kilometers from Palermo.
If you have more days, you can take your trip to Sicily and visit Taormina, located three hours away, or Catania, just two and a half hours away on the road.

Weather in Palermo
The climate of Palermo is Mediterranean so, in general, you will find it temperate. However, if you travel in summer, you will probably find it warm, it is better to wear cool and breathable clothing.
Gastronomy: What to eat in Palermo
Finally, we are going to talk about gastronomy, since it is known that Italian food is one of the most acclaimed in the world. There are some gastronomic spots you can't miss in this Italian capital. Palermo food is reminiscent of the cuisine of other Italian regions, pasta and pizza play are prominent. However, the Sicilian capital gives it a distinctive touch, which results in unmistakable dishes. Here are our recommendations:
Taste the arancini, some saffron-covered croquettes stuffed with rice and another ingredient to choose.
Try the pasta con le sarde with sardines, fennel, raisins, anchovies, onions and pine nuts.
The sfincione is a thick pizza that can be stuffed and covered with cheese, tomato, anchovies, onions and aromatic herbs.
Driving routes are endless, just as what this destination has to offer. What are you waiting to start your road trip?
Related posts

Thinking about going on a different road trip this fall? The charm of Palermo, Catania and the Valley of the Temples are waiting for you on your driving route through one of the most beautiful islands of Italy.