Book on our web instead of comparison websites
Avoid insurance surprises sold by third parties

No additional charges, final price guaranteed

No deposit, no excess option
Our customers trust the quality of our service provided
Currently of 1096 reviews received from our customers, 78.0% said they were satisfied with the service provided during their car hire
Latest user reviews on service provided by Centauro Rent a Car
Review of James Brubaker about our office at Barcelona Sants Powered by Google™
Highly recommended. Excellent service. Excellent car. Excellent value. The team member who processed our booking is smart, professional and extremely efficient. This is a busy location so I suggest you reserve and pay in advance via the Centauro website. This will allow you to jump ahead in the queue when you arrive to pick up your car.
Review of Marek about our office at Barcelona Sants Powered by Google™
Super: very fast transfer from airport with Centauro yellow bus and quick rental procedure, new clean car from very kind people. Thanks! No hidden cost. Everything as booked at Centauro web site.
Review of András Boza about our office at Barcelona Sants Powered by Google™
I've rented a car for 3 days. I'm very satisfied with the service, I got an almost brand new car. The staff in the office was very nice, efficient and quick. The fuel deposit surprised me a little (maybe I just missed this part at the booking) but I've got it back in 2 days (including weekend days) so it was fine. I can happily recommend Centauro in Barcelona Sants
Review of Juan Renzulli about our office at Barcelona Sants Powered by Google™
Exceptional experience, wonderful attention, superior quality of vehicle delivered. The best attention, and customer experience at the counter thanks to Guillerme, who with his kindness and quality of service exceeded my expectations and created a great experience from the delivery of the vehicle. People like Guillerme give Centauro a very professional face and are oriented towards good service and the best customer experience.
Review of Em FRT about our office at Barcelona Sants Powered by Google™
Very smooth and efficient, with no deposit or credit card (just the 151€ deposit for fuel), everything was done in 10 minutes. I got an upgrade on the vehicle free of charge, reserved Kia Ceed and got a Hyundai Tucson instead which was brand new and very well equipped (wireless CarPlay included). Also, I returned the car to Madrid Airport and this also very smooth and efficient. Its by far the best car rental company I used until now and would definitely recommend them! TIP: When reserving the vehicle use the official Centauro site and choose the Premium package that includes Smart Cover.
Previous
Next
How to locate the Centauro Rent a Car car hire office at Barcelona Sants
If you have a mobile with connection to internet, the best option is to use Google maps to give you direct instructions from your location.
However, on this page you can download a map with instructions for collection and return of your Hire car.
Opening hours and contact
---
From Monday to Friday from 07:00 to 22:00.From Saturday to Sunday from 07:00 to 21:00.+34966360360
Address
---
C/ Viriat 43,
Barcelona, España, 08014
Latitude: 41.380505
Longitude: 2.140873
Maps & instructions for collection and return
---
Instructions for collection
On arrival at Barcelona Sants please go to the Centauro Rent a Car desk outside the station.
Leave the station via the "Plaça dels Països Catalans" exit. Cross two pedestrian crossings and bare left to cross another pedestrian crossing with a traffic light (Calle Viriat). You will find the Centauro office about 15 metres away on your right hand side.
Instructions for return and map
Vehicles must be returned to the Centauro car park.
Parking Continental Parking Sants C/ Numància, 9, 13, 08029 Barcelona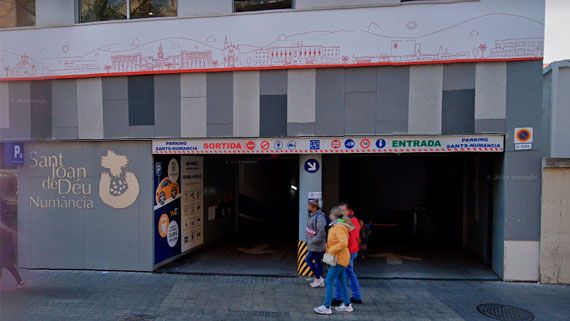 General information and further assistance from the Centauro Rent a Car car hire office at Barcelona Sants
Road assistance for breakdowns or accidentsPhone number: (+34) 966 365 365
For reclaims or queries
If you have any reclaims or queries we recommend you visit the section "Help" on our website where you can find answers to many frequently asked questions.
To make a new booking or to check availability
By using our website you will always find the best price on offer and you will know instantly if the vehicle type that you require is available for the dates selected.
To view your account, change a booking, view your invoices & contracts
Access your account and you can find a selection of icons to allow you to modify your details, change a Booking or view your invoices and past contracts.
Information about Centauro Rent a Car car hire company at Barcelona Sants
Hire a car in Barcelona with Centauro Rent a car and enjoy the security and confidence that comes with a fleet of rental cars that is renewed each year. Add to your booking any extras you need when you hire a car, GPS, comprehensive insurance without excess, approved child seats, etc.
We hope to see you in our car rental office in Barcelona Airport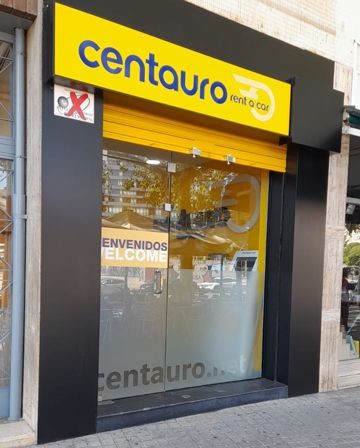 Car hire types available at Barcelona Sants
At Centauro Rent a Car we offer a wide selection of cars available to hire at Barcelona Sants which is renewed yearly.
Our range of cars at Barcelona Sants includes economical, family, convertibles, automatics, vans, minibuses…
What to see, do and visit in Barcelona and the surrounding area with your car hire
Barcelona Sants Train Station
Barcelona Sants train station, located in the Barcelona Sants-Montjuic district, is the main train station in Spain after Atocha station in Madrid and followed by Santa Justa station in Seville.
Travelling to Barcelona by train and hiring your car at Barcelona Sants station is the best option for getting around one of the most interesting cities in Spain. Sants station connects Barcelona with local, medium and long-distance trains linking the city with destinations such as Aragón, Valencia, Madrid, the Basque country, Murcia, Seville and y Málaga in Andalucía and even Lyon or Marseille in France.
Barcelona tourist information
Barcelona has become a high-intensity cosmopolitan city with culture, history, art, tourism and trade coexisting very well.
If you want to visit Barcelona with your hire car, there are some well-known and some not so well-known unmissable sights. Marvel at the rich historic legacy which has left its mark in each of its districts and the contrast of the cultural heritage left behind by the Romans and the Visigoths along with the elaborate industrial development of the 19th and 20th centuries, which has made Barcelona one of the leading cities worldwide and the most visited in Spain.

Routes around Barcelona
We begin our tourist route around Barcelona in the historic centre; we recommend you park your car here because the best of this route is along the city's pedestrianised streets.
Travel back in time in the Barrio Gótico
The Barrio Gótico was home to the former Barcino, founded by the Romans in the 1st century AC; visit the vestiges of the former Roman Empire including the Temple of Augustus, located behind the Cathedral where there are still 4 columns from the former temple, or head toPlaza Nova where you can see 2 towers from the former Roman wall , which was originally formed of 74.
Take a stroll around this district and step back in time to the Middle Ages, walk along its medieval streets and see its buildings such as Barcelona cathedral, a Gothic temple constructed between the 14th and 15th centuries, its impressive landscaped cloister or head to its rooftop for breathtaking views of the city.

A walk along the Ramblas
From the Barrio Gótico, we head towards the Ramblas, a pedestrianised street running from the old part of the city; this street is always bustling. Walk along the Rambla de Canaletes, visit the MACBA (Museum of Modern Art), where you'll see 20th-century works from artists including Saura, Barceló and Tàpies or take a trip to La Boquería market, a magical place where the market of yesteryear is tinged with a special colour with the contrast of the colours and smells of the most delicious food.
Another unmissable is a visit to the Liceu theatre or a visit to the Columbus monument, which points from the city to the Mediterranean sea; you can climb the monument and enjoy breathtaking panoramic views of the city.
Catalan modernism tour
We begin our tour of Catalan modernism in the marvellous Parque Güell by Gaudí, an outdoor space perfectly integrated into nature which pushes the limits of the imagination and from where you have one of the most breathtaking views of Barcelona, with Gaudí's mosaics adorning the city below. We continue by discovering one of the greatest delights of Barcelona in the Eixample district, where architects such as Doménech i Montaner, Puig i Cadafalch or Antonio Gaudí reinvented architecture for the Catalan bourgeoisie of the 19th and 20th centuries, making Barcelona the global capital of modernism.

On Paseo de Gracia, there is the "Manzana de la Discordia", formed of Casa Lleó – by Doménech and Montaner- Casa Amatller – by Puig and Cadafalch - and Casa Batlló – by Antonio Gaudí, or the Unesco World Heritage Site, La Pedrera or Casa Milá , by Antonio Gaudí.
We then arrive at the quintessential Barcelona site, the Sagrada Familia, which was started in 1882 by Gaudí and is still not complete. It integrates natural elements in perfect harmony with impossible forms and stained glass of a thousand colours which has taken the architecture to another level. It is the third most visited site in Spain, after the Prado Museum in Madrid and the Alhambra in Granada and the second most visited church in Europe, after St. Peter's in the Vatican, Rome.
To end our modernist tour, we head to the Palau de la Música Catalana, which is worth the visit due to its beautiful foyer and its incredible decor with coloured stainglass, mosaics and forged iron which makes this building unique. 

The charm of La Ribera
This enchanting district still retains the authenticity of its origins in the Middle Ages where craftsmen, traders and sailors could be found. We park our hire car in La Ribera to visit the Santa María del Mar basilica, a beautiful example of Gothic architecture, Mercat del Born, built of iron in 1876, stroll around the leafy Parque de la Ciutadella, home to lakes and gardens and Barcelona zoo and end the day by visiting the Picasso museum, where you will see his masterpiece Las Meninas.

Beaches, bays and the coast of Barcelona
There is nothing better than visiting Barcelona's beaches and coves during your holidays, feeling the breeze and the immensity of the Mediterranean Sea. Barcelona boasts almost 5km of fine golden beaches with perfect modern facilities which were refurbished as of the 1992 Olympic Games providing accessibility and free Wi-Fi access, where you can enjoy the sea, watersports, a bite to eat in the many beach bars or the best Catalan gastronomy at the edge of the beach.
Among them, there is San Sebastián and San Miguel beach, Barceloneta beach, Somorrostro beach, Nova Icària beach, Bogatell beach, Mar Bella & Nova Mar Bella beaches, Levante beach and the bathing area at the Forum.
Of these beaches, the most highly recommended along Barcelona coast are Barceloneta beach, located in the fishing district of the same name, which is one of the city's most popular; Icària beach, located in the Olympic Village, the residential area built to house the athletes competing at the 1992 Olympic Games and Mar Bella beach, with sports facilities for volleyball, basketball and table tennis and water sports, which is usually frequented by young people and has a special area for nudism.

Weather in Barcelona
The best time to visit Barcelona is during spring and summer when the average temperature is between 15 and 25º, with a mild climate and low rainfall, perfect for enjoying outdoor activities. There are large numbers of tourists during these months.
If you want to visit Barcelona but want to avoid the crowds, you could visit in autumn when the temperatures are still pleasant but the city is not as busy.
For those fond of nostalgia, the city has a special charm in winter although the city sees 90 rainy days per year so it is likely to rain during your holidays.
Related posts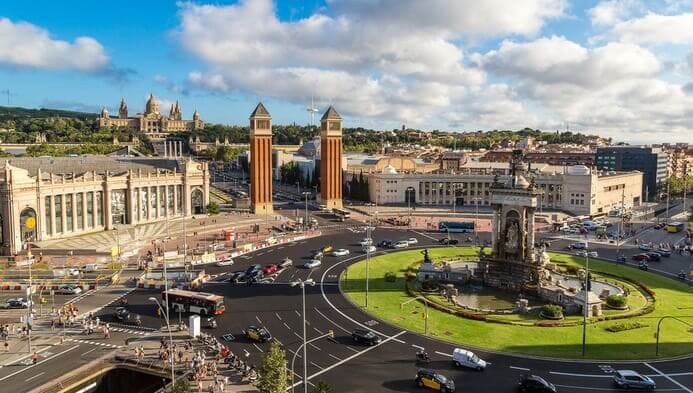 Are you traveling to Barcelona with your rental car and don't know where to park? Don't worry, #Roadlover because we've got good news for you. In this post, we'll show you the best places to park for free in Barcelona. So the only thing you'll have to worry about is finding the best spots to enjoy your getaway in this beautiful city.

Have you lived the experience of travelling the world driving a van with your family? Discover this route by van through the most beautiful villages from Barcelona to the Pyrenees

The most beautiful villages in the Mediterranean: a route by car from Alicante to Barcelona travelling through Valencia.