Car hire in Sevilla Santa Justa
Book on our web instead of comparison websites
Avoid insurance surprises sold by third parties

No additional charges, final price guaranteed

No deposit, no excess option
Our customers trust the quality of our service provided
Currently of 507 reviews received from our customers, 88.0% said they were satisfied with the service provided during their car hire
Latest customer reviews on service provided by Centauro Rent a Car
Review of Izabela Laura about our office at Sevilla - Santa Justa - Train Station Powered by Google™
Second time with the rental company and both times very satisfied with quick and profesional service! The car upgrade was excellent, thank you!
Review of Fotograful Calator about our office at Sevilla - Santa Justa - Train Station Powered by Google™
My best experience with a car rental company. We rented a Fiat Tipo Sw and we got exact that model. We had smart full insurance and everything was nice and smooth. Recommend!
Review of Gábor Takács about our office at Sevilla - Santa Justa - Train Station Powered by Google™
Helpful and kind staff, they all speak Englis well. They do not need deposit if you ask and pay for full insurance. It was a great deal. We brought the cars back 2 hours later than expected and it caused no harm. It is easy to get to but the parking lot is a difficult place to leave and enter. You need to pay for the complete tank of fuel in advance and get it back if you bring it back full as at start.
Review of Paulina Rajewska about our office at Sevilla - Santa Justa - Train Station Powered by Google™
Very nice service, extremely clean and nice car (only 4000 km!), smart coverage without stress. No hidden fees or clauses. The only thing - they took 72EUR deposit on the fuel (it was given to us full), but they returned it directly after returning the car. Totally recommended! For sure if we ever need to rent a car in Spain - we'll use Centauro.
Review of Abian Codesal Sabina about our office at Sevilla - Santa Justa - Train Station Powered by Google™
We arrived a before the reservation and they try their best and made it possible to get the car even before time. Thanks!
Previous
Next
How to locate the Centauro Rent a Car car hire office at Sevilla Santa Justa Train Station
If you have a mobile with connection to internet, the best option is to use Google maps to give you direct instructions from your location.
However, on this page you can download a map with instructions for collection and return of your Hire car.
Opening hours and contact
---
From Monday to Sunday from 07:00 to 23:00.+34966360360
Address
---
Av. de Kansas City, 32
Sevilla, , 41007
Latitude: 37,3902478435239
Longitude: -5.9741710822523375
Maps & instructions for collection and return
---
Instructions for collection
Come out of the station taking the 'Salida Avenida Kansas City' exit sign, cross the main road and straight ahead you will find the Centauro Rent a Car office, 150mts in front of the station.
Instructions for return and map 
Vehicles must be returned to the Centauro car park.
Centauro Rent a Car Parking Sevilla Santa Justa
C. Mirador, 
41007 Sevilla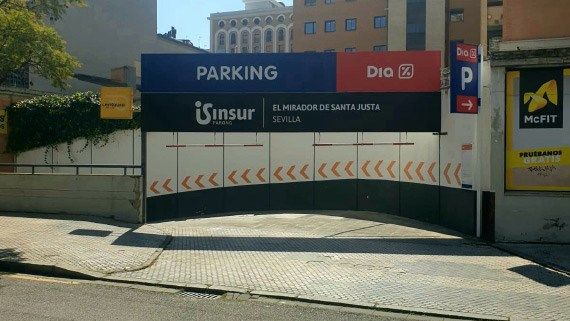 Latitude: 37°23'25.4"N (37.390401)
Longitude: 5°58'26.0"W (-5.973886)
General information and further assistance from the Centauro Rent a Car car hire office at Sevilla Santa Justa Train Station
Road assistance for breakdowns or accidents
Phone number: (+34) 966 365 365
For reclaims or queries

If you have any reclaims or queries we recommend you visit the section "Help" on our website where you can find answers to many frequently asked questions.
To make a new booking or to check availability
By using our website you will always find the best price on offer and you will know instantly if the vehicle type that you require is available for the dates selected.
To view your account, change a booking, view your invoices & contracts

Access your account and you can find a selection of icons to allow you to modify your details, change a Booking or view your invoices and past contracts.
Information about Centauro Rent a Car car hire company at Sevilla Santa Justa Train Station
Hire a car in Sevilla Santa Justa with Centauro Rent a car and enjoy the security and confidence that comes with a fleet of rental cars that is renewed each year. Add to your booking any extras you need when you hire a car, GPS, comprehensive insurance without excess, approved child seats, etc.
Get cheap car hire at Sevilla Santa Justa and drive through the land which guarantees good weather most of the year.
We hope to see you in our car rental office in Sevilla Santa Justa!
Car hire types available at Sevilla Santa Justa Train Station
At Centauro Rent a Car we offer a wide selection of cars available to hire at Sevilla Santa Justa Train Station which is renewed yearly.
Our range of cars at Sevilla Santa Justa Train Station includes economical, family, convertibles, automatics, vans, minibuses…
What to see and do and where to visit in Seville with your hire car
Santa Justa Train Station
The Santa Justa train station in Seville is the largest station in all of Andalucía and the third largest in Spain behind Madrid's Atocha station and Barcelona's Sants station. The Santa Justa station covers over 80.00m2 with 12 train tracks and offers a commercial area with restaurants, coffee shops, clothes and shoe shops and foreign exchange bureau.
Hire your car at Santa Justa station is the easiest way to enjoy your holidays in this region. Seville Santa Justas is well connected to destinations all over Spain and offers high-speed train services such as the Ave, Alvia o Talgo to Madrid, Barcelona, Huelva, Cádiz or Malaga. In addition, Santa Justa station connects Seville to other cities in Andalusia, Castilla La Mancha or Extremadura by long distance trains and metropolitan trains used within Seville.
Outside the train terminal, you will find parking areas, taxis and local bus stop. The station is also well connected by road using a car or public transport. If you want to get to Seville Airport from Santa Justa train station you can take Line EA 'Especial Aeropuerto' (Special Airport) which takes around 35 minutes and makes stops at the most popular areas of the city.
Without a doubt, by hiring a car at Santa Justa station is a great option to more around at your own pace and get to know one of Spain's most beautiful cities.
Seville Tourist Information
Seville, capital of Andalusia is the rich heir to the passage of numerous villages that have conferred on it the open and multidisciplinary character it offers today to anyone who arrives on their land wanting to know one of the most beautiful cities in southern Spain. Thinking of car hire in Seville Santa Justa is a good option to tour the city in a simple and comfortable.
We must prepare ourselves to enjoy a journey full of rewarding experiences that will leave an indelible mark on the memory of the most curious traveler. We must think that the city of Seville passed cultures as mythical as Roman or Arab and in all of them played a crucial role for the development of the ancient and modern world.
A striking example is the fact that the Andalusian capital played a crucial role as the port of the Americas in trade between Europe and the New World. This information definitely supported the projection of Seville and its role in the development of the West.
Nowadays, all these questions have shaped the profile of a modern Andalusian capital, open, welcoming, friendly, interesting, cultural and endearing. Do not forget the car rental in Seville, because it will be an ideal way to move around a very comfortable city to travel by car.
Seville and the Guadalquivir
Few cities have such a close relationship with a river. However, the Guadalquivir has become for Seville an artery full of poetry and bewitness, capable of enamorar the two banks of the city and offer its own and strangers, prints of authentic beauty.
It seems that the Guadalquivir was known to be loved by the Sevillians and, perhaps, from there comes that mutual infatuation that turns the river's journey into one more way of knowing more closely the city.
Taking one of the boats that make the journey along the Guadalquivir can be an unparalleled experience, especially for those who want to take pictures of both parts of the city.
We should not worry if we are moving in rental cars in Seville, because there are a number of public car parks and parking lots, which make it easy to leave the vehicle well parked while we enjoy our walk through one of the most eloquent rivers in Spain.
Triana and La Macarena
If there are two neighborhoods with solera in Seville those are Triana and La Macarena. Each is located on one of the banks of the Guadalquivir River. You can go from one to another even if you have opted for the car rental in Seville Santa Justa, because the city Seville is well prepared to join its two parts with numerous bridges.
The best of each neighborhood is in those taverns and small bars where you can have a wine, a beer and a tapa so typical. Even on a lucky day, you may be able to attend the live performance of some spontaneous who starts singing flamenco or playing a guitar full of magic and trunk.
You have to know that each neighborhood has its own Cofradia, which gives shelter and notoriety to the Virgin of each neighborhood: La Esperanza de Triana and Esperanza Macarena. To understand the fervor of both brotherhoods you can not miss the journey of their processional steps during the days of Holy Week. Here, again, it is imperative to carry the camera by hand.
The Barrio de Santa Cruz and the Giralda
I know that we have chosen to rent a car in Santa Justa, but it's time to park it for a little while and enjoy an unbeatable pedestrian walk. Getting lost in the streets of the famous Barrio de Santa Cruz is priceless.
We will move to an area declared World Heritage Site and we will reach the Cathedral of Seville and its magnificent tower: La Giralda, a symbol, and well deserved, of the Andalusian city. Apart from the beauty of an area that seems to have been made for walking, with its orange trees and that unforgettable aroma of orange blossom, the layout is full of places to practice one of the national sports and best taste: tapas. Let yourself be carried away by the flavors and textures of a purely Spanish culinary art.
Finally, before returning to take your rental car from Sevilla Santa Justa, you lose a moment to look back at the Torre del Oro. Legend has it that one day the monument was covered with this rich material. Today we only see it in stone, but its beauty, as lookout of the Guadalquivir is impressive. By the way, make no mistake. In the capital of Andalusia there are still many things to see. So be a little adventurous and investigate. Car rental in Seville at Santa justa station will help you to get more comfortable.
Rent a car with Centauro Rent a Car and do not miss anything about this exciting province.
Related posts
Planning your next getaway to the "Feria de Abril"? Find out how to enjoy it like an authentic Sevillian!