Book on our web instead of comparison websites
Avoid insurance surprises sold by third parties

No additional charges, final price guaranteed

No deposit, no excess option
Our customers trust the quality of our service provided
Currently of 978 reviews received from our customers, 88.0% said they were satisfied with the service provided during their car hire
Latest user reviews on service provided by Centauro Rent a Car
Review of Chris Taylor about our office at Murcia - Airport Powered by Google™
This is the first time I have hired a car abroad and I couldn't rate Centauro Car Hire any higher . We collected our car from Murcia airport. Literally stepped off the plane, walked straight onto the Centauro shuttle bus and was driving our car within 15 minutes. The car was brand new, very clean and made our holiday even more enjoyable. It's definitely worth opting for the premium package, the no deposit, no excess fully comprehensive insurance is a no brainer, and the fast key service means you simply scan a QR code, open the key locker and drive your car away without having to queue or speak to a member of staff. Drop off/return was just as easy and they have since reimbursed my account with the fuel that I didn't use. Will be using Centauro for all future holidays from now on. Keep up the fantastic service Centauro!!!!
Review of John Fredrickson about our office at Murcia - Airport Powered by Google™
Really easy rental experience. Prompt pickup from the airport to their location (approx 5 mins from the main airport terminal), super quick car collection, car was amazing, fuel refund processed within 24 hours. Looking at the queues for on-site car rental pickups we definitely had a faster experience. Would definitely use centauro Murcia again. Thank you!
Review of Matt Rutherford about our office at Murcia - Airport Powered by Google™
Have used Centauro multiple times from the Murcia Airport office (RMU) and have had excellent service every time. The cars are clean and good quality, and the pickup and return process is efficient and quick. On our last visit - we had a puncture on our car, and Centauro quickly swapped the car out to let us continue our holiday. Highly recommended.
Review of Martin Anscombe about our office at Murcia - Airport Powered by Google™
Murcia airport is pretty small and seemingly not very busy. The Centauro office is a 5 minute or so drive away. The courtesy bus runs really efficiently. Collecting the car was a doddle. I'd pre-booked everything so there was only the need for a cursory check. The Kia hybrid car was excellent. Low mileage and a huge m.p.g. It all went so well, I've booked our next car for August 🇪🇸😎
Review of Tony Brown about our office at Murcia - Airport Powered by Google™
Centauro is an exceptional car rental company to deal with. They offer complimentary pick-up service from Murcia airport, which is truly convenient. I highly recommend renting the Ford Puma from them as it is an outstanding vehicle. The car was spotless both inside and out. The staff at Centauro are incredibly friendly and professional. When we returned the car, unlike most other rental companies, they promptly inspected it and assured us that everything was in order. This is great because it alleviates any concerns about unexpected charges on your credit card. They then provided transportation back to the airport. Without a doubt, I highly recommend Centauro as a stress-free car rental company.
Previous
Next
How to locate the Centauro Rent a Car car hire office at Murcia Airport
If you have a mobile with connection to internet, the best option is to use Google maps to give you direct instructions from your location.
However, on this page you can download a map with instructions for collection and return of your Hire car.
Opening hours and contact
---
From Monday to Sunday from 08:00 to 22:00.+34966360360
Address
---
Poligono 161, Parcela 73, RM-17 Lo Jurado
Corvera, Murcia, 30156
Latitude: 37.826389
Longitude: -1,10888
Maps & instructions for collection and return
---
Once you have collected your luggage, exit the Arrival Terminal building and just opposite, crossing over the road, you can wait for the Centauro Rent a Car Shuttle which comes every 10-15 mins.
General information and further assistance from the Centauro Rent a Car car hire office at Murcia Airport
Road assistance for breakdowns or accidentsPhone number: (+34) 966 365 365
For reclaims or queries
If you have any reclaims or queries we recommend you visit the section "Help" on our website where you can find answers to many frequently asked questions.
To make a new booking or to check availability
By using our website you will always find the best price on offer and you will know instantly if the vehicle type that you require is available for the dates selected.
To view your account, change a booking, view your invoices & contracts
Access your account and you can find a selection of icons to allow you to modify your details, change a Booking or view your invoices and past contracts.
Information about Centauro Rent a Car car hire company at Murcia Airport
Hire a car in Murcia with Centauro Rent a car with all the extras you need; insurance without excess, child seats, GPS, extra driver, etc. ... Experience the security of driving a rental car in Murcia belonging to a fleet that is renewed every year.
From our website you can hire a car in Murcia Airport so you can visit places of architectural beauty such as the Cathedral of Santa Maria, the Monastery of Santa Clara la Real, and the Plaza Santo Domingo. Your car hire in Murcia is the most appropriate means of transport to get to the best beaches, rivers, lakes, or enjoy the best regional cuisine and wine. Cartagena, Jumilla, Mula, Molina de Segura, Yecla ... these are all charming villages that you should not miss on your vacation with your car hire in Murcia.
We hope to see you in our car rental office in Murcia Airport!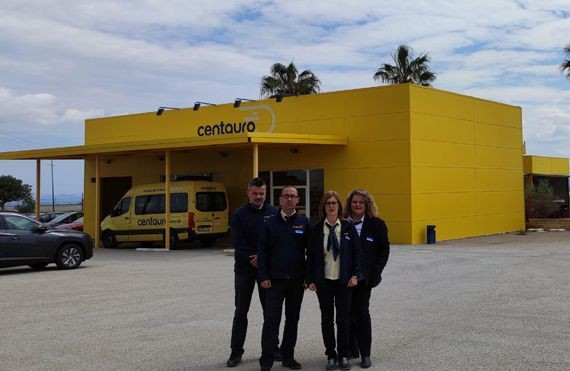 Car hire types available at Murcia Airport
At Centauro Rent a Car we offer a wide selection of cars available to hire at Murcia Airport which is renewed yearly.
Our range of cars at Murcia Airport includes economical, family, convertibles, automatics, vans, minibuses…
What to see and do and where to visit in Murcia with your hire car
Murcia Airport
The Region of Murcia International Airport, also known as the Corvera Airport, is 25 kilometers from Murcia and 35 kilometers from Cartagena, a leading tourist destination in the Mediterranean. The airport has direct flight connections with national and international cities, such as Mallorca, Manchester, Dublin or London. With your rental car, you can go directly to Murcia driving on the A-30 motorway or the RM-601 road, or using bus or train connections. 
Car hire at the Murcia Airport
Renting a car at the Murcia Airport is one of the preferred options for travelers, since it allows you to plan your driving route through Murcia at your own pace. Therefore, renting a car in Murcia may be an inexpensive option to travel with your friends or with the whole family, that accommodates to the trip you want to enjoy. 
Choosing car hire in Murcia as your preferred method of transportation is a great option to drive around the province and travel comfortably through Murcia, a province that has a lot to offer. Tour the Murcia city center and its pedestrian areas, where you can enjoy the local atmosphere, and delve into the charm of its villages, such as Caravaca, Calblanque or Lorca, or relax in the Mar Menor and its fine sandy beaches. 
Murcia tourist information
On the banks of the 'Segura' river and the Mediterranean Sea, the Region of Murcia was once known as the 'Orchard of Europe', this was mainly because the local economy was based on the export of quality agricultural products throughout Europe. Today, their products are still synonymous with high quality which continues to be exported all over the world. The growth of the tourism industry has been another big boost for the economy adding other services such as food, textile, building materials and furniture.

With all this on offer, the region has grown in popularity and now receives a large number of tourists and visitors every year, with many having their holiday homes or second place of residence in this area to enjoy the wonderful year round sunshine. In Murcia, the weather allows you to spend some wonderful days at the many beaches of the area known as 'Costa Cálida'.
Murcia also boasts other great attributes, a rich and varied gastronomy, archeologic sites, beautiful architecture adding to their cultural heritage. With your car hire, festivals and local craft and incredible natural beauty spots are all within your reach.
Murcia beaches and bay areas
All along the Murcia Coast are an abundance of beaches you can reach when you hire a car. Come and enjoy over 250kms of Mediterranean coastline known for its unique microclimate. On the 'Costa Cálida' you can enjoy beaches and bay areas of  San Pedro del Pinatar, San Javier, Los Alcázares, La Unión, Cartagena, Mazarrón, Lorca or Águilas to name a few. Beaches, coves and cliffs of white sands, turquoise waters, sun and an atmosphere to relax and enjoy or to even practice your favorite watersport.
Golf courses in Murcia
Thanks to the great all year round climate Murcia has to offer you can practice golf during any season. With a great variety of courses available to practice your swing, either by the beach or in the mountains, golf lovers have a great choice to be able to practice their favorite sport. Most of the Golf Courses also have other complimentary services for you to enjoy.
Come and discover this golf lover's paradise.

Restaurants in Murcia and Wine tasting routes 
In this section we highly recommend that you get to know the typical cuisine made using home grown produce that Murcia has to offer.  Don't miss this opportunity to try the great variety of rice dishes, the varied selection of fresh fish and shellfish, stews, meats and products from the 'Huerta de Murcia'. Just hire a car and you will be able to enjoy all of this. We would also like to highlight the many wineries and vineyards around the area for you to taste some of the best wines known with the distinction of 'Denominación de Origen' famous in Spain.
Car routes around Murcia
Driving your Hire car around Murcia is as easy as it is necessary. From the coastal area to the mountains you will find a diverse array of natural parks to enjoy, caves, rivers, beaches, mines and a variety of monuments from history many of which are prehistoric. At Centauro rent a car we can offer routes in around Murcia to places such as: Lorca, Cieza & Moratalla, Archena & Caravaca, Cartagena or Mar Menor, all of which are a must and by hiring a car with Centauro rent a car we will make this even easier for you.
Related posts
It is always the perfect time to taste a delicious and nutritious rice dish and if you find yourself visiting the lovely region of Murcia, then there is only one name for it 'Caldero' from Mar Menor.

All the secrets to an enjoyable holiday in Torrevieja, discover some amazing coves to go snorkelling, lovely walks through the old town of the city and the impressive views of the protected natural parks.

Discover the Holy Week in Lorca with Centauro Rent a Car; a unique tourist event, with Biblical processions between rival confraternities not to be missed.