Car hire Valencia airport
Book on our web instead of comparison websites
Avoid insurance surprises sold by third parties

No additional charges, final price guaranteed

No deposit, no excess option
Our customers trust the quality of our service provided
Currently of 2076 reviews received from our customers, 86.0% said they were satisfied with the service provided during their car hire
Latest user reviews on service provided by Centauro Rent a Car
Review of David DECHENE about our office at Valencia - Airport Powered by Google™
The best rental company I ever saw in my life. I rent a lot of cars on airports. Centauro was Very good! Friendly staff, clean and new cars. Fast pick up by bus and drop off airport. Contract and refund system super clearly on paperwork by email. Email support response very fast and friendly! Excellent! Thanks.
Review of Ania Witkowska about our office at Valencia - Airport Powered by Google™
I have rented the car from this company and it was a very pleasant experience, I had no issues, and very forward pick up as well drop off, didn't have any issues. The car was brand new, everything was on point, and the deposit had been returned as well. Nothing to complain about. Nice and easy, I 100% recommend this company to others who travel to Spain! Thank you for the unforgettable memories, as you made my trip even easier!
Review of S.K. Heijs about our office at Valencia - Airport Powered by Google™
Excellent rental experience! Good P/Q for the car we got (which was almost new!). Friendly staff en very good service (both in the office as well as the shuttle service from and to the airport!).
Review of Katie Sahota about our office at Valencia - Airport Powered by Google™
Great service, didn't take long for the bus to come. Good car in excellent condition. Friendly staff and quick to collect and drop off. Thank you!
Review of Kirsten Southard about our office at Valencia - Airport Powered by Google™
I had a really good experience on a 2 week trip to the Valencia area. The courtesy bus picked us up in no time, we got our car in 2 minutes and were ready to start our trip. They offer 2nd driver and comprehensive insurance as standard I believe. The car was very tidy and ran well (Fiat 500). It was really good value for 2 weeks. The drop off was easy and they refunded me my fuel deposit there and then when they saw the fuel tank was full. Highly recommended!
Previous
Next
How to locate the Centauro Rent a Car car hire office at Valencia Airport
If you have a mobile with connection to internet, the best option is to use Google maps to give you direct instructions from your location.
However, on this page you can download a map with instructions for collection and return of your Hire car.
Opening hours and contact
---
From Monday to Sunday from 07:00 to 23:00.+34966360360
Address
---
Avinguda d'els Arcs
Manises, Valencia, 46940
Latitude: 39,4847938
Longitude: -0,4640338
Maps & instructions for collection and return
---
Once you have collected your luggage, come out of the terminal through the nearest exit. Turn left and continue walking past the taxi rank for 150m until you reach the Long Term Parking P6, where you will find the 'Meeting Point' sign where the Centauro Rent a Car shuttle comes every 10-15 mins.
General information and further assistance from the Centauro Rent a Car car hire office at Valencia Airport
Road assistance for breakdowns or accidentsPhone number: (+34) 966 365 365
For reclaims or queries
If you have any reclaims or queries we recommend you visit the section "Help" on our website where you can find answers to many frequently asked questions.
To make a new booking or to check availability
By using our website you will always find the best price on offer and you will know instantly if the vehicle type that you require is available for the dates selected.
To view your account, change a booking, view your invoices & contracts
Access your account and you can find a selection of icons to allow you to modify your details, change a Booking or view your invoices and past contracts.
Information about Centauro Rent a Car car hire company at Valencia Airport
At Centauro Rent a car in Valencia we offer a fleet of rental cars which is renewed every year. So whatever the rental car you choose you can drive with peace of mind and enjoy the good weather, the cuisine and the festivals of this beautiful Mediterranean city. We also have a wide range of extras so that you have everything you need to hire a car in Valencia: insurance without excess, additional driver, GPS, child seats, etc.
You can enjoy cheap car hire at Valencia Airport and visit the City of Arts and Sciences, the wonderful beaches of Canet d'En Berenguer, Malvarrosa and Las Arenas and excite your taste buds with an authentic paella. Get your car rental car in Valencia and make the most of the festivities, the Fallas, the Tomatina Buñol, or visit any of the famous trade fairs and conventions, the now famous music festival FIB in Benicassim or sporting events such as the MotoGP at the Cheste circuit.
We hope to see you in our car rental office in Valencia Airport!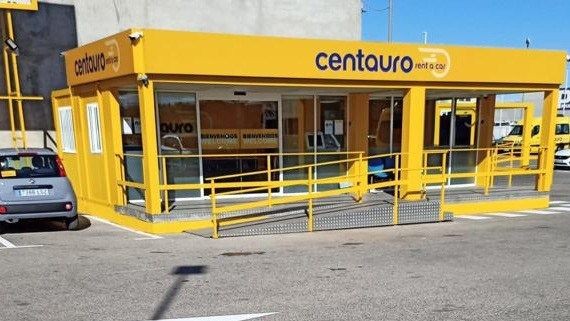 Car hire types available at Valencia Airport
At Centauro Rent a Car we offer a wide selection of cars available to hire at Valencia Airport which is renewed yearly.
Our range of cars at Valencia Airport includes economical, family, convertibles, automatics, vans, minibuses…
What to see and do and where to visit in Valencia with your hire car
Car hire in Valencia is a fairly common option today; you can enjoy its many advantages, starting with the convenience of renting a car at the Valencia airport and the possibility of going on a driving route through Valencia.
Valencia Airport
The Valencia Airport, also known as the Manises Airport, is located just 8 kilometers from Valencia, between the municipalities of Manises and Quart de Poblet. It has direct connections with the city by bus, taxi or metro, although the best option to get from the Valencia Airport to the city center is by rental car. 
The Valencia Airport has flight connections with Spanish cities such as Mallorca, Ibiza or Madrid, and it hosts international flights to destinations such as Lisbon or Rome Fiumicino. 
Car hire at the Valencia Airport
Renting a car in Valencia is the best option to enjoy this Mediterranean city, one of Spain's favorite tourist destinations.  Drive your rental car through Valencia and enjoy the city's main attractions. Stroll through the port of Valencia, immerse yourself in the city's historic center, enjoy science at the Museum of Arts and Sciences and see exotic birds and sea animals at the Oceanogràfic of Valencia. 
Rent your car at the Valencia Airport and enjoy your trip with total freedom, without having to rely on public transport.
Tourist information for Valencia
Valencia is Spain's third largest metropolitan area. Standing on the banks of the River Turia and the western part of the Mediterranean Sea. Valencia is rich in history and culture and with a wide variety of services available makes this a very popular city for tourists. With a wonderful climate, mild in winter and warm in summer, this city has plenty to offer with beaches, cuisine and cultural activities for both international and national visitors to enjoy. The taste of a good paella on the shores of the Mediterranean is famous throughout the world. Just hire your car at Valencia airport from Centauro rent a car and explore this beautiful city.
Valencia beaches and bay areas
Crystal clear waters, fine sand and the beautiful weather is characteristic of this region of the Mediterranean. The blue flags and the 'Q' symbol recognizes the quality of the beaches. In Valencia or surrounding areas such as Sagunto, Puig, Sueca, Cullera, Tavernes de Valldigna, Gandía or Oliva, you are certain to find a perfect beach for you. Beaches equipped for sports, others to relax, all surrounded by places to enjoy typical products well known in the Valencian region.
Valencia CF
If you love football, hire your car and take a visit to the famous Mestalla Football Stadium home to Valencia Football Club. See a first division football match or take the Mestalla Forever Tour to see the club's museum and to take a look back over some of the best moments of their 100 years. Have a walk on the pitch and see how it feels to be real 'che' football player.
MotoGP Championship in Valencia
The 'Circuit de la Generalitat Valenciana Ricardo Tormo' in Cheste is home to the Valencia MotoGP Grand Prix. Motorsport fans from all over come to Cheste every year to enjoy the great race that the MotoGp has to offer. Hire a cheap car at Valencia airport and you can be in the crowd at this spectacular Racing circuit and watch the Spanish MotoGP.

The city of Arts & Science
Valencia is home to one of Europe's largest science and cultural complexes. Science, nature and art come together and combine to make 6 buildings that is the City of Arts & Science; The Hemisphere, the 'Umbracle', the Prince Felipe Science Museum, the Oceanographic, the 'Palau de las Artes Reina Sofia and the Agora. The world famous architect Santiago Calatrava and Felix Candela, together with engineers Alberto Domingo and Carlos Lazaro were responsible for designing these magnificent buildings.
At present this is one of the most popular attractions of the city of Valencia and is considered one of the most important buildings in the world.
Fallas of Valencia
The 'Fallas' are the most international and most important fiestas celebrated in Valencia. This fiesta takes place in March and has fire as the main attraction. Throughout the year artists build spectacular giant monuments made of paper mache and are placed all around the city and will then turn to ash on the eve of the night of 'San Juan'.
Take your Hire car and visit the 'Fallas' (monuments), the 'Mascletás' (firework displays), the parade with the flower offering to the virgin, street parties, parades, bullfights etc., This is a must and cannot be missed.
Campos de golf en Valencia
The wonderful Mediterranean climate is great for you to enjoy playing golf in Valencia. If you practice this sport you can find some amazing golf courses where you can practice your swing. Several Spanish and other professional golf players have had their hand in designing many of the golf courses around the provence providing the player with a full range of services and that attracts many tourists throughout the year. Courses such as Golf Club El Saler, Pitch and Putt Cofrentes Golf, Gold Club Oliva Nova, the Royal Golf Club of Manises, Foressos Golf or the  Pitch and Putt Masia de las Estrellas are all waiting for you.
Car routes in Valencia
At Centauro Rent a Car we have selected a number of routes for you to enjoy while touring the province of Valencia in one of our rental vehicles. Starting in Valencia City you can tour the region of Valencia and places such as 'Dehesa del Saler', the Calderona Natural Park, the Roman theatre and castle in Sagunto, the Puig monastery, the Anna lake, the mediaeval city of Morella and the caves of Sant Josep in the Vall d'Uixó. Some amazing places to visit in the wonderful province.
Related posts

This new branch is in addition to the company's office that has been in the city since 1998 at the Manises Airport. This is Centauro Rent a Car's fifth opening in the AVE segment, thus strengthening its fleet presence in strategic national locations.

Get ready to go on a trip to the Fallas de Valencia, one of Spain's best-known festivals: Pure fireworks show, pyrotechnics and tradition.

The most beautiful villages in the Mediterranean: a route by car from Alicante to Barcelona travelling through Valencia.