Book on our web instead of comparison websites
Avoid insurance surprises sold by third parties

No additional charges, final price guaranteed

No deposit, no excess option
Our customers trust the quality of our service provided
Currently of 1951 reviews received from our customers, 76.0% said they were satisfied with the service provided during their car hire
Latest user reviews on service provided by Centauro Rent a Car
Review of Daniel Huynh about our office at Ibiza - Airport Powered by Google™
good service and car. The 1500 euros pre authorisation and fuel pre charge, could be frightening. It was eventually cancelled and reimbursed
Review of Łukasz Woźniak about our office at Ibiza - Airport Powered by Google™
the best car rental on the island, I rent a car from them for the second time and once again everything is perfect from the beginning to the end of the renta.I definitely recommend!
Review of William F about our office at Ibiza - Airport Powered by Google™
Great experience. Both pick up and drop off was very easy and staff very friendly. Fleet of cars is very new (ours was brand new). Prices were good. Shuttle is quite easy and regular. Forgiving of flight delays when we arrived. Would use again and recommend.
Review of Adam Beswick about our office at Ibiza - Airport Powered by Google™
I was slightly nervous about using Centauro after reading some of the reviews, but it was faultless. Minibus is frequent, journey is 2 mins, check-in and check-out was fairly quick and the staff member I dealt with was very nice and answered all my questions and was reassuring. You need to pay for a tank of fuel in advance, but this is refunded if you bring it back full yourself. You also have a 'hold' on your card for damage, but it doesnt go through as a transaction and is reveresed quickly once you bring the car back. The car we had was very nice, and all the cars they had were good quality and in good shape. I would recommend.
Review of Edwin / Matthea M about our office at Ibiza - Airport Powered by Google™
Good service, clean car and in technical good shape. Friendly staff, fast transfer from and to the airport (5 min). When you fill in all the details at home and pay in advance, hiring a car takes a few minutes. Also returning the car went very smoothly. Within a few days the gasoline deposit was returned on my credit card account.
Previous
Next
How to locate the Centauro Rent a Car car hire office at Ibiza Airport
If you have a mobile with connection to internet, the best option is to use Google maps to give you direct instructions from your location.
However, on this page you can download a map with instructions for collection and return of your Hire car.
Opening hours and contact
---
From 1st April to 31st OctoberFrom Monday to Sunday from 07:00 to 23:00.+34966360360
Address
---
Ctra. Ibiza-Aeropuerto KM 6 Número 24
Sant Jordi des Salines, Baleares, 07817
Latitude: 38,88242
Longitude: 1,37769
Maps & instructions for collection and return
---
Once you have collected your luggage, come out of the terminal, turn left and keep on the walkway for about 100 meters until the end of the terminal building and you will find the parking area (Parking P3) where you can wait for the Centauro Rent a Car Shuttle which comes every 10-15 mins.
General information and further assistance from the Centauro Rent a Car car hire office at Ibiza Airport
Road assistance for breakdowns or accidentsPhone number: (+34) 966 365 365
For reclaims or queries
If you have any reclaims or queries we recommend you visit the section "Help" on our website where you can find answers to many frequently asked questions.
To make a new booking or to check availability
By using our website you will always find the best price on offer and you will know instantly if the vehicle type that you require is available for the dates selected.
To view your account, change a booking, view your invoices & contracts
Access your account and you can find a selection of icons to allow you to modify your details, change a Booking or view your invoices and past contracts.
Information about Centauro Rent a Car car hire company at Ibiza Airport
Centauro Rent a Car have the best fleet of rental cars in Ibiza. Explore everything Ibiza has to offer, with all its hidden gems with your hire car. Our cars in Ibiza are renewed every year so you can drive with complete peace of mind.
Get cheap car hire in Ibiza Airport and enjoy the best beaches on the island. Do not miss anything of this amazing Island of Ibiza which is full of contrasts. With Centauro Rent a Car you can hire a car in Ibiza with comprehensive insurance without excess, GPS or child seats ... everything you need in a rental car to fully explore this "beautiful island."
We hope to see you in our car rental office in Ibiza Airport!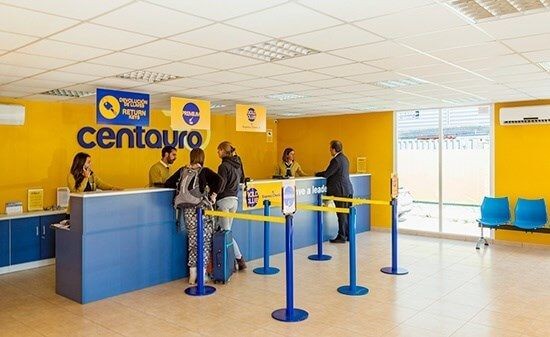 What to see and do and where to visit in the island of Ibiza with your hire car
Ibiza Airport
The Ibiza Airport is located 7.5 kilometers from the Ibiza city center, south of this Mediterranean jewel. 
The airport has connections to the main destinations of the peninsula, such as Madrid, Alicante and Lisbon, as well as international airports in Italy, France or Germany. 
Car hire at the Ibiza Airport
Car hire in Ibiza gives you the freedom you need to explore this beautiful island at your own pace. Its shores, special spots, secrets and hidden towns will be within your reach. 
Renting your car in Ibiza is the most comfortable way to explore the island and enjoy its landscapes, off the beaten path. It will allow you to prepare your own driving route around the island and explore lovely places like Es Vedrà, Las Puertas del Cielo or numerous towns such as Dalt Vila and its beautiful ruins. Rent your car at the Ibiza Airport and there will be no cove, town or mountain out of your reach. 
Ibiza tourist information
Located just 80km's from the Spanish mainland, Ibiza is the third largest of the Balearic islands and has become famous for its nightlife housing some of the best know discotheques and clubs in the world, this mixes with the beautiful coastline of crystal clear turquoise-colored waters, beautiful natural parks and traditional villages with a hippie atmosphere. Add the amazing cuisine and with the most spectacular sunsets of the Mediterranean, there is so much to see and do with your low cost car hire that we can offer you.

Park you hire car at any of the restaurants, bar or beach bars to enjoy another main attraction of Ibiza, traditional dishes, desserts and local drinks. Highly recommended is the amazing variety of fresh fish and other delicacies from the sea such as Borrida de ratjada, Tonyina a l´eivissenca the Bullit de Peix, and also the Sofrit pagès, Arròs de matances, Sobrasada eivissenca or the Butifarró  are well known meat and rice dishes. To accompany your meal try the 'Payés' wine and then for after's why not try delicious cheesecake 'Flaò', Els Bunyols, or Greixonera. Then to top this off you must try some of the local dessert wines made with Ibizan herbs.
Architecturally, Ibiza town has a lot to see. It's easy to appreciate the structure of the city built as a strong fort in order to protect the island in the past from attacks by pirates and other unwanted visitors. A place worth seeing with your car hire. The beauty of the cathedral, the castle and medieval walls of Dalt Vila built around it, is now considered as one of the best kept fortresses in the Mediterranean.  This together with the amazing marine life, beaches and bays, the UNESCO in 1999 under the title 'Ibiza, Biodiversity & Culture' was declared as a World Heritage Site.
With your car hire from Centauro rent a car you can choose a car that best suits your needs to drive around and discover all that this wonderful island has to offer.
Ibiza beaches and bay areas
The island of Ibiza has over fifty idyllic beaches and bays enjoyed by both the locals and tourists. The beautiful sunsets seen at the 'Café del Mar' are well known. With such a variety it is easy to find one that is suitable for you. You will find some that have a more calm and relaxed atmosphere or others wild and crazy either in the day or at night. Whichever you choose, you will be taken in by the beautiful clear waters and fine sand that the island has to offer.
Ibiza nightclubs and party's
Ibiza is mainly known for its famous 'nightlife' but more and more this combines and makes way for partying during the day at locations such as Ushuaia y Bora Bora, which stay open during the day. These clubs and others such as Pacha, Amnesia, Privilege o Space welcome many visitors when the season opens in mid-may until the closures in October. The most famous and highly paid DJ's in the world can be seen at what is called as 'the electronic music center of the world throughout the season.
Hire your car with Centauro Rent a Car and get to see some amazing sights and places in and around Ibiza.
Ibiza Restaurants
Not only do the restaurants in Ibiza serve excellent seafood, they are also situated in some amazing locations. Restaurants like Tropicana Ibiza Beach Club, Kumharas, Nikki Beach Club or Las Dos Dunas, among others, are set in spectacular surroundings to live the Ibizan dream.
Car routes around Ibiza
Using the Centauro rent a car rental office in Ibiza airport as our starting point, we head in the direction of the main hotel district of Sant Antoni de Portmany. Therefore we go in the direction of Ibiza along the main road ' Circunvalación Eivissa' until P-803, and the we carry on the C-731 road for 16 kilometers until you arrive to the main hotel area. We are now ready to discover the best beaches, bays and other beauty spots the island has to offer with our car hire. On the west coast you can find wonderful places such as Cala Conta, Cala Tarida, Cala Moli, Cala Carbó, Cala d´Hort, etc… 
The PMV-803-1 road offers a nice route to enjoy our car hire along the east coast of the island. It can take about 25 minutes to get to Santa Eulalia del Río to enjoy the beautiful scenery and cuisine which we have mentioned earlier and also other buildings of great historic interest and heritage: El Puig de Missa, La Torre d'en Valls, Pou de Gatzara, Fuente de Peralta, the roman aqueduct of  s'Argamassa, places that must be seen.
The C-733 road will take us to the northern side of the island where you can visit other places of interest such as San Juan Bautista & San Carlos. Without a doubt, a hire car is the best means to get around and discover every little corner the island has to offer.
Decide now! Make your car hire booking with Centauro Rent a Car and get to know one of the world's most popular islands.