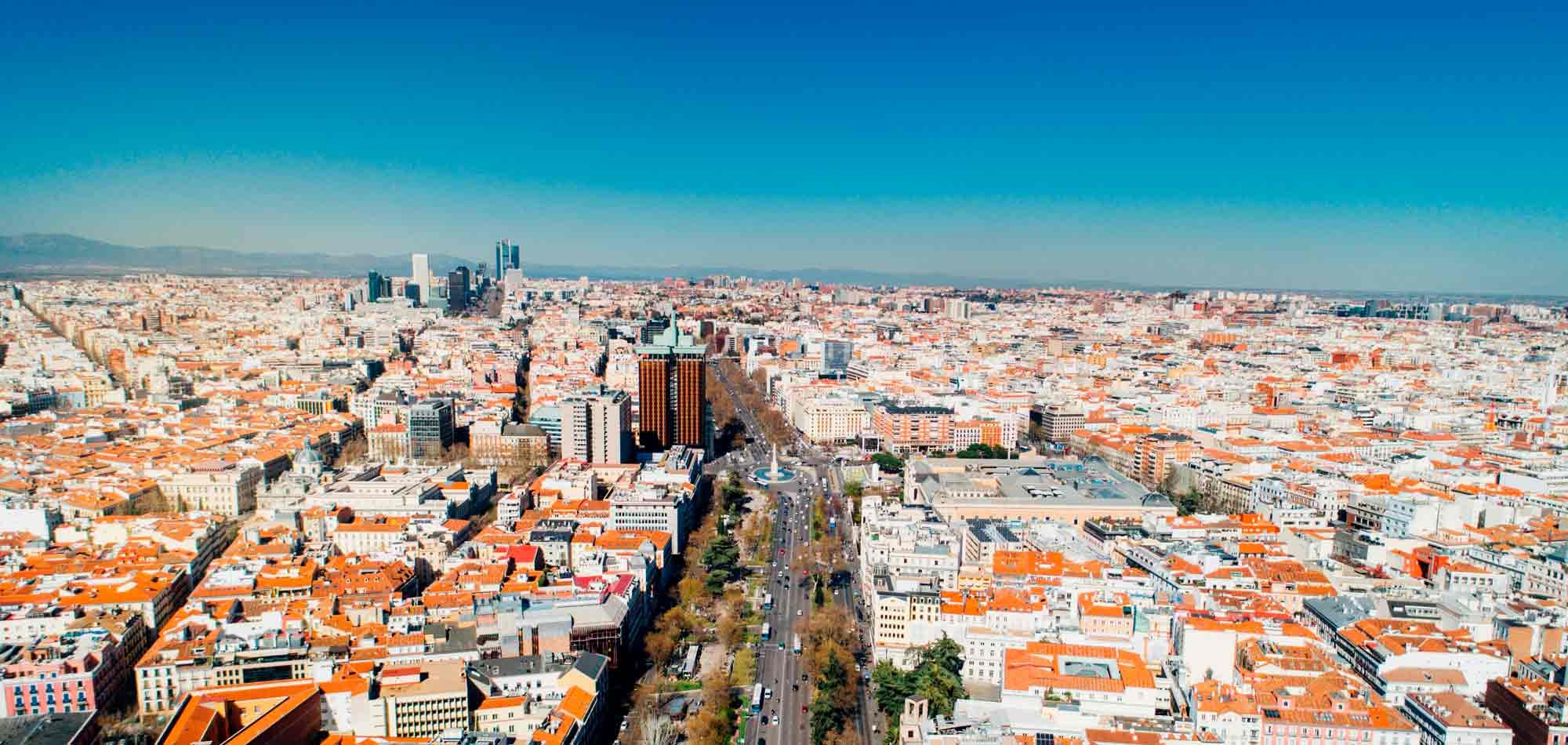 Car hire in Madrid Plaza de Colon
Centauro Smartkey collection office in the Plaza de Colon car park.
In this office, we only offer the unattended office service with Smartkey connected car. Pick up your car on level -2 of the Plaza de Colon car park, with just your mobile phone. There is no need to go to the counter.

Book on our web instead of comparison websites
Avoid insurance surprises sold by third parties

No additional charges, final price guaranteed

No deposit, no excess option
Our customers trust the quality of our service provided
Currently of 2 reviews received from our customers, 100% said they were satisfied with the service provided during their car hire
Latest user reviews on service provided by Centauro Rent a Car
Review of Stefan about our office at Thessaloniki Airport Powered by Google™
I checked the reviews here after I booked a rental car with them, which made me doubt that decision. I am happy that I didn't cancel it, because everything went very smoothly and we were more then happy with them. We were picked up from the airport by a shuttle bus driver who brought us to the rent-a-car building where we were welcomed by two desk clerks, one of which took my info, asked me ONCE if I wanted an additional insurance, which I kindly declined and she gave me the key to a brand new Peugeot 3008 without a single scratch on it. All of them were friendly and accommodating and spoke very good English. We waited around 20 minutes to return the car, as there were a lot of us customers at the same time, but the check itself was very quick and I received the refund of the deposit and the reservation for the gas money the same day. 5/5, would definitely recommend and use their service again
Review of Gary W about our office at Faro Airport Powered by Google™
I can not recommend these highly enough from picking us up to getting the key was hassle free the staff were great, they lost the key but it was found. They didn't try to sell me any extras I had no massive deposit I took out the full cover insurance and trust me it's fully covered... I had to pay €160 for a fuel deposit (standard practice anywhere In the world) and tolls their are a lot of toll roads in Portugal so I was happy this was one thing I didn't have to worry about... love this hire company highly recommended
Review of Βαλια Βασιλακακη about our office at Kefalonia airport Powered by Google™
Helpful staff at the agency with impeccable professional skills and behaviour.They offered us all the tools and advice we needed.The atmosphere was very pleasant and we will be happy to meet them again.We were completely satisfied and grateful,thank you!
Review of Elizaveta Dorofeeva about our office at Barcelona Airport Powered by Google™
One of the best experience we had with car renal across Europe. The car itself - brand new Peugeot 308 - was excellent and exceeded our expectations. We did the paperwork in advance and took the full coverage, which made all interaction with the office fast and flawless. At pick up we were told there are no navigators available (we've ordered one in advance and were reimbursed the full amount), but apparently the car was already equipped with excellent navigation system that we were using during our trip! Overall, highly recommend!
Review of K S about our office at Chania Airport Crete Powered by Google™
It was as easy as one could imagine renting a car. Booked a car via centauro website with everything included in the price. By arrival got transferred to the renting location, in 5 minutes after that got a car. Returning the car was even faster. Got money reserved for the gas the next day. Smooth, easy and fun with a sense of humour from employees😀
Previous
Next
How to locate the Centauro Rent a Car car hire office at Madrid Plaza de Colón
If you have a mobile with connection to internet, the best option is to use Google maps to give you direct instructions from your location.
However, on this page you can download a map with instructions for collection and return of your Hire car.
Opening hours and contact
---
From Monday to Sunday from 08:00 to 20:00.+34966360360
Address
---
Parking Plaza de Colón. Planta -2. Calle de la Armada Española, 8,
Madrid, Madrid, 28046
Latitude: 40.424649
Longitude: 3.689767
Maps & instructions for collection and return
---
Go directly to the parking located underneath the 'Plaza de Colón'. The Centauro Smartkey parking spaces are located on level -2, which you can access from from the streets 'Calle Sepúlveda' with 'Calle de Goya'. Once at the Smartkey pick up & drop off area, access your customer area on your mobile and follow the instructions given to open your car.
At the end of your rental, you can leave your car at the same parking area. Before leaving the parking area, make sure that your leave the key inside the car and close the doors. Start the return process following the instructions given on your Centauro customer area on our website.
General information and further assistance from the Centauro Rent a Car car hire office at Madrid Plaza de Colón
Road assistance for breakdowns or accidentsPhone number: (+34) 966 365 365
For reclaims or queries
If you have any reclaims or queries we recommend you visit the section "Help" on our website where you can find answers to many frequently asked questions.
To make a new booking or to check availability
By using our website you will always find the best price on offer and you will know instantly if the vehicle type that you require is available for the dates selected.
To view your account, change a booking, view your invoices & contracts
Access your account and you can find a selection of icons to allow you to modify your details, change a Booking or view your invoices and past contracts.
Information about Centauro Rent a Car car hire company at Madrid Plaza de Colón
The Centauro SmartKey space in the Plaza de Colon car park is a pick-up and drop-off point for vehicles. Centauro is once again shaking up the car rental service with an unattended space where you pick up and drop off your car in a matter of minutes.
Renting a Centauro connected car in Plaza de Colon (Madrid) with the SmartKey express pick-up service is a very convenient option to get a vehicle quickly, without having to go to the counter. It's really easy. You book from our website and go directly to our car park to pick up your car. All you need is your mobile phone to unlock it and get going.
What to see, do and visit in and around Madrid's Plaza de Colón with your rental car.
We know that there may come a time when you need a car in Madrid. To help you in your day-to-day life, in your job, to move around in your free time, to visit tourist spots when you have visitors staying with you...
You can now get a car right away, slap bang in the middle of Madrid, without having to do any paperwork, show up at an office or queue at a counter. With Centauro SmartKey in la Plaza de Colón, book your car from our website, with a 100% digital process, in which you make the payment and scan your documentation to provide everything you need for your rental. Afterwards, head directly to the Colón car park, start the process of picking up your vehicle from your private area, open it and voilà! Easy, right?
Centauro SmartKey, the shaking up mobility in Madrid Central
There is a growing challenge to achieve sustainable mobility alternatives in cities. The fight against climate change and the modernisation and digitalisation of transport have led to the emergence of efficient transport solutions in urban centres such as Madrid to meet people's needs.
This is how Centauro SmartKey came about, a new urban mobility alternative where you can rent your car and pick it up, all from your mobile phone. In short, a car rental that is 100% adapted to you.

Pick up your SmartKey connected car at the Plaza de Colón car park
La Plaza de Colón is one of Madrid's busiest areas. Its location between the Paseo de la Castellana and Calle Goya makes this square a popular place for commuters and tourists visiting nearby sights such as the Archaeological Museum and the National Library..
From Plaza de Colón you have a load of wonderful places in Madrid at your fingertips. For example, Chamberí, Madrid's most traditional neighbourhood, la Puerta de Alcalá, or El Retiro, one of Europe's most charming urban parks. If you're into glamour, you'll find the most renowned international designer brands on Calle Goya. If, on the other hand, you've got a more urban and vintage style, you can always check out the shops on Calle Fuencarral in Malasaña.

With your Centauro SmartKey car, the sky is your limit. As the popular Spanish saying goes, #Roadlover: "From Madrid, to heaven". With your car, there is no place in the region that is out of reach. You are just a short journey away from Alcobendas, Collado Villalba, Alcalá de Henares, and anywhere else.
Journeys by car from Plaza de Colón in Madrid
You can set off on an endless number of journeys by car from La Plaza de Colón, within the city of Madrid and outside the region. If you are a football fan, you can go on a tour of the stadiums and museums of the city's legendary teams: Real Madrid, Atlético de Madrid and Rayo Vallecano. You might even fancy going to a match. If you're in Madrid for work, other places to visit are the Palacio de Congresos de Madrid, or IFEMA, the venue where renowned international trade fairs such as FITUR, ARCO, or Madrid Fashion Week are held.
Outside the city of Madrid, it is easy to travel with your SmartKey car to other places of interest. The sierra de Guadarrama north of Madrid is home to towns such as Cerdedilla where you can go hiking or skiing in winter. In barely an hour, you'll be in Segovia marvelling at its famous Roman aqueduct. The monastery of El Escorial is yet another wonder that cannot be missed when visiting Madrid. Even Ávila is a perfect day trip that will not leave you indifferent. Do you need more excuses book with Centauro SmartKey?