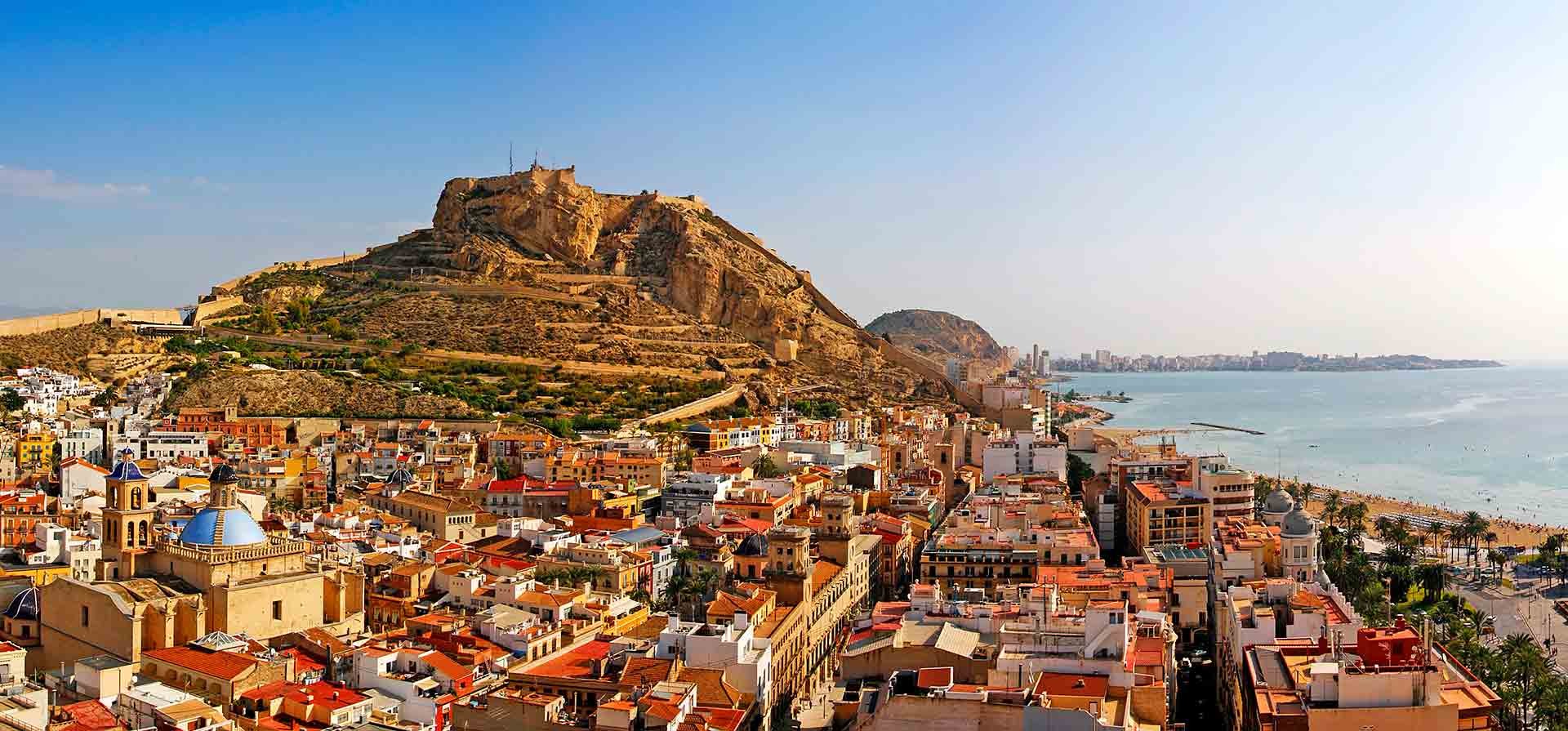 Cheap car hire Alicante airport
Book on our web instead of comparison websites
Avoid insurance surprises sold by third parties

No additional charges, final price guaranteed

No deposit, no excess option
Our customers trust the quality of our service provided
Currently of 2511 reviews received from our customers, 80% said they were satisfied with the service provided during their car hire
Latest user reviews on service provided by Centauro Rent a Car
Review of Rosie Di Blasio about our office at Alicante - Airport Powered by Google™
excellent experience with Centauro at Alicante airport. The pick up process was very easy, with the car parked at the airport. We paid for smart cover, but still for a 4 day rental it was an excellent price. We paid online in advance, but no credit card was required and no deposit was left with the exception of 85 euros for the fuel which was returned when we delivered the car with a full tank again. The car was brand new (8000km only). would recommend.
Review of Marshaine Maubec about our office at Alicante - Airport Powered by Google™
The easiest and best car rental I have ever done! Very affordable and I chose to do the smart pick up where I uploaded my passport, driving license and proof of address prior which meant all I had to do on the day was scan a QR code and retrieve the keys to the vehicle. Would 100% recommend.
Review of Doug about our office at Alicante - Airport Powered by Google™
Perfect from start to finish. Booked a car in Alicante directly via their website using their premium package and fast key. Extremely competitively priced. Uploaded all my documents prior to arrival and received instructions on how to collect car using fast key. Or arrival in Alicante I quickly asked the friendly staff at the main desk on how to get to the car park (1 minute walk). Retrieved my keys from the lockers using the simple steps given (took 30 seconds). Received an immaculate car and off I went. Returned the car 5 days later with a full tank of fuel, a member of staff quickly checked the fuel level and took the keys. Fully refunded fuel money arrived within 24 hours. Perfect experience and I will only be using Centauro again. Tip - Book through their own site and upload all documents. Very simple, efficient process. Doug.
Review of Anton Donetckij about our office at Alicante - Airport Powered by Google™
We used a premium program reservation and it allowed us to take and return the car really quickly without any questions, deposits, waiting, and queues. It is definitely worth it. The car was in perfect condition, with only 7k mileage kilometers. The staff answered all questions that we had. The Company is easy to find at the airport (Alicante) To sum up - everything was perfect, we had a great experience with Centauro and we are going to repeat it.
Review of Jas about our office at Alicante - Airport Powered by Google™
After reading all the possible negatives or risks when renting a car, I eventually went with Centauro and a decision I am very grateful for. I booked on the website, and there were no additional costs involved for my reservation, cost was paid in full online, filled in the necessary information and collected the vehicle with ease. The collection was also flawless, easy to find with no drama. I opted for the full-full fuel option, returning the car fully tanked instead of allowing them to charge my credit card. My reservation required no deposit, the only charge applied was the holding charge of fuel if the car was returned empty. I was thankful enough to not need to use any breakdown or tyre repair etc but the clerk informed me my online reservation was the fully all included insurance option and so there were no possible headaches. Brilliant car, brilliant service. If you do the research and choose insurance options wisely, I'm sure the process is easy. Please note I booked directly with Centauro online and NOT using a broker - brokers may charge for a deposit upon collection whilst Centauro's website will stipulate if you need to or not. Thank you
Previous
Next
How to locate the Centauro Rent a Car car hire office at Alicante Airport
If you have a mobile with connection to internet, the best option is to use Google maps to give you direct instructions from your location.
However, on this page you can download a map with instructions for collection and return of your Hire car.
Opening hours and contact
---
From Monday to Sunday from 07:00 to 23:00.+34966360360
Address
---
Alicante airport
El Altet, Alicante, 03195
Latitude: 38,28792
Longitude: -0,55231
Maps & instructions for collection and return
---
On arrival at Alicante airport please go the Centauro Rent a Car desk in the arrivals hall.
General information and further assistance from the Centauro Rent a Car car hire office at Alicante Airport
Road assistance for breakdowns or accidentsPhone number: (+34) 966 365 365
For reclaims or queries
If you have any reclaims or queries we recommend you visit the section "Help" on our website where you can find answers to many frequently asked questions.
To make a new booking or to check availability
By using our website you will always find the best price on offer and you will know instantly if the vehicle type that you require is available for the dates selected.
To view your account, change a booking, view your invoices & contracts
Access your account and you can find a selection of icons to allow you to modify your details, change a Booking or view your invoices and past contracts.
Information about Centauro Rent a Car car hire company at Alicante Airport
Hire a car in Alicante with Centauro Rent a car and enjoy the security and confidence that comes with a fleet of rental cars that is renewed each year. Add to your booking any extras you need when you hire a car, GPS, comprehensive cover without excess, approved child seats, etc.
Get cheap car hire at Alicante airport and drive through the land which guarantees good weather most of the year. With your car rental in Alicante you can visit landmarks such as the Fortress of Santa Barbara Castle and the Esplanade of Spain, towns with an amazing beauty such as Calpe, Altea or Guadalest and enjoy the many golf courses, the modern technology and tourism fairs and all of its beautiful beaches.
To hire a car in Alicante is also the ideal way to experience the famous fiesta, the Bonfires of San Juan, of international tourist interest and to try all the rice dishes in the Costa Blanca from Denia to Santa Pola. Watch out for "arroz de Pinoso" considered to be one of the world's best quality rice.
We hope to see you in our car rental office in Alicante Airport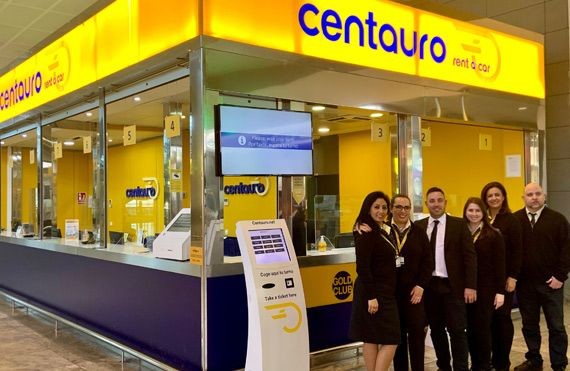 Car hire types available at Alicante Airport
At Centauro Rent a Car we offer a wide selection of cars available to hire at Alicante Airport which is renewed yearly.
Our range of cars at Alicante Airport includes economical, family, convertibles, automatics, vans, minibuses…
What to see and do and where to visit in Alicante province with your hire car
Alicante Airport
The Alicante airport, also called El Altet, is located halfway between the cities of Alicante and Elche. It is one of Spain's main airports, in which more than 42 airlines operate routes to 125 national destinations, such as the airports of Madrid, Barcelona and Ibiza, and also international destinations such as the airports of Rome or Lisbon.
The airport consists of a single terminal with four floors, and an easy access to the car park, which is only a few meters from the terminal and has long-stay and express stay parking facilities.
Car hire in Alicante
Rent your car at the Alicante airport and enjoy your best driving choice. From the airport, you can take the AP7 or A7 motorway, which cross the province, along the coast and inland, respectively.
Tour the city of Alicante and walk in front of the Mediterranean Sea by the Postiguet beach, climb the Santa Bárbara castle or enjoy the Bonfires of San Juan at the end of June, one of the most magical nights of the year.
If the city becomes too small for you, you can always go on a driving route through Alicante, touring the Costa Blanca and enjoying the beautiful coves of Denia, Jávea or Benissa; also relax in Altea, one of Spain's most beautiful villages, with its white houses by the sea, have fun in Benidorm's amusement parks, like Terra Mitica or Terra Natura, or maybe visit and learn about Alcoy's Moors and Christians traditions, and of course the enchanting magical island of Tabarca, off the coast of Santa Pola. Rent your car at the Alicante Airport and get ready to live a great adventure.
Alicante tourist information
Alicante is an extraordinary city enjoyed by many travelers. Located on the Mediterranean coast and overlooked by the 'Benacantil' mountain where you can find the 'Santa Bárbara' castle and the 'Cara del Moro' or 'face of the moor' one of the most well-known images of the city. Also you will find 'El Tossal' and the 'San Fernando' castle, both iconic places. Hire a cheap car hire at Alicante airport and you can drive to any of these places in a few minutes.

It's easy to fall in love with this beautiful coastal city, with its wonderful weather, it's beaches, a variety of sporting activities such as playing golf, numerous watersports are available, amazing mountain ranges with spectacular views where you can also enjoy the many hiking trails, making this one of the most popular tourist destinations not just in Spain and Europe but also in the world. There are many visitors that choose other areas in the province, either to the north e.g. Benidorm, Altea or Alfaz del Pi, or to the south or interior to places such as Torrevieja or Orihuela where they have a second home or holiday home. The Alicante region hosts the highest percentage of foreign visitors to Spain. Many of these visitors trust Centauro Rent a Car for their car hire needs and choose our offices at either Alicante airport or Benidorm to enjoy their stay in the region.
Alicante beaches and bay areas
When you hire a car in Alicante you can visit the Spanish region with the highest number of 'Blue flags' (this is a distinction that is awarded every year by the Environmental Education Foundation to recognize the conditions and facilities of beaches and that they also comply with both environmental and installation requirements). There are kilometres of coastline where you can enjoy crystal clear waters, soft, sandy or pebble beaches, marine life and water sport activities. Without a doubt this is why our region is known as "La Millor Terreta del Món". 'The best land on Earth'.

Don't miss the beautiful beaches and bay areas of Denia, Calpe, Altea, Albir, Benidorm, Villajoyosa, Campello, Alicante, Santa Pola, Guardamar del Segura or Torrevieja to name but a few.
Golf courses in Alicante
Due the amazing weather In Alicante you can enjoy playing golf the whole year round. With a varied selection of golf courses available either by the sea or near the mountains, golfers can enjoy their favorite pastime.
Come and discover a real paradise for Golf lovers with courses such as: Alenda Club de Golf, Alicante Golf, Campo de Golf Villamartín, Club de Golf Bonalba, Club de Golf Don Cayo, Club de Golf El Plantío, Club de Golf Ifach, Club de Golf Javea, Villaitana Wellness Golf & Business Sun Resort, Golf & Country Club La Marquesa, Golf La Finca, La Sella Golf, Las Ramblas de Orihuela, Real Club de Golf Campoamor to name but a few.
Restaurants in Alicante
Here we will give you a selection of the most popular restaurants in the Alicante area and where you discover and enjoy authentic local dishes and other exotic dining options. Don't miss the chance to enjoy the wide variety or rice dishes, the selection of fresh fish, seafood, delicious stews, meats and local fresh fruit and vegetables. All of this is at your fingertips! Just hire your car and try them out.

Car routes around Alicante
On leaving Alicante airport with our hire car we are ready to roam and discover the variety that the region has to offer going from north to south. If we start from the north you will find the long beaches of San Juan, a little smaller but with just as much charm you will find Campello, Villajoyosa or Finestrat, continue on and you will reach the most famous tourist destination in the world, Benidorm. Just 10 minutes from Benidorm you can find Terra Mitica, a fun park for all the family to enjoy. But this is not all, if you continue up the coast you can discover some spectacular beaches and beautiful towns with some lovely scenery like Altea, Guadalest, Moraira, Denia or Javea. In any of these areas there is something for everyone to enjoy whether it be the beaches or mountain areas….and this is just the North side.
The South has just as much variety. All along this part of the coast you will find amazing beaches and some fantastic Golf courses. We highly recommend that you take some time to visit this area as well and use your car hire to see places such as Torrevieja or Orihuela coast. What are you waiting for? Hire a car and come and see for yourself!
At Centauro rent a car we have chosen a selection of routes to help you to enjoy this beautiful region with your car hire. You can choose between the city or the mountain or other areas including the 'Alto' or 'Medio' Vinalopó, Elche, Benidorm or areas such as Calpe, Denia or Javea.
Related posts

The most beautiful villages in the Mediterranean: a route by car from Alicante to Barcelona travelling through Valencia.

Discover 7 charming places in Alicante with Centauro Rent a Car. Tour around Alicante with one of our hire cars and make the most of your holidays!

All the secrets to an enjoyable holiday in Torrevieja, discover some amazing coves to go snorkelling, lovely walks through the old town of the city and the impressive views of the protected natural parks.