Cheap Car Hire in Torrevieja
Book on our web instead of comparison websites
Avoid insurance surprises sold by third parties

No additional charges, final price guaranteed

No deposit, no excess option
Our customers trust the quality of our service provided
Currently of 449 reviews received from our customers, 88.0% said they were satisfied with the service provided during their car hire
Latest user reviews on service provided by Centauro Rent a Car
Review of sarolta helga Daroczi about our office at Torrevieja Powered by Google™
Really great experience, friendly staff, the car hire ran smoothly with no problems, we got the refund for fuel the next week. The car we hired was almost like new. All was great.
Review of Toni Potinkara about our office at Torrevieja Powered by Google™
Whole process went fine and smooth. Can recommend this. Customer service was very friendly and all terms expressed clear in advance. Communication was made in english.
Review of Marcel Sochin about our office at Torrevieja Powered by Google™
The people who work there are very friendly and professional. In 7 minutes they give me the key. The price is good and the car was awesome. Thanks Centauro Rent Car 👍💪
Review of John-Paul Hogan about our office at Torrevieja Powered by Google™
Great service. Very nice and helpful staff. 100% Recommendation.
Review of Alison Grady about our office at Torrevieja Powered by Google™
Fabulous service at Torrevieja Centauro This is our 'go to' for car hire in Spain and the Torrevieja office is exceptionally good. We always book online using their really easy to use booking system and when we arrive at the Torrevieja office we never have to wait, the people there are always friendly and super helpful. The cars are always great - very clean and exactly what we're expecting to find. Likewise, when we return the car, we never have to wait and the 'full to full' deposit is always returned within 24 hours. This is car hire as it should be.
Previous
Next
How to locate the Centauro Rent a Car car hire office at Torrevieja
If you have a mobile with connection to internet, the best option is to use Google maps to give you direct instructions from your location.
However, on this page you can download a map with instructions for collection and return of your Hire car.
Opening hours and contact
---
From Monday to Friday from 08:00 to 14:00 and 16:00 to 19:00.Saturday from 09:00 to 14:00.+34966360360
Address
---
Av de las Cortes Valencianas 6
Torrevieja, Alicante, 03183
Latitude: 37,98548
Longitude: -0,67851
General information and further assistance from the Centauro Rent a Car car hire office at Torrevieja
Road assistance for breakdowns or accidentsPhone number: (+34) 966 365 365
For reclaims or queries
If you have any reclaims or queries we recommend you visit the section "Help" on our website where you can find answers to many frequently asked questions.
To make a new booking or to check availability
By using our website you will always find the best price on offer and you will know instantly if the vehicle type that you require is available for the dates selected.
To view your account, change a booking, view your invoices & contracts
Access your account and you can find a selection of icons to allow you to modify your details, change a Booking or view your invoices and past contracts.
Information about Centauro Rent a Car car hire company at Torrevieja
Your car rental in the Vega Baja del Segura, between Alicante and Cartagena. Enjoy the advantages of a hire car in Torrevieja and discover one of the most visited areas in the province of Alicante. See the amazing huge salt lakes from your rental car. The Natural Park of the Lagunas de la Mata and Torrevieja are still making use of the ecological wealth of the salt lakes.
You definitely need to hire a car in Torrevieja to get the most out of your time and its beaches, coves and natural pools. Discover with your car hire why Torrevieja has become one of the biggest tourist attractions since the 80s.
Rent a car in Torrevieja with Centauro Rent a Car and get greater security and peace of mind with a fleet of cars that is renewed on an annual basis. Add to your booking any extras you need to rent a car: GPS, comprehensive insurance without excess, child seats etc.
We hope to see you in our car rental office in Torrevieja.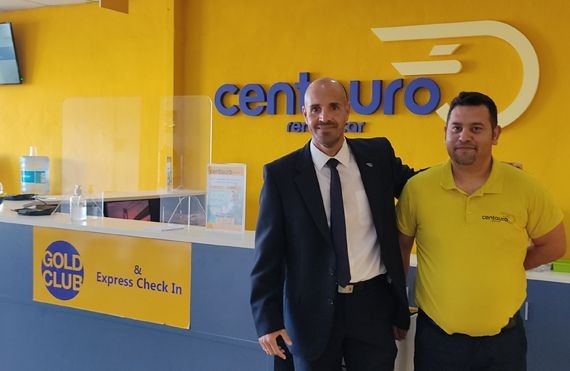 Car hire types available at Torrevieja
At Centauro Rent a Car we offer a wide selection of cars available to hire at Torrevieja which is renewed yearly.
Our range of cars at Torrevieja includes economical, family, convertibles, automatics, vans, minibuses…
What to see and do and where to visit in Torrevieja with your hire car
Torrevieja tourist information
Originally the home of the Royal salt works and commercial seaport of the same product, Torrevieja has reinvented itself as a tourist resort. Visitors who come end up as permanent residents, enjoying the climate, services and an eternal summer beside the sea.
Internationally renowned for its annual choral festival and contest 'Certamen de Habaneras y Polifonía de Torrevieja' the region has a long choral tradition maintained by a large number of local choirs.
Torrevieja beaches and bay areas
Crystal clear waters, soft sand, amazing marine life, the wide variety of watersports and kilometers of coastline to enjoy. The beaches and bays that the town of Torrevieja has to offer makes this just another of the attractions of Torrevieja.
Don't miss the beaches of  'Playa de los Náufragos', 'Playa de la Mata', 'Playa de los Locos' or the Acequión beach.
Gold courses around Torrevieja
Enjoy playing golf in modern and varied resorts on the edge of the Mediterranean sea. Come and discover a true paradise for Golf enthusiasts, with courses such as: Campo de Golf Villamartín,  Golf & Country Club La Marquesa,  Golf La Finca, Las Ramblas de Orihuela or the Real Club de Golf Campoamor to name a few.
Car routes from Torrevieja
There is no better place to begin a visit to Torrevieja than its salt water lakes (salinas) The 'Lagunas de La Mata y Torrevieja' cover an area connecting the municipalities of Guardamar del Segura, Los Montesinos and Torrevieja. They are an important habitat of salt marsh vegetation and a large and varied gathering of bird species that use the reserve on migrations, for nesting and wintering.
On the outskirts of the city and connecting the lagoons with the sea is 'Molina del Agua' nature reserve that owes its name to a windmill that extracted water from a now empty subterranean deposit. Its 50,000 m2 contains the region's biggest and best preserved area of dunes.
Inside the town of Torrevieja you will find the 'Mirador Torre del Moro' and its long promenade stretching along the shore and on to the breakwater that curves out into the Mediterranean.
Transfers from Alicante and Murcia to Torrevieja
Related posts

Discover 7 charming places in Alicante with Centauro Rent a Car. Tour around Alicante with one of our hire cars and make the most of your holidays!

All the secrets to an enjoyable holiday in Torrevieja, discover some amazing coves to go snorkelling, lovely walks through the old town of the city and the impressive views of the protected natural parks.

Alicante is a province famous around the world for its beautiful coastlines and spectacular beaches. Do you want to discover this region in a different light? Join us on our journey of the best hiking trails in Alicante.