Car hire at the Cagliari Airport - Sardinia
Book on our web instead of comparison websites
Avoid insurance surprises sold by third parties

No additional charges, final price guaranteed

No deposit, no excess option
Our customers trust the quality of our service provided
Currently of 712 reviews received from our customers, 70.0% said they were satisfied with the service provided during their car hire
Latest user reviews on service provided by Centauro Rent a Car
Review of Michał Piętaszewski about our office at Cagliari Airport - Sardegna Powered by Google™
Car was upgraded to the higher class for free, quick pick up and return, no hidden costs and simplicity of the policy (no deposit, first additional driver and full cover for free). Totally recommend it!
Review of Arkadiusz Kuchciński about our office at Cagliari Airport - Sardegna Powered by Google™
I heartily recommend! We rented a car for 10 days and it was a great idea to use your services. We booked everything easily and quickly through the site. A huge plus for the transfer from the airport to the office and back. The car handover process itself lasted max 10 minutes. On the road we had a small accident (we caught the rubber), the problem was solved quickly and efficiently, the car was taken by a tow truck and we were transported to the nearest office ( Olbia) to pick up a new car. We will definitely use again!
Review of john rodrigues about our office at Cagliari Airport - Sardegna Powered by Google™
We were contacted by Silvia right after we landed, she advised us where the shuttle would be waiting for us, everything went great, since the pick up to the paperwork needed to pick up the car. She was both lovely and professional. Recommended.
Review of Terry Bugeja about our office at Cagliari Airport - Sardegna Powered by Google™
This is my third time to Sardinia, my first time I used Centauro car rental and it was a pleasure to do business as promised. I will surely be back as it is very convenient to pick up shuttle and even returning back to airport. Very helpful. See you soon excellent
Review of M DD about our office at Cagliari Airport - Sardegna Powered by Google™
I was very skeptical about renting a car in Cagliari (in general) at first. I read all kinds of horror stories/reviews at different rental companies, but I am very happy that I chose Centauro. The service was great from the airport pick-up, up to the moment that we returned the car. We rented a new car with low mileage, with which we were able to drive 1500+ kilometers (in 12 days).
Previous
Next
How to locate the Centauro Rent a Car car hire office at Cagliari Airport Sardegna
If you have a mobile with connection to internet, the best option is to use Google maps to give you direct instructions from your location.
However, on this page you can download a map with instructions for collection and return of your Hire car.
Opening hours and contact
---
From 1st April to 31st OctoberFrom Monday to Sunday from 07:00 to 23:00.+390683662959
Address
---
Via G. Nervi 1
Elmas, Cagliari, 09030
Latitude: 39,26748
Longitude: 9,07650
Maps & instructions for collection and return
---
Once you have collected your luggage come out into the arrivals hall and without leaving the terminal go up to the first floor (departures). Exit the main doors of the terminal and here you can wait for the Centauro Rent a Car Shuttle which comes every 10-15 mins.
General information and further assistance from the Centauro Rent a Car car hire office at Cagliari Airport Sardegna
Road assistance for breakdowns or accidentsPhone number: (+39) 0694 806 800
For reclaims or queries
If you have any reclaims or queries we recommend you visit the section "Help" on our website where you can find answers to many frequently asked questions.
To make a new booking or to check availability
By using our website you will always find the best price on offer and you will know instantly if the vehicle type that you require is available for the dates selected.
To view your account, change a booking, view your invoices & contracts
Access your account and you can find a selection of icons to allow you to modify your details, change a Booking or view your invoices and past contracts.
Information about Centauro Rent a Car car hire company at Cagliari Airport Sardegna
Rent a car in Cagliari, Sardinia with Centauro Rent a car and enjoy the safety and confidence offered by a fleet of rental cars that is renewed every year. Add to your reservation any extra you may need in a rental car, GPS, full coverage with no deductible, approved children chairs, etc...
We will be waiting for you at our car hire office at the Cagliari - Sardinia airport!
Car hire types available at Cagliari Airport Sardegna
At Centauro Rent a Car we offer a wide selection of cars available to hire at Cagliari Airport Sardegna which is renewed yearly.
Our range of cars at Cagliari Airport Sardegna includes economical, family, convertibles, automatics, vans, minibuses…
What to see, do, and visit in Cagliari - Sardinia and its environs with your rental car.
The Airport  of Cagliari  - Sardinia
The Airport of Cagliari in Sardinia also known as Cagliari-Elmas Airport is located in the south of the island, in the northwest of its capital (Cagliari). It was inaugurated in 1937 and is dedicated to Mario Mameli. From the airport you can go to the capital (9 kilometers) by renting your car and  driving on the S130 road. This airport offers connections to many important cities in Italy,  such as Milan,  Naples, Olbia, Palermo, Rome-Fiumicino  as well as  European capitals, such as Madrid or Barcelona.
Car hire at Cagliari - Sardinia Airport 
Sardinia is a perfect island to explore with your rental car, you will amaze yourself getting visiting the many hidden corners and natural beauty spots that can be found there, and the most beautiful cities and towns of Sardinia, driving through an exciting route. Also, even though you can use public transportation to visit this region, it is best to drive your own car and enjoy the road trip, since public transportation on the island is not as good as in other regions of Italy.

Sardinia Tourist Information
Sardinia is one of the 20 regions of Italy and the country's third largest. The island has been populated since prehistory, remains of megalithic monuments have been found in it. Since then, many different civilizations have passed through the region, such as the Romans, the Nuragic, the Vandals, the Byzantines and the Goths, among others. For years, the island belonged to the Crown of Aragon and later to Austria, until it was incorporated into Italy in 1861.
It is an island that has archaeological sites and natural formations of great beauty (caves, coves, beaches...) and cities full of tourist attractions, good atmosphere and exquisite cuisine. 
What to see in Sardinia
Without a doubt Cagliari, the capital of the island, is a must-see on this trip. You can visit the historical center, very well preserved and with a lovely atmosphere, and also its old and imposing castle.
If you want to travel to the Middle Ages while visiting important monuments, Alghero is your city. Here you will find beaches, natural parks and cozy bays. Its lighthouse is, in fact, a great touristic spot.
Just 70 km from Alghero, and in the same maritime tradition, you will find Castelsardo. It stands out for its houses of various colors, which contrast with the blue of the Mediterranean Sea.
For places like these it can be said that Sardinia stands out for its historical heritage, do not leave without visiting the site of Barumini and Tharros. The former is near the capital and is perfect to learn more about the Nuragic civilization, the first that inhabited the island. The Tharros site, on the other hand, is an old city that the Phoenicians built, and of which some buildings remain standing. 

Driving route through Sardinia 
If you have finally decided to rent a car to explore the island, you can visit many towns, cities and beaches to dive into the essence of Sardinia and its most beautiful and spectacular locations. On this route you can visit the Costa Smeralda, La Maddalena Island, Olbia, the city of Nuoro, Cagliari, Oristano, Alghero, the North Coast, the Gold Coast and the impressive South Coast.
Driving route through the surroundings: natural landscapes of Sardinia
One of the best known and most beautiful places on the island is the Gruta di Neptuno. The water inside the grotto is called Acquasantiera and at its entrance we find the Lamarmora Lake. 
To the east of Sardinia you will find another grotto of equal beauty, the Bue Marino, which has a whole universe of stalagmites and stalactites. You can walk in the grotto and explore the underground river that passes through it. The views are impressive. 
Only about 13 km from this grotto, you can visit the Gennargentu National Park, in the Gulf of Orosei. Famous coves like Gonone, and many other crystal clear beaches await you.
If you are surprised by this natural park, that of the Maddalena Archipelago will impact you. It is formed by 62 islands and small islets bathed by crystal clear waters.

Climate and gastronomy in Sardinia 
The climate of Sardinia, as in the rest of the Mediterranean, is temperate, with humid and temperate winters and hot, long summers. The climate, in general, is not extreme and is perfect to enjoy the coves and beaches of the island, of great quality and astonishing beauty. 
The gastronomy of this region also presents the characteristics of the Mediterranean diet: meat and abundant vegetables and fruit. On the island you can taste typical dishes of the Italian cuisine and some traditional dishes and products of Sardinia, such as cold meats, favata, goat cheese, culurgioni, amaretti and ice cream.
Related posts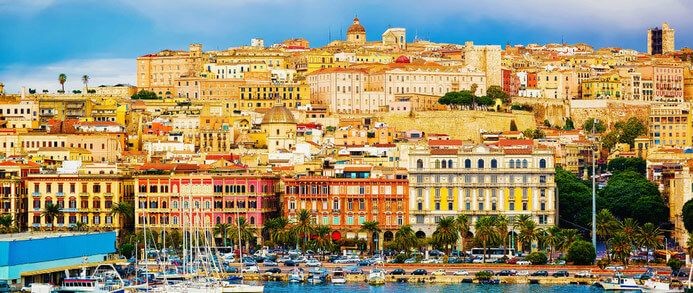 If you're looking for a travel plan that won't fail, consider taking a road trip through the island of Sardinia. Beaches with crystal clear waters, ancient cities with charming churches and ruins of Roman constructions, and rich and diverse gastronomy are just some of the attractions that will make you fall in love with every part of this Mediterranean paradise.