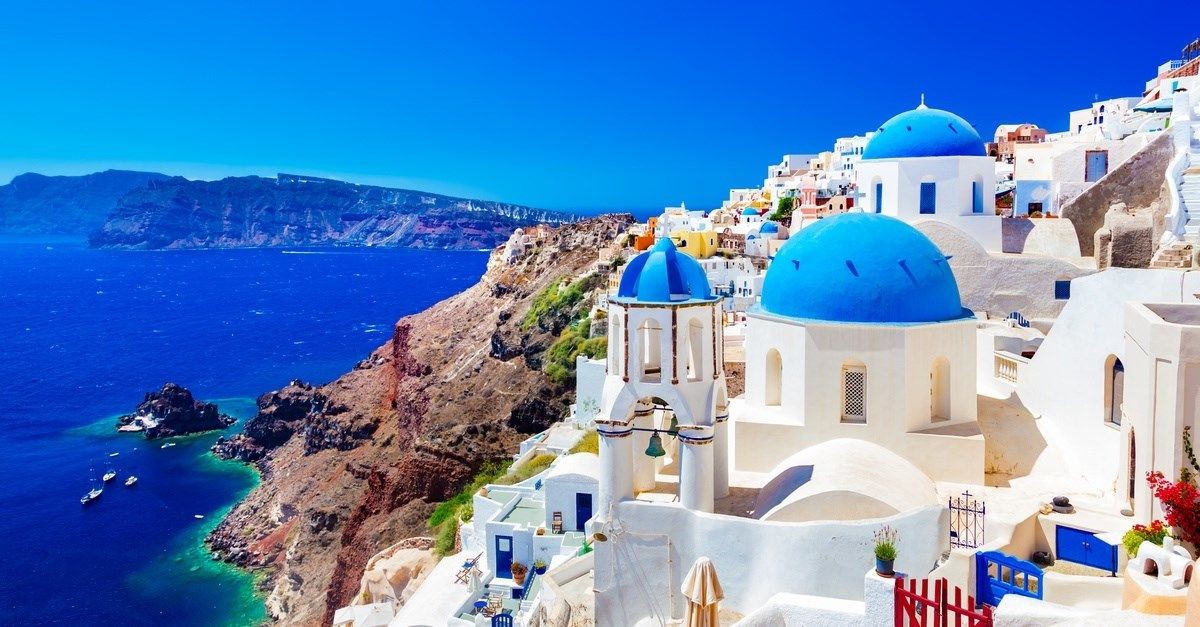 Car hire in Santorini airport
Book on our web instead of comparison websites
Avoid insurance surprises sold by third parties

No additional charges, final price guaranteed

No deposit, no excess option
Our customers trust the quality of our service provided
Currently of 385 reviews received from our customers, 80% said they were satisfied with the service provided during their car hire
Latest user reviews on service provided by Centauro Rent a Car
Review of John Burns about our office at Santorini - Airport Powered by Google™
On arrival at Santorini Airport the usual large rental companies had no car availability, so found centauro, at short notice a car was provided at a very competitive price, the agent who dealt with me was professional and personable and I would even say she went above and beyond to help. The daily insurance rate I found to be uncompetitive so choose to leave the large deposit for any potential damage that might occur, this was returned to me with no issue. Based on this experience I will certainly consider using centauro for future rentals. The agent who dealt with me was Styliani, I didn't get the chance to thank her when I returned the car so through this forum can I sincerely thank you for your humanity good humour and understanding, I wish you good health and contentment in your future.
Review of Heiko H about our office at Santorini - Airport Powered by Google™
Friendly staff, good new cars, fast service. Its not directly at the airport but they pick you up and bring you back.
Review of Julia Chmarzyńska about our office at Santorini - Airport Powered by Google™
Very friendly stuff with a great command of english, the car of our choice wasn't available, so we were offered an upgrade. The office is 2 mins drive away from the airport, the shuttle bus waited for our arrival and function very smoothly.
Review of Kostis about our office at Santorini - Airport Powered by Google™
all fine! new cars, great availability even in the high season, easy to book. the stuff is very kind despite the huge workload. Important: as I was reading before my booking a few negative comments regarding to credit card deposits etc, I was a bit worried. So, in my experience, my advice will be the following: please CALCULATE additionally, 20-25 euros / day for FULL insurance for the car. Then, you will not need to secure a deposit in your credit card because the car will be fully covered throughout your rental period. Otherwise, it gets complicated.. Personally, I opted at the desk for the full insurance and all was perfect. Additionally, you will also be charged a returnable FUEL surcharge (65 euros). If you return the car with the same amount if fuel, you will get the 65 euros back to your account/card within a couple of (working)days. To sum it up: 1. ADD 20-25 euros/day at the desk for FULL insurance. 2. Prepare to deposit (through card payment) 65 euros (in my case) which you will get it back after you return the car.
Review of Rakesh Yadav about our office at Santorini - Airport Powered by Google™
One of the best car rental companies. Even though the office is not located at the airport, the shuttle service picked us up from the airport without any waiting. The staff was friendly and explained all the details. Both the check-in and check-out process was quick. The holding deposit was also released immediately.
Previous
Next
How to locate the Centauro Rent a Car car hire office at Santorini Airport
If you have a mobile with connection to internet, the best option is to use Google maps to give you direct instructions from your location.
However, on this page you can download a map with instructions for collection and return of your Hire car.
Opening hours and contact
---
From the 1st April to 20th NovemberFrom Monday to Sunday from 07:00 to 23:00.+302111985310
Address
---
Mesaria
, , 847 00
Latitude: 36,40055
Longitude: 25,45805
Maps & instructions for collection and return
---
Come out of the terminal building using the main exit and continue along for about 50mts, go up the stairs on your right and you will come to the 'Assembly Point' where you can wait for the Centauro Rent a Car Shuttle which comes every 10-15 minutes.
General information and further assistance from the Centauro Rent a Car car hire office at Santorini Airport
Road assistance for breakdowns or accidentsPhone number: (+30) 21 119 91096
For reclaims or queries
If you have any reclaims or queries we recommend you visit the section "Help" on our website where you can find answers to many frequently asked questions.
To make a new booking or to check availability
By using our website you will always find the best price on offer and you will know instantly if the vehicle type that you require is available for the dates selected.
To view your account, change a booking, view your invoices & contracts
Access your account and you can find a selection of icons to allow you to modify your details, change a Booking or view your invoices and past contracts.
Information about Centauro Rent a Car car hire company at Santorini Airport
If you hire a car with Centauro Rent a Car a Santorini airport you can be assured of the best service and a fleet of cars that are renewed on a yearly basis. You can also add to your reservation other extras that you may need such as additional drivers, GPS, full insurance with no excess, child seats, etc.
With your rental car in Santorini you can explore some beautiful locations which have guaranteed good weather most of the year.
Your car hire is waiting for you at Santorini airport!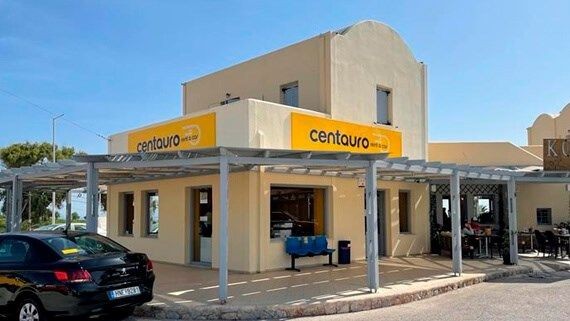 Car hire types available at Santorini Airport
At Centauro Rent a Car we offer a wide selection of cars available to hire at Santorini Airport which is renewed yearly.
Our range of cars at Santorini Airport includes economical, family, convertibles, automatics, vans, minibuses…
What to see, do, and visit in Santorini and its surroundings with your rental car.
Santorini Airport
Thira Airport, also known as Santorini International Airport, is located north of the town of Kamari on the Greek island of Santorini. This airport has connections with some of the most important cities in Greece , such as Corfu, Kos, Thessaloniki and Rhodes. In addition, it also has connections with Spain, Italy and Portugal, since Milan, Rome, Naples, Madrid, Barcelona or Bilbao are among its airline destinations. It takes approximately 15 minutes by car to reach Kamari and Fira, we recommend you to rent a vehicle.
Car hire at the Santorini Airport
Santorini island is the perfect place to rent a car that will allow you to enjoy autonomy and freedom to drive through the whole island during the days of your trip. Renting your car at the airport will allow you to customize your driving route through Santorini and enjoy the experience of going on a road trip to places like Fira, the volcano of Nea Kameni and Palea, Immerivigli, Firostefani and many other tourist attractions.

Santorini tourist information
Santorini is one of Greece's most beautiful and unique islands, noted for its peculiar moon crescent shape and the wide variety of places you can visit: towns, beaches, archaeological sites and much more.
What to see in Santorini
Fira
It is the capital of the island, a town full of beauty where white houses with blue roofs stand out. It is located on the edge of a cliff facing the sea, so the views from this city are impressive, especially at sunset. Do not miss the Orthodox Metropolitan Cathedral and the Catholic Cathedral.
Firostefani and Imerovigli
Among the many villages that you can visit on the island, there is Firostefani, which stands out for its ancient Byzantine monastery and restaurants that literally hang over the sea. In Imerovigli you need to visit the Skaros Rock, a Venetian castle that was destroyed by an earthquake in the 19th century.
Other beautiful and well-known towns, such as Exo Gonia, Oia and Pyrgos, are also a must. 

Museums and archaeological remains 
If you like history, culture or art, in this Greek island you can visit many museums, where you can expand your knowledge and satisfy your curiosity. Visit, among others, the Prehistoric Museum, the Wine Museum, the Megaron Gyzi Museum and the Bellonio Cultural Center.
On the other hand, Santorini is the perfect place if you like to visit archaeological sites, since you can find sites and remains in the villages of Profitis Elias, Vlihada, Arhea Thira, Pyrgos and Thermi. Do not miss the Akrotiri site, where you can see the remains of the ancient Minoan civilization. 
The Nea Kameni and Palea volcanoes
You can go on a trip to the volcano, where you can explore solidified lava trails, see small holes through which sulfur vapor comes out, bathe in hot springs and even look out to its crater. An experience that, without a doubt, will not leave you indifferent. 
The beaches
Three volcanic stone beaches are the most outstanding: The Red Beach (Kokkini Paralia), where huge reddish stone cliffs stand out; the White Beach, with cliffs of almost completely white rocks; Kamari Black Beach, the most famous of the island and perfect to go with family and, finally, we recommend Vlychada Beach.
Driving route through Santorini.
Now that you know the main attractions, we recommend you to first travel east, since it is where the airport is, visit cities like Perissa and Kamari and enjoy some of their many volcanic stone beaches. In the west, on the other hand, go visit Fira, Imerovigli and Oia, where we recommend you to enjoy an unforgettable sunset. In this area, you can also go on a trip to Nea Kameni and visit some nearby beaches, such as the Red Beach.
Santorini gastronomy
Some typical dishes must be mentioned, such as the souvlaki, a recipe similar to the famous Moorish skewer; the dolmadaia, a roll of rice wrapped with grape leaves and gyros, similar to kebab. Fish, Greek yoghurts and cheese, especially goat cheese, are also typical. If we talk about desserts, the Baklavas stand out, which are vanilla, honey and almond cakes, and the Kourabiédes, almond cakes flavored with Ouzo liqueur.
Weather in Santorini
In Santorini the weather is moderate Mediterranean, so winters are short and mild and summers are hot, dry and sunny. December, January and February are the months in which the rainfall concentrates; if you travel to Santorini during these months we recommend that you pack warm clothing and rain gear. However, if you travel in summer you need to pack sunscreen, a hat and light clothes.
Related posts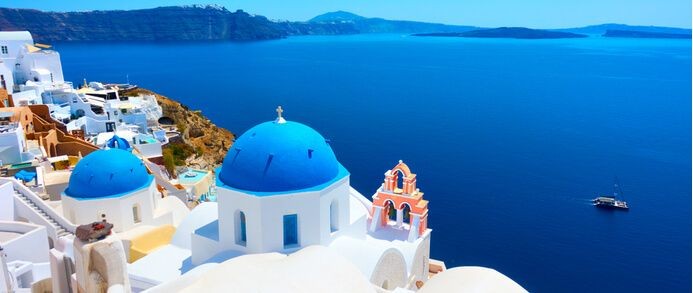 Santorini is one of those places that you have to visit at least once in your life. Its whitewashed houses, exotic beaches, and spectacular cliffs make it one of the most visited Greek islands each year. Travel the island from north to south with this 3-day driving itinerary. Let's get going!