Car hire in Thessaloniki airport
Book on our web instead of comparison websites
Avoid insurance surprises sold by third parties

No additional charges, final price guaranteed

No deposit, no excess option
Our customers trust the quality of our service provided
Currently of 1147 reviews received from our customers, 72.0% said they were satisfied with the service provided during their car hire
Latest user reviews on service provided by Centauro Rent a Car
Review of Adrian Cardona about our office at Thessaloniki Airport Powered by Google™
Our flight was heavily delayed due to a diversion. The Centauro office personnel were very helpful and friendly when we explained the issue, we were even given a car upgrade. Car was very clean and worked perfectly fine. Pick up and drop off were simple and efficient. Excellent service as always from Centauro
Review of Quaxo Beer about our office at Thessaloniki Airport Powered by Google™
Rented a vehicle for 3 days and it was the best investment on our trip. The staff was very helpful, patient and professional, and the airport shuttle service was seamless. Highly recommended to anyone and everyone who wants to explore Thessaloniki and its surroundings with a reliable car!
Review of Tania Frandes about our office at Thessaloniki Airport Powered by Google™
Great experience! I rent cars every months with different company in Thessaloniki but the best service was with Centauro. Nice car, clean, the money deposit was quickly returned,pick up on time,profesinal personal. The car category was better then which I booked. I definitely will use Centauro again !
Review of Ashley Naidoo about our office at Thessaloniki Airport Powered by Google™
Just come back from a 2 week car hire in Greece. Thessaloniki. We had a stress free and good experience with Centauro. Eleni at the office was most efficient and friendly, the car we got given was a Peugeot 3008, comfy and easy to drive. I will use this company again. I got and instant refund of fuel charge and my credit card excess return was done straight away by evening.
Review of James Harris about our office at Thessaloniki Airport Powered by Google™
Centauro were absolutely fab and would definitely use again for a hassle & stress free car hire experience, for seamless, friendly & professional service. Car was immaculate & upgraded for free. Also gave us great personal advice on our location, where to go for best beaches & areas. No problems at all and only a completely positive & recommended experience. It's clear why the best companies have the best ratings when the service is so good.
Previous
Next
How to locate the Centauro Rent a Car car hire office at Thessaloniki Airport
If you have a mobile with connection to internet, the best option is to use Google maps to give you direct instructions from your location.
However, on this page you can download a map with instructions for collection and return of your Hire car.
Opening hours and contact
---
From Monday to Sunday from 07:00 to 23:00.+302111985310
Address
---
14th km Thessaloniki to Peraia
Thermi, Thessaloniki, 57001
Latitude: 40,51369
Longitude: 22,98970
Maps & instructions for collection and return
---
Terminal 1: Once you have collected your luggage, exit the terminal building, cross the road, and turn right. Walk towards parking area P5 where you can wait for the Centauro Rent a Car shuttle which comes every 10-15 minutes.
Terminal 2:  Once you have collected your luggage, come out of the terminal building using Exit 3 and walk approx.150 mts. to Exit 5 of Terminal 1. Cross the road and turn right. Walk towards parking area P5 where you can wait for the Centauro Rent a Car shuttle which comes every 10-15 minutes.
General information and further assistance from the Centauro Rent a Car car hire office at Thessaloniki Airport
Road assistance for breakdowns or accidentsPhone number: (+30) 21 119 91096
For reclaims or queries
If you have any reclaims or queries we recommend you visit the section "Help" on our website where you can find answers to many frequently asked questions.
To make a new booking or to check availability
By using our website you will always find the best price on offer and you will know instantly if the vehicle type that you require is available for the dates selected.
To view your account, change a booking, view your invoices & contracts
Access your account and you can find a selection of icons to allow you to modify your details, change a Booking or view your invoices and past contracts.
Information about Centauro Rent a Car car hire company at Thessaloniki Airport
If you hire a car with Centauro Rent a Car a Thessaloniki airport you can be assured of the best service and a fleet of cars that are renewed on a yearly basis. You can also add to your reservation other extras that you may need such as additional drivers, GPS, full cover with no excess, child seats, etc.
With your rental car in Thessaloniki you can explore some beautiful locations which have guaranteed good weather most of the year.
Your car hire is waiting for you at Thessaloniki airport!
Car hire types available at Thessaloniki Airport
At Centauro Rent a Car we offer a wide selection of cars available to hire at Thessaloniki Airport which is renewed yearly.
Our range of cars at Thessaloniki Airport includes economical, family, convertibles, automatics, vans, minibuses…
What to see, do, and visit in Thessaloniki and its surroundings with your rental car.
Thessaloniki-Macedonia Airport
South of the city of Thessaloniki is the Thessaloniki Airport (SKG), also known as the International Airport of Macedonia. It was opened in 1930 and today is one of the most important airports in Greece, since it has connections with cities such as Athens, Rhodes, Corfu, Samos or Lemnos, among others. In addition, from this airport there are also flights to different cities in Italy and Spain such as Milan, Girona, Rome, Naples. To get from the airport to the city of Thessaloniki you can use public transport or rent a car at the Thessaloniki-Macedonia airport and get a vehicle that allows you to reach the city in approximately 25 minutes. 
Car hire in Thessaloniki
Car hire in Thessaloniki is the most recommended option to tour the capital of the Macedonia region with total autonomy and freedom, without depending on bus schedules and routes. Plan a personalized route to explore the city at your leisure and visit some of the most representative places in the city, such as the Aristotle Square, the Nikis promenade, the Kapani market, the Arch of Galerius, the White Tower or  the Church of Saint Sophia, among others.


Thessaloniki information
Thessaloniki, Greece's second largest city, is  full of culture, history and art, where you can enjoy beautiful views and monuments that will leave you speechless. 
What to see in Thessaloniki
- Church of Saint Sophia: Built in the 8th century, it is one of the oldest churches in the city and was declared a World Heritage Site by UNESCO. In the thirteenth century it became a cathedral, later it was a mosque for five centuries and is now a Greek Orthodox church. The entrance to the church is free of charge and the building is a model example of Byzantine architecture.
- Rotonda of Galerius: Also declared a World Heritage Site by UNESCO , this Byzantine church is believed to have been originally a temple dedicated to the god Zeus or a funerary site for Emperor Galerius. Its interior is very beautiful, full of mosaics and decorated with marble. Nearby, we find the Arch of Galerius, known as Kamara.
- Waterfront (Nikis): Nikis Avenue is a seaport that is worth strolling and relaxing, the views are wonderful. In addition, the promenade is decorated with many sculptures and monuments that do not go unnoticed. It is a part of the city full of life and very active, especially at sunset, which is also when you can admire the best views. 
- White Tower: It is a defensive tower facing the sea, it is also known as Lefkos Pyrgos. It is one of the main monuments of the city and many see it as the symbol of Thessaloniki. 
- Panaghia Chalkeon: Like the two churches mentioned above, it was declared a World Heritage Site and was converted into a mosque, although later it became an Orthodox church.


Driving route through Thessaloniki 
We propose you to enjoy a driving route through the most cultural Thessaloniki, a tour where you can see the most representative monuments, churches and museums of the city.
We recommend you to visit the Archaeological Museum, the Museum of Cinema, the Museum of Photography and the Museum of Byzantine Culture, the White Tower and the Turkish baths, known as Bey Hamam. 
We could not leave aside a route through the churches, from the Church of Saint Sophia, the Rotonda, the Panaghia Chalkeon, the Church of Saint Pantaleimon to the Panagia Acheiropoietos. 
Gastronomy of Thessaloniki
If you are on vacation in Thessaloniki you cannot miss the Greek salad, you can accompany it with a delicious moussaka, a variety of eggplant lasagna. The souvlaki is similar to the Moruno skewer and ntolmadakia, which are grape vine leaves that are filled with rice. The papoutsaki, on the other hand, is similar to what we know as stuffed eggplant and the saganaki batzos is fried Batzos cheese with Tsipouro and lemon.
Weather in Thessaloniki
The climate in Thessaloniki is Mediterranean, this is why summers are hot and winters moderate. This privileged place enjoys many sunny days a year, especially during summer. The coldest months are December, January and February, and if you go on your trip during these months you must keep yourself warm. The hottest months are July and August. 
The months with more rainfall are February and November, so if you go on your trip to Thessaloniki during these months, we recommend you to stuff your suitcase with rainwear, raincoat, umbrella and waterproof boots. The best months to visit Thessaloniki are the months of March to June and September to November. 


Related posts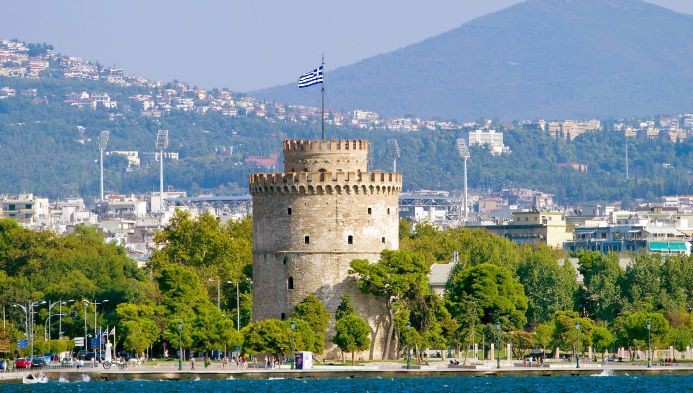 Are you planning a trip to Greece? Thessaloniki is one of the destinations that cannot be missed on your road trip through the Hellenic Nation. With this road trip through Greece you will discover incredible places and a rich culture.