Car hire in Alicante AVE train station
Book on our web instead of comparison websites
Avoid insurance surprises sold by third parties

No additional charges, final price guaranteed

No deposit, no excess option
Our customers trust the quality of our service provided
Currently of 390 reviews received from our customers, 94.0% said they were satisfied with the service provided during their car hire
Latest user reviews on service provided by Centauro Rent a Car
Review of Pernille Christine Frimann Bügel about our office at Alicante - Train Station Powered by Google™
As always, Centauro delivers on efficiency, friendliness and overall customer service. No hidden fees, possibility of a very affordable upgrade and all smiles. Could not be happier with this car rental service, and will never choose another! Highly recommended.
Review of Harry Dorrat Thorpe about our office at Alicante - Train Station Powered by Google™
Super friendly staff, quick pick up and drop off, no added costs for insurance coverage, free road side assistance. Best car hire company I've gone with, will definitely use again for sure.
Review of George Go about our office at Alicante - Train Station Powered by Google™
Great experience from start to finish, very helpfull staff, price was as quoted (no extras to be added, other than a fuel deposit that was returned the morning after returning the car), no mile limit, free additional driver, nice clean car. All in all definitely a great experience, will use again 100% 😁
Review of Jennifer Lair about our office at Alicante - Train Station Powered by Google™
Once we found the Centauro office in Alicante, the process of picking up the car was easy. The staff in both locations was helpful and pleasant. The car was spotless. Highly recommend.
Review of Trayana Pamoukchieva about our office at Alicante - Train Station Powered by Google™
I'm extremely satisfied with the service! The Booking was very easy (debit cards also accepted), staff competent and kind as well as the prices were reasonable. We also god upgraded car category.
Previous
Next
How to locate the Centauro Rent a Car car hire office at Alicante Train Station
If you have a mobile with connection to internet, the best option is to use Google maps to give you direct instructions from your location.
However, on this page you can download a map with instructions for collection and return of your Hire car.
Opening hours and contact
---
From Monday to Sunday from 08:00 to 22:00.+34966360360
Address
---
Avda Salamanca 14
Alicante, Alicante, 03005
Latitude: 38,34479
Longitude: -0,49452
Maps & instructions for collection and return
---
Instructions for collection 
Come out of the station using the main front exit (EXIT/CITY CENTRE) and you will see the Centauro office across the road on the left-hand side. To reach the office, use the zebra crossings to your left to cross the main road.
Instructions for return
Vehicles must be returned to the Centauro car park:
Parking Avenida de la Estación, Floor -1
Av. de la Estación, 27, 
03003 Alicante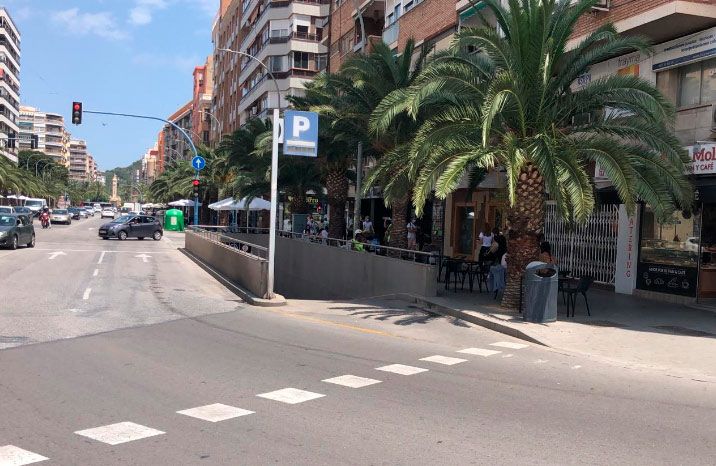 General information and further assistance from the Centauro Rent a Car car hire office at Alicante Train Station
Road assistance for breakdowns or accidentsPhone number: (+34) 966 365 365
For reclaims or queries
If you have any reclaims or queries we recommend you visit the section "Help" on our website where you can find answers to many frequently asked questions.
To make a new booking or to check availability
By using our website you will always find the best price on offer and you will know instantly if the vehicle type that you require is available for the dates selected.
To view your account, change a booking, view your invoices & contracts
Access your account and you can find a selection of icons to allow you to modify your details, change a Booking or view your invoices and past contracts.
Information about Centauro Rent a Car car hire company at Alicante Train Station
Hire a car in Alicante train station with Centauro Rent a car and enjoy the security and confidence that comes with a fleet of rental cars that is renewed each year. Add to your booking any extras you need when you hire a car, GPS, comprehensive cover without excess, approved child seats, etc.
Get cheap car hire at Alicante train station and drive through the land which guarantees good weather most of the year.
We hope to see you in our car rental office in Alicante train station!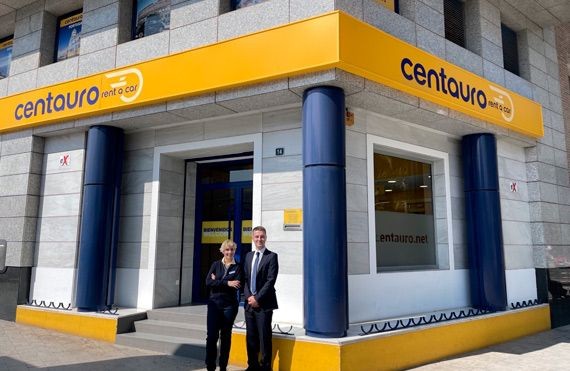 What to see, do and visit in Alicante and the surrounding region with your rental car
Alicante AVE Train Station
Alicante AVE station is located very close to the heart of the center city, on Avenida de Salamanca. It has direct connections to the Spain's main railway stations at Atocha, Barcelona Sants and Joaquin Sorolla. Alicante is connected to Madrid by the A-31 motorway and to Barcelona and Valencia by the AP-7. 
Car hire in Alicante
Just a few meters from the station you will find the office of Centauro, your car hire company in Alicante, and so you can set out on your adventure as soon as possible. In just 10 minutes by car, you can reach the foot of the Castle of Santa Barbara, in 7 minutes you can stroll through the Town Hall Square and in less than 5 minutes, you will arrive at the Central Market, the bustling heart of the city. 

Get ready to enjoy Alicante's beaches, green areas, monuments and fine cuisine, at your own pace, without obligations or timetables. 
Discover Alicante with your rental car
From monuments more than 10 centuries old to beaches in a nearly pristine, natural state. Alicante is a city that you will enjoy visiting from one end to the other. Its culinary options and mild temperatures make it the perfect destination to travel alone, as a couple or with your family. 
What to see in Alicante
Without leaving the city of Alicante, start your adventure touring the Old Town from the City Hall Square, built on the site of "La Casa de la Ciudad" ("The City's House") in the eighteenth century.  
From here, you can hop into your Centauro car and in 7 minutes you will be gazing up at Santa Bárbara Castle. At the foot of Mount Benacantil, you will discover the impressive 9th-century Moorish castle and the rocky outcropping called the "face of the Moor", one of iconic images of Alicante. 
In the Santa Cruz District you can lose yourself in the narrow alleys until you reach the Co-cathedral of Saint Nicholas, which combines Renaissance and Gothic styles, and is one the city's most famous monuments. 
Continue on your itinerary until you reach the main artery of Alicante, the avenue of Alfonso el Sabio, where the Central Market is held.  
And then, to top off your day, enjoy the sunset on the Explanada de España. This avenue, with its characteristic paving that simulates the movement of ocean waves, is one of the most iconic of the city and is located next to the Alicante Marina, one of the city's most popular spots, full of restaurants and coffee shops and also featuring a famous casino. 

Car itinerary in Alicante
After touring the city, you will want to relax and enjoy the sun and the sea. The coastline in the province of Alicante extends for 244 km, which is ideal if you would like to go beach hopping.
Car itinerary through the surroundings
If, on the other hand, what you need is to escape from the hustle and bustle of the city, then you can take a trip off the beaten path to discover some of the most beautiful and peaceful villages, both inland and on the Mediterranean coast: 
Altea, with its picturesque old town of cobbled streets and white facades. 

Guadalest, one of the most beautiful villages in the Valencian Community, known for its castle and prison. 

Denia, where unwinding and losing yourself in the Natural Park of Montgó or the marine reserve of San Antonio is a great plan for travel with the family. 

Calpe, for the more adventurous, where you can visit the famous landmark of the Costa Blanca, the Peñon de Ifach, which ascends to a height of 332 meters. 

Xátiva, where you can visit the impressive castle that belonged to the Borja family, one of the most illustrious families of the Renaissance. 

Elche, a stone's throw from Alicante, where you can tour the largest palm grove in Europe, with more than 200,000 palm trees.  

Car itinerary along the beaches and coves of Alicante
Another indispensable route when touring Alicante by car is a scenic itinerary passing along the most emblematic beaches and coves of the Mediterranean coast.
Granadella cove in Jávea (Xàbia), one of the last unspoiled areas on the coast of Alicante. 

Tabarca Island, to spend just one day surrounded by nature and the sea, in all its splendor 

Albir beach in Alfàs del Pi, with its well-known Walk of Fame that honors all the winners of the prestigious international film festival of Alfàs del Pi. 

Muchavista beach in El Campello, bustling with lively restaurants, rice joints and cafés serving "horchata", a sweetened plant milk and nut beverage beloved in Valencia,... 
Car itinerary through the protected natural parks of the province of Alicante
If the beach is not your thing, or if you also enjoy nature, then a few kilometers from the capital you can take your car to visit some of the most impressive natural spots in the region, real delights for hiking lovers: 
Serra Mariola Natural Park, with trails alongside important aquifers, fountains and mineral water springs. 

Font Roja Natural Park, between Alcoi and Ibi, with more than 2000 protected hectares of holm oaks and gall oaks, inhabited by wild boars, badgers and weasels. 

Montgó Natural Park, between Denia and Jávea, visit its breathtaking cliffs or stroll quietly through its lush forests. 
Fine cuisine in Alicante
Although the regional cuisine of Alicante is best known for its rice and seafood, in some of the surrounding villages you will be able to find a great variety of culinary specialties, with influences from La Mancha and Murcia, perfect to get your strength back and continue your on your road trip through the province. 

Weather in Alicante
The coastal areas have very mild winters and hot summers, while further inland the spring is warm and sunny, which helps to make it an unrivalled tourist destination to visit all year round: with miles of coastline sprinkled with incredible beaches, coves where natural wilderness abounds and charming villages to explore easily with your rental car.
Related posts

The most beautiful villages in the Mediterranean: a route by car from Alicante to Barcelona travelling through Valencia.

Discover 7 charming places in Alicante with Centauro Rent a Car. Tour around Alicante with one of our hire cars and make the most of your holidays!

All the secrets to an enjoyable holiday in Torrevieja, discover some amazing coves to go snorkelling, lovely walks through the old town of the city and the impressive views of the protected natural parks.