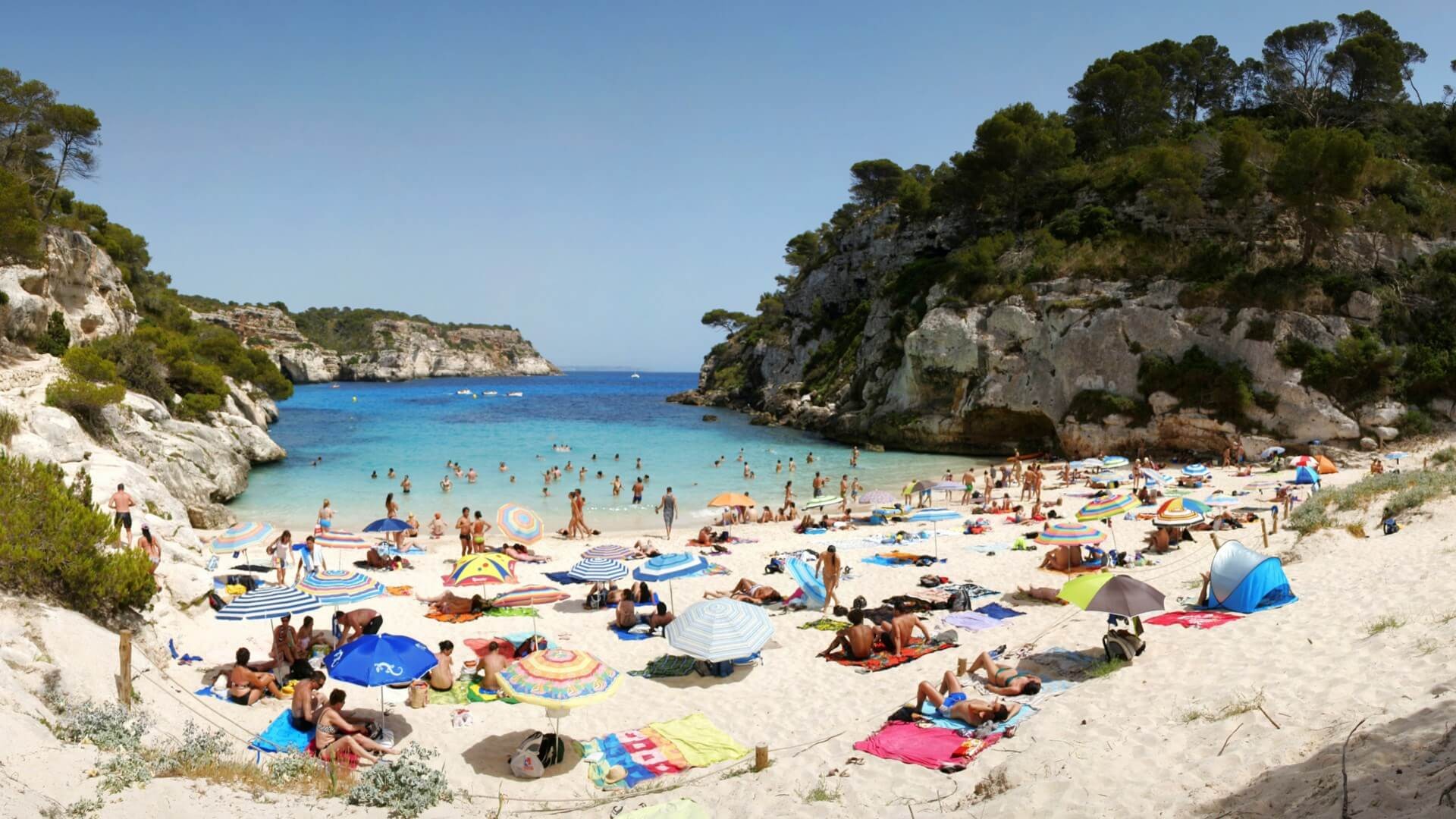 Car Hire in Menorca Airport
What to see and do and where to visit in Menorca and the surrounding areas with your car hire
Menorca Airport
Menorca Airport or Mahon Airport is located just 4.5km from the capital of Menorca and just 47km from Ciutadella, the second largest city on the island. Menorca is well connected by road, there are no underground or train lines, so the best way to travel around the island at your own leisure is by hiring a car from Menorca airport. Your car hire will be your best travel companion to make your own route and be able to discover all the hidden corners that the island has to offer and for you to discover.
Menorca Tourist Information
Menorca is, after Mallorca the second largest island in the Balearic Islands, they received their names in Roman times for this reason (Minorica & Maiorica). The island of Menorca is considered more 'wild' for having developed itself as a tourist destination much later than others and therefore maintaining its natural beauty.
Driving around with your car hire is easy as the island stretches along a road 60km long from east to west and only 20km from north to south. However, within this 'small' piece of land you can find spectacular landscapes, beaches of crystal clear waters that make you feel like you are in paradise, a rich legacy of megalithic monuments and a wide selection of activities that you can enjoy with the whole family. For these reason and many others, Menorca was declared a Biosphere Reserve by the Unesco in 1993.
The main cities are its capital Mahon, located to the east and Ciutadela de Menorca, the most popular town on the island in the west. Halfway between the two you can find Mercadall. These three towns are well connected to all other parts of the island. Other beautiful villages that you cannot miss when driving your car hire are Alaior, Es Castell, Es Migiorn Gran, Ferreries, Fornells and Llucmassanes
Menorca is a very popular tourist destination both with the Spanish and foreign holidaymakers. Its turquoise waters, rich biosphere and a great selection of coves, beaches and charming villages makes this island an ideal holiday destination. To get the best out of your visit we recommend that you hire a car in Menorca.

While you are here, don't miss out on some of the amazing buildings from other times; such as the fortress of La Mola at the entrance of the port of Mahon or the prehistoric settlement of Torre d'en Galmés. Both are great examples of the variety of places to see on the island of Menorca and what is on offer for you when hiring a rental car.
Get your cheap car hire in Menorca and don't miss any corner of this fantastic island.
Beaches & Coves in Menorca
In Menorca, we can marvel over the contrast of its coasts; in the north, you can enjoy isolated unspoiled beaches of clear limestone rocks and beautiful ravines, while in the south half of its beaches are more populated and made of dark slate rock from 300 million years ago.
Menorca welcomes the most adventurous to get lost with their rental car and discover it's the crystal clear waters, so if you prefer to have everything planned for where to go, here is a list of recommendations of the BEST beaches and coves in Menorca which you cannot miss.
To enjoy the paradisiacal sea with turquoise water typical of Hollywood films & postcards, we recommend the stunning Cala Macarella & Cala Macarelleta located 15kms from Ciutadella and Cala Mitjana & Cala Mitjaneta considered one of the best beaches in Spain, surrounded by pine trees to guarantee shade during the hot summer days.

You do not need to travel to the Caribbean to enjoy exotic scenery; just go to Ciutadella and visit Algaiarens (La Vall), Cala des talaier, Cala en Turqueta or Son Saura, to wow us with its unspoilt beaches although they can get rather busy in the summer months.
Cala Galdana in the south of Menorca and Punta Prima beach in Sant Lluís are two of the most popular beaches in Menorca, with fine sand, clear crystal waters and a variety of water sports for you to enjoy. By the way, do not miss a visit to the Lighthouse of L'illa de l'Aire a true wonder that lights up the sea.
Another recommendation is a visit to Cala Presili & Cala Tortuga, located in the Natural Park of S'Albufera des Graus, here you can enjoy more than 200km of coast. To get access you must take a 2km walk from the Faro de Favàritx, but it is well worth it for the breathtaking views.
If your idea is to get lost in a hideaway and isolate yourself from civilization, then we recommend Cala Excorxada located in es Migjorn Gran, only accessible from the sea or by taking a one hour hike. Another option is Cala Rafalet, located near to Mahon with access down a narrow dirt track. In both cases, you can enjoy wonderful landscapes along the way. Suitable only for the brave!
You cannot leave Menorca without a visit to two of its most enchanting coves; Cala Pregonda with its contrasts of reddish sands, steep rocks and transparent waters and Cala Morell, a secluded cove for total peace and quiet. Located next to the necropolis of Cala Morell where you can visit 17 rock caves free of charge and dating from the pre-Talaiotic period.

Routes by car in Menorca
Cami des Cavalls route
The richness of Menorca did not go unnoticed since the beginnings of civilization; proof of this is the historical legacies of the Phoenicians, Greeks, Carthaginians, and Muslims until its conquest by the Christians. The origin of Camí des Cavalls dates back to the 14th century to defend the coast from possible attacks intended to conquer the island, although this strategy did not work when centuries later when it was ceded to England under the Treaty of Utrecht.
Today this legacy has become a beautiful route that runs along the coast of Menorca for more than 185km divided into 20 stages. Every year many cyclists and hikers take this route and marvel at the wonders of this Balearic island with its cliffs, beaches and historical relics. The best way to travel along the Camí des Cavalls is to leave your rental car at one point and take the route there and back just with some provisions to continue with your car to your next destination point in Menorca.
Prehistoric route in Menorca
Menorca, like no other destination gives you the possibility of going back in time to the pre-Talaiotic and Talaiotic times; take a tour of the prehistoric route with your rental car. We invite you to take a stroll between 'talayots', 'taulas' and 'navetas'; megalithic monuments that reflects the life of the Balearic inhabitants in prehistoric times, fascinating archaeological legacies dating back to 1000BC and until the Roman conquest in 123 a.c.
We begin our prehistoric route with our car hire in Ciutadella, where we can find the Naveta des Tudons, the best preserved Talaiotic monument in Menorca, take a walk between the walls of Son Catlar, the Torrellafuda settlement; an area of great natural beauty. Visit the necropolis of Cala Morell with more than 17 caves and whilst you are take a bath in the cove of the same name, one of the most peaceful of the entire island or imagine life in the village of Torretrencada.
We continue our route to Alaior, where you can find the Talaiotic village of Torre d'en Galmés, and the largest in Menorca. Here you can find a wide selection of Talaiotic buildings with beautiful views of the Menorca coast. Carry on to the village of Torralba d'en Salort to visit the tallest 'taula' on the island. Once in Mahon, it is obligatory to visit the Village of Talatí de Dalt and take in the views of over 5000m2 of the Trepucó Village settlement.

What to eat in Menorca
To get to know a destination, there is nothing better than making stops along the way to enjoy the typical dishes on offer. That is why we recommend that you visit one of the many restaurants and try the typical Menorca cold meats, where you can also try the Mahon Cheese together with some carn I xua, a sausage typical of the island. Another recommendation would be to try the lobster from Fornells whilst you watch the sunset fall over the port. In addition, as you are in Menorca, don't forget to try the mayonnaise from Mahon; its authentic place of origin.
Weather in Menorca
The weather in Menorca lives up to the Mediterranean climate, with hot summers and mild winters. The island can boast being the first point in all of Spain where it dawns more than 300 days and with 2700 hours of sunshine a year. Travel around the island with your rental car and enjoy everything this island has to offer 365 days a year.