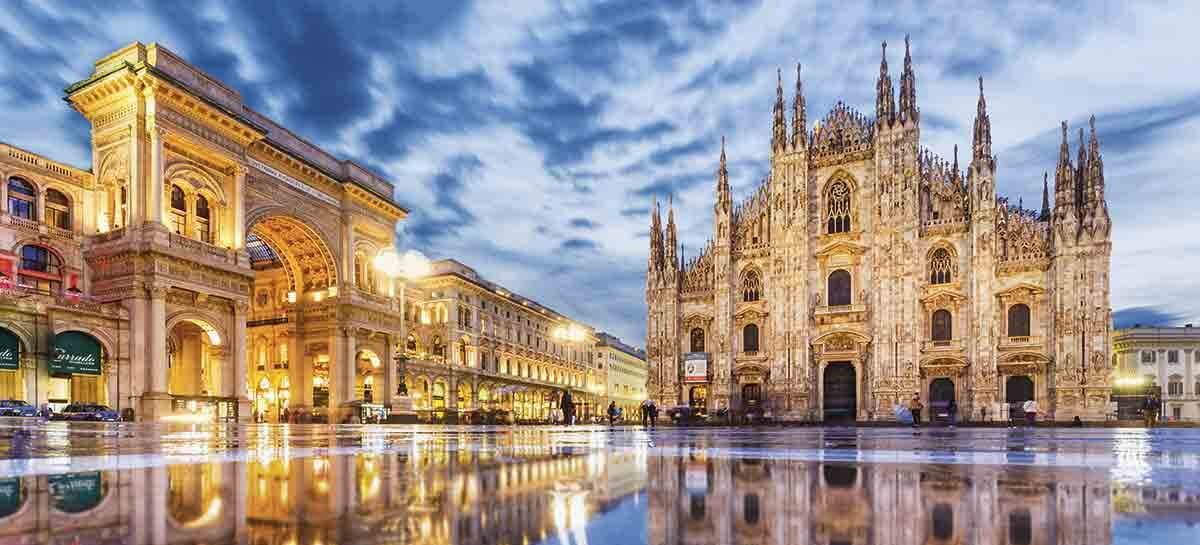 Car hire in Milan Bergamo airport
Book on our web instead of comparison websites
Avoid insurance surprises sold by third parties

No additional charges, final price guaranteed

No deposit, no excess option
Our customers trust the quality of our service provided
Currently of 1439 reviews received from our customers, 80% said they were satisfied with the service provided during their car hire
Latest user reviews on service provided by Centauro Rent a Car
Review of Shantanu Kulkarni about our office at Bergamo - Airport Powered by Google™
A decent car rental company with a free airport transfer to their office in Bergamo. Look for a yellow Mini Bus (Ford Transit) in front of 'Arrivals". While booking a car with them is easy and reasonably cheap, over the counter full insurance is expensive (It was more expensive than the rental price). Buy Excess Protection insurance online instead. Definitely click the pictures of the car before you start driving. They'll do the check upon returning the vehicle. I'd have given a 5 star review if their rep 'd have been a little courteous when I turned down their insurance quote.
Review of Cezar Tarbuzan about our office at Bergamo - Airport Powered by Google™
Great experience, new car, quick transport from and to the airport, no credit card needed if you get the premium insurance. Returning the car takes 30 seconds, and there is a restaurant across the street if you have a few hours before the flight. The only issue I had was with taking the car out of it's parking spot, as it was inside and it was difficult to get out because of all the cars parked all around. But one employee helped me, so between the two of us, we managed. :)
Review of Kristina Pavlova about our office at Bergamo - Airport Powered by Google™
Everything was great. Smooth process of getting and returning the car. Best price compared to many other companies. Prime package includes full coverage without excess. I would highly recommend Centauro and would definitely use them again when visiting Italy.
Review of Masud Anwar about our office at Bergamo - Airport Powered by Google™
Great car hire experience. A yellow minibus picks you up from the parking area as you leave the departure terminal from exit number 4. The shuttle comes every 10-15 mins. The car collection and drop off process was quick. The prices are excellent and the car new and clean. We got a nice hyundai i30 which had android auto, parking sensors and cameras, cruise control and lane assists. They took a fuel deposit of £112 which was fully refunded. I would definitely hire from them again
Review of Candid Huma about our office at Bergamo - Airport Powered by Google™
Everything went as it should. I had the pleasure of receiving a superior car to what I originally reserved. At the time of handing over the car, I got my deposit back instantly, compared to other rental companies that usually return the deposit after about 30 days. Friendly and English-speaking staff. I recommend with confidence!
Previous
Next
How to locate the Centauro Rent a Car car hire office at Bergamo Airport
If you have a mobile with connection to internet, the best option is to use Google maps to give you direct instructions from your location.
However, on this page you can download a map with instructions for collection and return of your Hire car.
Opening hours and contact
---
From Monday to Sunday from 07:00 to 23:00.+390683662959
Address
---
Via Cremasca 96
Azzano San Paolo, Bergamo, 24052
Latitude: 45,64929
Longitude: 9,68282
Maps & instructions for collection and return
---
Once you have collected your luggage, come out of the terminal building and turn left and continue until you reach exit number 4 of the departure terminal and just opposite in the parking area you can wait for the Centauro Rent a Car Shuttle which comes every 10-15 mins
General information and further assistance from the Centauro Rent a Car car hire office at Bergamo Airport
Road assistance for breakdowns or accidentsPhone number: (+39) 0694 806 800
For reclaims or queries
If you have any reclaims or queries we recommend you visit the section "Help" on our website where you can find answers to many frequently asked questions.
To make a new booking or to check availability
By using our website you will always find the best price on offer and you will know instantly if the vehicle type that you require is available for the dates selected.
To view your account, change a booking, view your invoices & contracts
Access your account and you can find a selection of icons to allow you to modify your details, change a Booking or view your invoices and past contracts.
Information about Centauro Rent a Car car hire company at Bergamo Airport
Hire a car in Milan Bergamo  with Centauro Rent a car and enjoy the security and confidence that comes with a fleet of rental cars that is renewed each year. Add to your booking any extras you need when you hire a car, GPS, comprehensive insurance without excess, approved child seats, etc.
We hope to see you in our car rental office in Milan Bergamo  Airport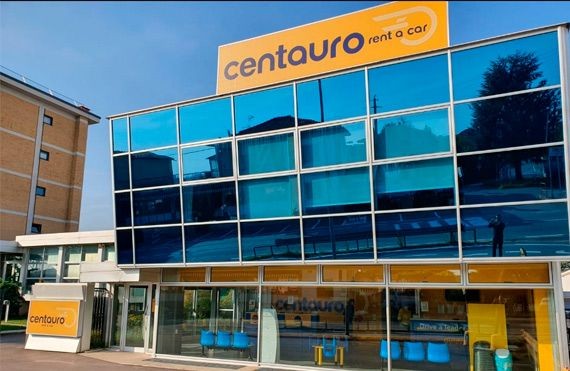 Car hire types available at Bergamo Airport
At Centauro Rent a Car we offer a wide selection of cars available to hire at Bergamo Airport which is renewed yearly.
Our range of cars at Bergamo Airport includes economical, family, convertibles, automatics, vans, minibuses…
What to see, do and visit in Milan, Bergamo and the surrounding area in your hire car
 Milan - Bergamo Airport
Milan - Bergamo airport, also known as Orio al Serio airport or Bergamo airport is located just 45km from Milan and boasts significant passenger traffic thanks to the low-cost airlines that use it, although it doesn't receive as many passengers as the main Milan Malpensa airport.
Milan is the second-largest city in Italy, after the impressive Rome, which receives large numbers of visitors throughout the year. Hire your car at Bergamo Airport and travel to Milan, the city of fashion, completely independently with your hire car.

Car hire at Milan – Bergamo airport 
If you are visiting Italy on a tight budget, the best option is to fly to Milan Bergamo Airport and hire your car from there to travel to the city of Milan, which is located just a 50-minute drive away.
Driving on Italian roads is similar to driving in Spain and other European countries. In Italy, they drive on the right and use the left lane for overtaking; seatbelts are compulsory as is having an international driving licence.
Italy has an extensive network of motorways, although you can use the secondary roads and drive on the free roads. The main motorway is known as A1 or "Autostrada del Sole" and runs from north to south, linking Milan with Naples.
What to see in Bergamo
Bergamo – Orio al Serio airport is used by people travelling on low-cost flights to start their trip to Italy from Milan although the city of Bergamo itself is rich in cultural and architectural heritage. Bergamo is worth a visit in your hire car.

The Città Alta of Bérgamo
Its historic centre is located on a hilltop, surrounded by large walls, which transports us back to medieval times with large baroque and palatial constructions of renaissance stone, the most charming part of the city is called the città alta of Bergamo. Wander along the cobbled streets of Via Gombito, with its ample patisseries and restaurants until you reach Via Colleoni, a street with authentic charm where the essence of Bergamo can be found or visit the spellbinding Piazza Vecchia, a corner of the city which conjures up the architectural magic and tradition of the Italian renaissance which will astonish you, especially if you climb the campanone to view the city from above, where you will find the Palazzo del Podesta, Palazzo del Comune, El Pallazo della Ragione and the Torre Cívica.
Don't forget to stroll from Piazza Vecchia to Piazza del Duomo, also called Plaza de la Catedral, where you will find the Cathedral of Bergamo or of Saint Alexander of Bergamo, the majestic Church of Santa María Maggiore and its amazing Capella Colleoni. Once you have visited the city of Bergamo, we can travel to Milan, the extraordinary city of fashion, in our hire car.

Milan Tourist Information
Milan is considered to be one of the main capitals in Italy, a city where passion for fashion and artistic heritage can be found in every corner of this beautiful Lombardy city.
What to see in Milan
Milan has plenty to offer, however the main tourist sites can be visited in two or three days. Visiting Piazza del Duomo, seeing Milan Cathedral and the views from its terrace, enjoy a coffee in Piazza Mercanti or strolling around the Galleria Vittorio Emanuelle II are just some of the unmissable impressive sites for your car journey to Milan.
Art, culture and fashion in Milan
Art, culture and fashion are three elements which can be seen in the city of Milan with every step you take. Wander around Plaza del Duomo, day or night, and you will always find a spectacular show across from Milan Cathedral, one of the largest in the world, which harmoniously boasts various architectural styles. Milan Cathedral also houses the nail from Christ's crucifix. We recommend taking time to visit its terrace, either by taking the lift or the stairs, to see the city from above and take some great photos of Milan from up high.
Across from Plaza del Duomo is the enchanting Piazza Mercanti, one of the most welcoming corners of Milan, which still retains its historic value and boasts many beautiful buildings such as the Palazzo della Ragione, Loggia degli Ossi, Palazzo delle Scuole Palatine or Casa dei Panigarola.

We now head to Plaza de la Scala, a lively area home to a statue dedicated to Leonardo Da Vinci and there we can also see the Teatro alla Scalla, one of the most famous international opera houses, where you can visit its red boxes and see the elegant atmosphere from within and visit its museum with a collection of costumes and paintings from the opera world. We direct you to the majestic Galleria Vittorio Emanuele II, a precious gallery from the 19th century with glass and iron arches home to the most famous stores in Milan. Go for a stroll around its beautiful shop windows and, if you like traditions, thank your lucky stars and do a full turn on your right foot under the Savoia mosaic, with the shield of a bull, the family's emblem.
Your trip to Milan by car would not be complete without a visit to Sforza Castle, originally built as a fortress in the 14th century and subsequently transformed into a ducal palace, which today houses an interesting collection of museums (Egyptian, Ancient Art, Picture Gallery…) which are worth a visit.
Next to Sforza Castle is Simplon Park, with over 47 hectares of English gardens it is the ideal place to relax with a picnic after a long day of sightseeing in Milan and watch the animals in its artificial lake.
At Pinacoteca di Brera, one of the most well-known in Italy, you can find works by artists such as Rafael, Caravaggio or Tintoretto, a real place of worship for lovers of art.
During your car journey around Milan, you must visit one of the most surprising corners of the city, Milan's Monumental Cemetery, which was constructed in the 19th century on the outskirts of the city to reunify all the cemeteries of the time. Today, it is an impressive outdoor sculpture museum whose beauty amazes all who dare to enter.
Finally, another of the most extraordinary corners of Milan is the Piazza Gae Aulenti, constructed in 2012, and is the most modern square in Milan and one of the best places to go at night, not forgetting the unrivalled views of Milan from the Unicredit Tower.
Excursions by car around Milan
Prepare your hire car for touring the lakes, specifically Lake Como, the third largest in Italy. Lake Como extends to the edges of the towns ofBellagio, Varenna, Tremezzo, and Menaggio still maintaining the magic of yesteryear with their traditional houses overhanging the lake from the mountains and lush countryside.
The best way to get to Lake Como is to hire a car, enter the GPS and drive to Lake Como to begin our tour of these idyllic landscapes of indescribable beauty.

Related posts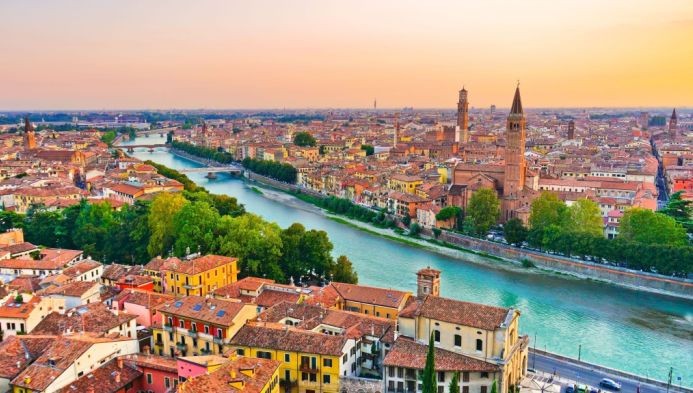 Looking for information for your #road trip around Italy? In this post we suggest some chilled out, beautiful routes for you to follow. You just need to get a vehicle to get going. Take note of our suggested destinations to make the very best of your Italian getaway.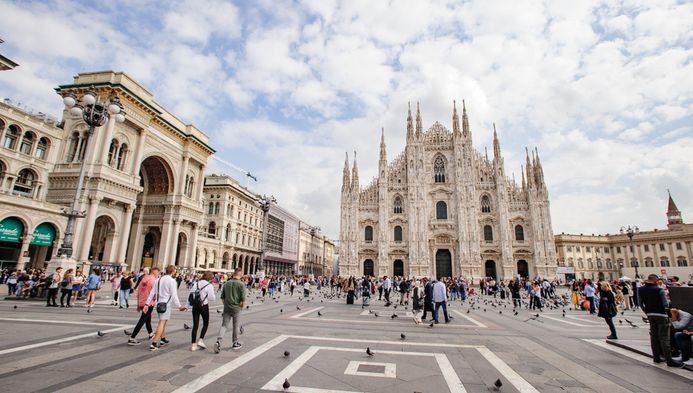 As is the case in almost all cities in Italy, the streets of Milan are a museum in and of themselves; so you will need to get around fast if you want to see everything that has made this Italian city an icon for tourism, and there's nothing better than the freedom and comfort that a rental car provides. Pay attention, because we're going to give you the best tips for parking in the city if you plan on travelling around Milan by car.
Could you enjoy a getaway any time of the year? We would like to suggest to you an unforgettable car itinerary for your winter getaway. Get ready! We're going on a road trip from Milan to Switzerland, through the Alps.