Book on our web instead of comparison websites
Avoid insurance surprises sold by third parties

No additional charges, final price guaranteed

No deposit, no excess option
Our customers trust the quality of our service provided
Currently of 2353 reviews received from our customers, 64.0% said they were satisfied with the service provided during their car hire
Latest user reviews on service provided by Centauro Rent a Car
Review of louis lewis about our office at Faro - Airport Powered by Google™
when we booked it wasn't made clear that there was a shuttle service from the airport every 15 min to take to the office, but on the return it all worked great. clean car and polite staff will use again for next trip
Review of Mohamed ElBediwi about our office at Faro - Airport Powered by Google™
The people there are really friendly. Easy Check-in and out. Really good prices in comparison to other companies. Book directly via their website for good deals and direct insurance. Smart cover really keeps you worry free. The shuttle schedule is every 10-15 mins from P4 at the airport parking.
Review of Glenn O about our office at Faro - Airport Powered by Google™
Just finished a weeks rental from the Faro office. Car is collected off airport and a courtesy minibus shuttles you to and fro. We waited max 10 minutes for the bus which wasn't an issue. Very friendly staff, customer service was excellent, everything was explained in a straight forward manner and we were off before we knew it. Office is easy to find. Return was equally as good and efficient. Would recommend and use again….
Review of Γιωργος Ζερβακης about our office at Faro - Airport Powered by Google™
Centauro was either the only or one of the very few car rentals that accept debit cards. We hired a car from Centauro Lisbon and returned it to Centauro Faro. Both offices were great and the stuff very helpful. We gave a big deposit up front, but we received the whole amount back after we returned the car. The car itself was just fine and we had no problems at all. It is worth noting that the person that runs the shuttle bus waited for us to finish delivering the car back and took us to the airport.
Review of Christopher Jones Wake about our office at Faro - Airport Powered by Google™
I use always use Cenrtauro both in Spain and Portugal for car rental I find the booking easy and straight forward. I do not understand any of the negative reviews that I have read. My last booking was at Faro, the staff were amazing and very helpful from being greeted at the courtesy bus by the very friendly driver to the reservation agent at the office. The staff could not be more helpful, they even changed the settings in the car to English for me. I arrived on a national holiday and the office was busy, however, I was only in the office for maybe 30 minutes. They took a fuel deposit which I expected and a deposit for the motorway toll in Portugal although I was driving into Spain. The return of the car was easy and the courtesy bus back to the terminal. My fuel deposit was returned to me quickly the motorway toll deposit was returned within 14 days as I was informed it would be. I always recommend this company and all of my family and friends use them.
Previous
Next
How to locate the Centauro Rent a Car car hire office at Faro Airport
If you have a mobile with connection to internet, the best option is to use Google maps to give you direct instructions from your location.
However, on this page you can download a map with instructions for collection and return of your Hire car.
Opening hours and contact
---
From Monday to Sunday from 07:00 to 23:00.+351308810777
Address
---
Estrada Nacional 125 Sítio do Arneiro
Faro, , 8005-412
Latitude: 37,06190
Longitude: -7,96719
Maps & instructions for collection and return
---
Once you have collected your luggage, come out of the arrivals hall and turn left following the instructions to the Parking area P4. When you arrive at the P4 just on the right hand side is the Shuttle bus area and where you can wait for the Centauro Rent a Car Shuttle which comes every 10-15 mins.
General information and further assistance from the Centauro Rent a Car car hire office at Faro Airport
Road assistance for breakdowns or accidentsPhone number: (+351) 308 810 816
For reclaims or queries
If you have any reclaims or queries we recommend you visit the section "Help" on our website where you can find answers to many frequently asked questions.
To make a new booking or to check availability
By using our website you will always find the best price on offer and you will know instantly if the vehicle type that you require is available for the dates selected.
To view your account, change a booking, view your invoices & contracts
Access your account and you can find a selection of icons to allow you to modify your details, change a Booking or view your invoices and past contracts.
Information about Centauro Rent a Car car hire company at Faro Airport
If you hire a car with Centauro Rent a Car a Faro airport you can be assured of the best service and a fleet of cars that are renewed on a yearly basis. You can also add to your reservation other extras that you may need such as additional drivers, GPS, full insurance with no excess, child seats, etc.
With your rental car in Faro you can explore some beautiful locations which have guaranteed good weather most of the year.
Your car hire is waiting for you at Faro airport!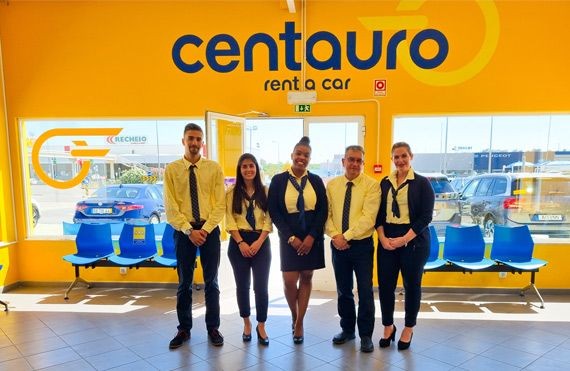 Car hire types available at Faro Airport
At Centauro Rent a Car we offer a wide selection of cars available to hire at Faro Airport which is renewed yearly.
Our range of cars at Faro Airport includes economical, family, convertibles, automatics, vans, minibuses…
What to see and do and where to visit in Faro with your hire car
Faro tourist information
Faro is the largest town of the region known as the Algarve and since 1830 the capital city. Only 300kms away from Lisbon and less than 200kms from the city of Seville. For this reason it is easy to find a cheap car hire in Faro and within a few kilometers you can get to see 3 great cities in two different countries.

The temperature in Faro averages around 18 degrees all year round, with highs of no more than 29 degrees in the height of the summer to 7 or 8 degrees during the winter months. Paying a visit here is pleasant during any season. Choose your car hire and booking online for Faro is by far an easier and quicker way to get to know this wonderful area and to get the most out of your trip.
Faro airport
The Algarve gets more popular each year.  More and more holidaymakers come and visit this area making Faro airport the second largest in Portugal receiving travelers from all over the world. It is common for many visitors who maybe start their journey to visit areas such as Andalucia in the south of Spain, tour around and then finish their journey at Faro Airport. We definitely recommend a cheap car hire from Faro airport to have the freedom to move around and get to know the wonders of this destination.

Beaches in Faro and surrounding areas and natural reserves
Another attraction of this area is the quality and quantity of idyllic beaches that sun worshippers can choose from with beautiful crystal clear waters. If you choose Portugal as a sun holiday then Faro is the best location to find these beaches. From here you can find a variety of beautiful sandy beaches which you can get to with your car hire, with lots of other facilities on offer such as bars, restaurants, etc., Faro also has other more secluded beaches for visitors looking for peace and tranquility but just as beautiful.
At Centauro Rent a Car we highly recommend that you don't miss the opportunity to visit places such as 'Playa de Faro', l'Playa Odeceixe', 'Culatra', 'Praia do Pintadinho', 'Ilha da Barreta', or the ' Playa de Vale do Lobo`.

Faro also has some amazing natural reserves which you can visit. With a car hire from us you can get to see all these wonders.
Related posts

If you like discovering new landscapes and sites for sunbathing, we recommend 10 relatively little known beaches along the coast of Algarvia. Adventure yourself in those and many other beaches by car, renting your car for the Summer in our desk at Faro. 

Discover with Centauro Rent a Car how the Portuguese motorways work and the way to enjoy your car rental hassle free in Portugal.

Driving through Portugal by car is a great way of travelling for lovers of the road. You will be delighted by its beautiful landscapes, charming cities and fine gastronomy.