Book on our web instead of comparison websites
Avoid insurance surprises sold by third parties

No additional charges, final price guaranteed

No deposit, no excess option
Our customers trust the quality of our service provided
Currently of 2 reviews received from our customers, 100% said they were satisfied with the service provided during their car hire
How to locate the Centauro Rent a Car car hire office at Kefalonia airport
If you have a mobile with connection to internet, the best option is to use Google maps to give you direct instructions from your location.
However, on this page you can download a map with instructions for collection and return of your Hire car.
Opening hours and contact
---
From the 1st April to 31st OctoberFrom Monday to Sunday from 07:00 to 23:00.+302111985310
Address
---

, Argostolion , 281 00
Latitude: 38.119047
Longitude: 20.507167
Maps & instructions for collection and return
---
Once you have collected your luggage come out of the Arrivals Hall, a Centauro Rent a Car staff member will be waiting to escort you to the Centauro Rent a Car shuttle bus.
General information and further assistance from the Centauro Rent a Car car hire office at Kefalonia airport
Road assistance for breakdowns or accidentsPhone number: (+30) 211 990 9000
For reclaims or queries
If you have any reclaims or queries we recommend you visit the section "Help" on our website where you can find answers to many frequently asked questions.
To make a new booking or to check availability
By using our website you will always find the best price on offer and you will know instantly if the vehicle type that you require is available for the dates selected.
To view your account, change a booking, view your invoices & contracts
Access your account and you can find a selection of icons to allow you to modify your details, change a Booking or view your invoices and past contracts.
Information about Centauro Rent a Car car hire company at Kefalonia airport
If you hire a car with Centauro Rent a Car at Kefalonia airport you can be assured of the best service and a fleet of cars that are renewed on a yearly basis. You can also add to your reservation other extras that you may need such as additional drivers, GPS, full insurance with no excess, child seats, etc.
With your rental car in the island of Kefalonia you can explore some beautiful locations which have guaranteed good weather most of the year.
Your car hire is waiting for you at Kefalonia airport!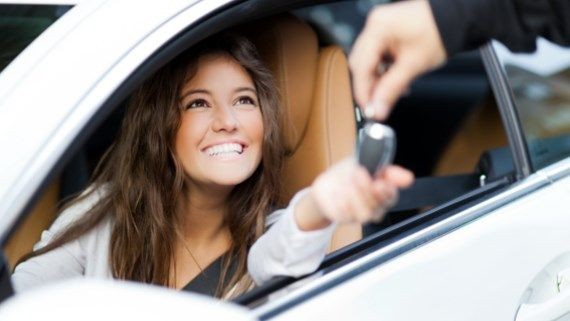 Car hire types available at Kefalonia airport
At Centauro Rent a Car we offer a wide selection of cars available to hire at Kefalonia airport which is renewed yearly.
Our range of cars at Kefalonia airport includes economical, family, convertibles, automatics, vans, minibuses…
What to see, do and visit on the island of Kefalonia with your rental car
Kefalonia Airport
Kefalonia International Airport is one of the most important airports in Greece. It has been in operation since 1971 and is noted for being located only 8 kilometers from the island's capital, which can be reached by public transport or in your Centaur rental car. Currently, it has air connections with major cities such as Rome, Madrid, Lisbon and Athens.
Car hire on Kefalonia
Rent your car at the airport on Kefalonia Island and get ready to explore Greece's so-called green island, with its unbelievable beaches of crystal-clear water surrounded by lush natural beauty.
A unique destination where the contrasting colors of its forests of pine, cypress and olive trees and of the sea bed with its turquoise waters inhabited by sea turtles attract thousands of adventurers every year eager to explore its furthest corners.
Prepare your getaway to "Cyclops Island," the sixth largest island in Greece; discover its green landscapes and vast beaches, and tour the island your own way.

Kefalonia Tourist Information
The vibrant Island of Kefalonia has 365 charming villages to tour with your rental car, which is the best way to discover every locality on Kefalonia without having to depend on public transport.
Pick up your car at Kefalonia Airport and get ready to tour an island full of beautiful sandy coves and Mediterranean villages that offer breathtaking views.
What to see on Kefalonia
The ideal way to visit and get to know the whole area is to rent your car on Kefalonia. This way you can travel to the island's most fascinating spots. Go on a road trip to Argostoli and its seaside promenade, Skala and Potamakia Beach, Sami and the famous Lake Melissani or Assos with its lovely brightly colored houses.

Car itinerary through Argostoli
We start our car itinerary in Argostoli, a small but modern town with all the charm of ancient Greek fishing villages, where you can discover the essence of the Greek islands.
Visit the local markets and stroll by its ports where you can watch the bustle of fishermen going to sea against the backdrop of sea turtles. Start your car itinerary in the northwest of Argostoli by visiting the classic-looking San Teodoro Lighthouse, known as Fanari, and from there, continue 700m to Katavothres, a traditional sea-water mill that will captivate you.
If you want to appreciate the history of this traditional Greek village, then drive to the Argostoli Archaeological Museum and the Folklore and History Museum, where you can discover local artwork.
Next to these museums is one of the most famous symbols of Argostoli, the Drapano Bridge, which is about 900 meters long. To round off the day, we recommend that you visit Makris Gialos Beach, a quiet beach of fine sand only 3.2 kilometers away where you can dive in the crystal clear waters of the Greek islands.

Car itinerary through the main villages of Kefalonia
The island of Kefalonia has 365 villages, one to visit every day of the year.… If your holiday does not last that long, we recommend a car itinerary through the main villages, such as Argostoli, Skala, Sami, Assos and Fiskardo.
We will start our car itinerary in Argostoli and then go southward to the village of Skala. In this quiet corner of the Greek islands we recommend you visit the temple dedicated to the worship of the god Apollo, which dates back to the 7th century BC. Next, pay a visit to the magical cave of Drogarati, a natural wonder more than 10,000 years old and relax and unwind on the Potamakia Beach, where you will see specimens of Caretta turtle if you are lucky.
From Skala, we set off with our rental car 38km north to our next stop, Sami, which features the island's main port for berthing the ferries that connect it with Italy. Here we recommend you take advantage of your trip to the Greek Islands to visit the Acropolis, as well as the Agrilion Monastery for the views it offers of the whole coast, and the Melissani Lake and Cave, a real wonder of nature that has become one of the main attractions of Kefalonia.
Next we continue on to Assos in our rental car, a picturesque and quiet place, perfect to enjoy with the family. This charming town of quiet streets lined with houses with their own gardens features a spectacular fortress built on the seashore by the Venetians as a defense against pirates.
On a pleasant walk from the village port you can pay a visit to the castle with its Renaissance architecture and stroll around Paris Square.
From Assos, we recommend you visit Fiskardo, the most authentic village, set apart by its brightly colored houses and by the remains of an ancient church in ruins dating back to the 11th century. If you want to get away from it all, the beaches of Foki, to the south, or Emplisi, to the north, are a good option, since they are a 5 minute drive from the center.
Fiskardo is one of the most picturesque villages on the island of Kefalonia, the largest of the Ionian Islands, located in western Greece. In fact, Kefalonia has 365 charming villages (one to visit every day of the year!), some small and some sizeable, each with distinctive defining features.
Fiskardo however, on the northern tip of Kefalonia, enjoys legal protection due to its great beauty, since it is surrounded by gorgeous forests and lined with countless beaches and secret coves.

Cuisine of Kefalonia
Kefalonia is an island of contrasts that offers simple but delicious dishes, which are made from local, natural ingredients. Some of the great seafood classics are sea bass, cuttlefish, sole and scallops, although meat also has its place in specialties such as "stifado," "youvetsi" and "kreatopita", a meat pie that can only be savored on this island.
Climate of Kefalonia
Kefalonia has a Mediterranean climate, so the summers are hot and dry and the winters mild. Therefore, the best time to travel is from May to October, when the temperature is pleasant and there is hardly any rainfall.
Rent your car at Kefalonia airport and travel the island to explore all the wonderful and peculiar inland villages of the Greek islands.