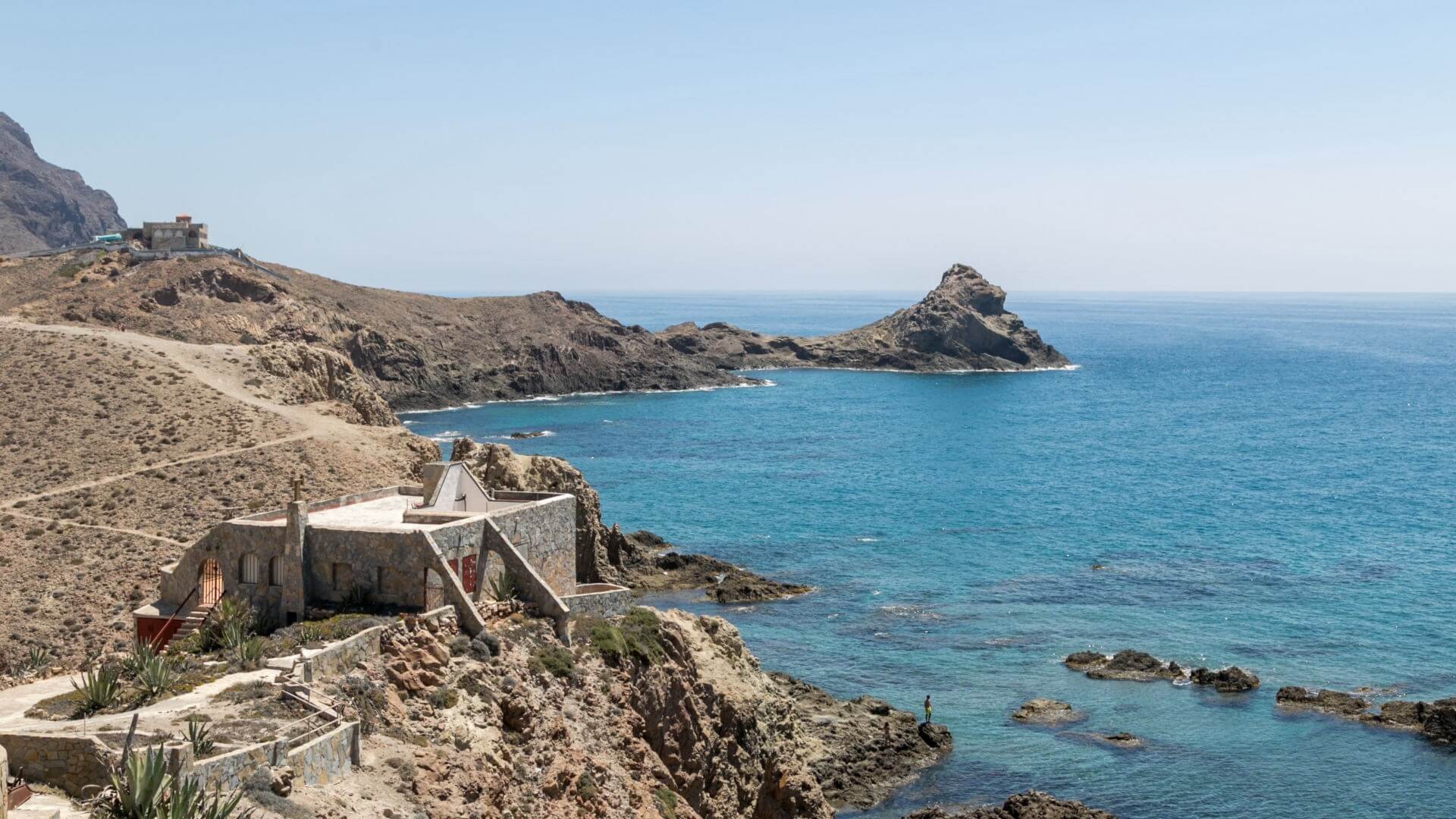 Cheap Car Hire at Almeria Airport
What to see, do and where to visit in Almeria with your car hire
Almeria Airport
Almería Airport was opened in 1968 and is located just 500m from the coastline and the Sierra de Alhamilla, and just 10km from the city of Almeria. Its location is close to the most important tourist destinations like Roquetas de Mar, the Natural Park of Cabo de Gata - Nijar or Mojácar.
The airport offers flights throughout the year to national destinations such as Barcelona, ​​Madrid, Melilla, Seville and Palma de Mallorca, and international flights to London, Dublin, Birmingham, Manchester, Brussels, Dusseldorf, Munich, Luxembourg or Prague. In addition, during the summer the Airport increases its flights availability due to the great demand of tourists to the region.
Rent a car in Almeria
Rent a car to drive around Almería is the best option if you want to visit this beautiful city and to not miss any of the cultural events on offer.
Renting a car in Almeria will allow you to plan a route through its magnificent coast, you can enjoy lovely coastal villages such as Cabo de Gata - Nijar, Mojácar, Carboneras or Roquetas de Mar. Villages inland such as Vélez Blanco, Ohanes or Enix. Take a visit to the landscapes of Tabernas where you can discover a themed Desert park which recreates old western villages used in some of the most important motion pictures.

Almeria tourist information
Almería is now one of the most sought after tourist destinations in Spain by both national and international travellers. Almería combines a perfect balance of 200km of spectacular white sandy beaches with beautiful landscapes on the shores of the Mediterranean Sea, the typical white Andalusian houses and mountain regions similar to Grand Canyon.
Almeria is an old Mediterranean city that has acquired the legacy of ancient civilizations, from Phoenicians, Carthaginians and Greeks, through the Roman Empire to Visigoths and Muslims.
The city as we know it was found back in 955 A.C. by Caliphate of Abderramán III and become one of the most important taifa kingdoms in Spain. The Arabic influence can be seen through its artistic heritage, for example the Muslim Alcazaba and the numerous monuments and Castles around the region.
We highly recommend that you take a drive and visit the area of Nijar with your car hire so that you can enjoy some of the unspoiled coves and beaches on offer, beaches with immense ecological value but ready to welcome all kinds of visitors.Not only will you find spectacular beaches or mountain areas in Almeria, this area is also surrounded by lots of art and culture. Local traditions and art & craft festivals are customs that have shaped its history. There's no doubt that hiring a car is the best way not to miss anything Almeria has to offer.
Get your cheap car hire now in Almeria and enjoy a fantastic stay
Almeria beaches and bay areas
Drive though the beaches and bay areas of Almeria and enjoy the marvellous landscapes and the Mediterranean breeze…. are a real pleasure for our senses!
The Natural Park of Cabo de Gata, located in Nijar, is one of the most interesting places to visit, with over 63km of sandy beaches, volcanic cliffs and a magnificent natural ecosystem. The beaches of this protected area invites you enjoying the tranquillity of the environment. The most popular beaches in Cabo de Gata are Playa de Monsul, Playa de los Genoveses, Playa de los Muertos, Playa de San José, Playa de las Negras, Playa de San Miguel de Cabo de Gata, Playa de la Isleta del Moro and The Cala de San Pedro.
One of the most visited areas of the 'Parque Natural de Cabo de Gata' is The 'Arrecife de las Sirenas' (Mermaid Reef) located at the foot of the 'Cabo de Gata' lighthouse and which boasts amazing views of the coastline. Its name comes from a legend that mermaids used to visit this area, but really it is attributed to the presence of monk seals on the reef.
The particular charm of the Mermaid Reef is that the reefs rise above the water level and they are in actual fact ancient volcanic chimneys which are surrounded by crystalline waters with a seabed that reflects amazing green and turquoise tones and home to an amazing biodiversity. For these reasons, the beaches of Gata is a firm favourite for snorkelling.

Mojácar is one of the most popular coastal towns to visit in Almeria, with over 17km of pristine sandy beaches. The most popular beaches in Mojácar are La Marina de la Torre, El Cantal, Venta del Bancal, Las Ventanicas, La Cueva del Lobo or El Descargador. Mojácar has become a popular tourist destination for summer parties or stag or hen parties. If any of your friends are getting married, then an ideal option is to rent a car for your celebration and visit these amazing destinations at your own pace.
Roquetas de Mar is the biggest tourist destination in Almeria, its beaches extend for more than 16km and boasts numerous blue flags that recognises its accessibility, cleanliness and security. If you want to visit the beaches of Roquetas de Mar, either by foot or by car, we recommend that you visit La Playa de Aguadulce, La Playa de Ventilla, La Playa de los Bajos, La Playa de Las Salinas, La Playa de las Romanillas, La Playa de La Bajadilla, La Playa de la Urbanización, La Playa Serena or La Playa Cerríllos.

Golf courses in Almeria
The good climate of Almería, its landscape and its great tourist attraction have converted this region into an attractive option for both amateur & professionals golf players. They can enjoy practicing their favourite sport surrounded by breathtaking scenery, unspoilt beaches and spectacular views of the Mediterranean Sea or in contrast of the Arid Desert of Almeria. If you play golf we recommend that you visit any one of the following courses; Dessert Springs, Marina Golf, El Cortijo Grande, Alborán Golf, Golf Resort Playa Macenas or Playa Serena, to name but a few.

Routes by car through Almeria
We recommend that you hire a car and enjoy a short break through the province of Almería and get lost in the amazing scenery that this special area of Spain has to offer. You will feel like an explorer travelling through the Mediterranean forests, the volcanic cliffs by the sea, the seabed that holds a treasure of priceless biodiversity or its arid inland landscapes that makes you feel that you are in the wild west. We have designed a few routes for different types of visitors. Which one is yours?
1. Car routes along the coast of Almeria
A car route along the coast of Almeria is the best option for you if ...
If you are sun and beach worshipper, you will love tanning yourself on the fine sandy beaches, enjoy contemplating sunsets over an ever ending sea or if you are a passionate adventurer of water sports, such as Windsurfing, Kitesurfing, Snorkelling or Sailing.
If you have identified with one or all of these options, then the best places to enjoy in Almeria are Cabo de Gata, Roquetas de Mar, Mojácar, Carboneras, Nijas, San José, Tabernas, Las Negras or Vera.

2. Film locations in Almeria
If you are movie or series fan, then this route designed especially for you.
The landscapes of Almería Desert have been filmed in innumerable Western movies, the Hollywood film industry settled in Spain to shoot scenes due to the arid landscape necessary for the spaghetti westerns filmed here.
You cannot miss the visit to the Theme Park of the Tabernas Desert, it will take you straight back to the old days and where you can witness a real life duel of the old west and where everything was decided with a confrontation with 2 guns at dusk.
Some of the films that have been filmed here are the well-known productions of Lawrence of Arabia, The Good, The Ugly and The Bad, Conan The Barbarian, Indiana Jones and the Last Crusade or Exodus: Gods and Kings.
The latest and most impressive scenery built to be filmed here is for the extremely popular Game of Thrones. A series which has won the most Emmy awards in history. Filming took place in Pechina in August 2016.

3. Natural Park Routes in Almeria
We could not forget the lovers of nature or hiking; Almeria has a lot to offer because of its wide contrasts and rich biodiversity.
On our route through the natural parks of Almeria we invite you to visit the Natural Park of Cabo de Gata, in Níjar, unique for its marine & terrestrial park with volcanic landscapes, sandy beaches and salt plains.
Another recommendation is the Natural Park of Tabernas Desert, a unique desert in Europe and is located along the region of Alboloduy, Santa Cruz, Gádor, Gergal and Tabernas.
The Sierra María - Los Velez Natural Park is dominated by the presence of limestone, it preserves archaeological remains and cave paintings in the coves of La Gitana or El Queso. The Park is located along the region of Chirivel, María, Vélez - Blanco and Vélez Rubio.
The Sierra Nevada National Park stretches from Granada to the Almeria Alpujarra and is well known as a tourist destination during winter holidays to enjoy the great snowfalls that are available on this mountain range.
Finally, the Natural Park Punta Entinas - Sabinar is located between El Ejido and Roquetas de Mar, with a great biosphere diversity and boasts the presence of thousands of flamingos and migratory birds.
As you can see, Almería offers a multitude of natural and tourist attractions to explore with your rental car, enjoying at your own pace a great destination of amazing contrasts on offer in Spain.