Book on our web instead of comparison websites
Avoid insurance surprises sold by third parties

No additional charges, final price guaranteed

No deposit, no excess option
Our customers trust the quality of our service provided
Currently of 2119 reviews received from our customers, 78.0% said they were satisfied with the service provided during their car hire
Latest user reviews on service provided by Centauro Rent a Car
Review of Dave about our office at Porto - Airport Powered by Google™
finally a company that appears to really get it. They looked after me well, the pick up and drop off was easy and the car was excellent. no hidden fees or scams like a lot of their competitors. returned the car earlier than planned as my work was done quicker that expected. Centauro refunded me the difference and all of the fees within hours o returning the vehicle, which was excellent and much better specification that I had booked. The staff were friendly, helpful and gave the impression they enjoyed their job and cared about the people. Well done Centauro, I will definitely use again.
Review of rui zito about our office at Porto - Airport Powered by Google™
I picked up my car at the Porto airport end of November 2022. A free shuttle bus took us to the Centauro facility, which is 5 minutes from the airport. The banana yellow bus is easy to find outside the terminal. . When we arrived, there were no other customers in the queue. I was served by a very friendly lady. The car had 13,000 km on the clock and was in perfect condition. I had chosen to take the 'all risk' insurance when booking online. Everything went wonderfully well at the reception and at the return. Unlike the information found in other reviews on Google, I had no problems with the payment and/or the debit of my Visa card. I received the deposit back on the same day of the return. I recommend this company.
Review of Eric Raetz about our office at Porto - Airport Powered by Google™
We were quite satisfied with our car rental at Centauro Porto Airport. We were pleased to get an automatic cas as requested. The car worked quite well and was comfortable. The shuttle service was very efficient. Staff people were dedicated, friendly and helpful. We can really recommend renting Centauro cars at Porto Airport.
Review of Nicola Shillito about our office at Porto - Airport Powered by Google™
Great experience. Slightly unsure on arrival where to get the transfer as there was no signage for Centauro but we soon figured it out. We used the premium package, this allowed us to be served first in the queue on arrival and took all the concern of any dents or scratches away, especially as we picked the car up in Porto and returned it to Faro. Car was really clean, almost like new. A deposit was taken to cover fuel and toll charges - the fuel deposit was returned straight away on return of a full tank, but the toll deposit took 1.5 weeks to return. I would definitely use Centauro again, service was efficient!
Review of Nicola Kite about our office at Porto - Airport Powered by Google™
Great service, would highly recommend. Mini bus picked us up at the airport, was friendly and efficient. Arrived at the depot and the gentleman went through all the details/charges and even discussed which car we would like and upgraded us at no extra cost. Car was clean and tidy and run great. Return was easy and quick, with no problems. Staff were very friendly and helpful.
Previous
Next
How to locate the Centauro Rent a Car car hire office at Porto Airport
If you have a mobile with connection to internet, the best option is to use Google maps to give you direct instructions from your location.
However, on this page you can download a map with instructions for collection and return of your Hire car.
Opening hours and contact
---
From Monday to Sunday from 07:00 to 23:00.+351308810777
Address
---
Rua de Joaquim Alves de Sousa Moreira, 148
MAIA, , 4470-573
Latitude: 41,23388
Longitude: -8,66500
Maps & instructions for collection and return
---
Once you have collected your luggage, come out of the arrivals hall and cross the first zebra crossing right in front of you is where you can wait for the Centauro Rent a Car Shuttle which comes every 10-15 mins.
General information and further assistance from the Centauro Rent a Car car hire office at Porto Airport
Road assistance for breakdowns or accidentsPhone number: (+351) 308 810 816
For reclaims or queries
If you have any reclaims or queries we recommend you visit the section "Help" on our website where you can find answers to many frequently asked questions.
To make a new booking or to check availability
By using our website you will always find the best price on offer and you will know instantly if the vehicle type that you require is available for the dates selected.
To view your account, change a booking, view your invoices & contracts
Access your account and you can find a selection of icons to allow you to modify your details, change a Booking or view your invoices and past contracts.
Information about Centauro Rent a Car car hire company at Porto Airport
Hire your car with Centauro Rent a Car at Porto and enjoy the security and confidence that comes with a fleet of rental cars that is renewed each year. Add to your booking any extras you need when you hire a car, GPS, comprehensive insurance without excess, approved child seats, etc.
We look forward to seeing you at our car hire office in Porto!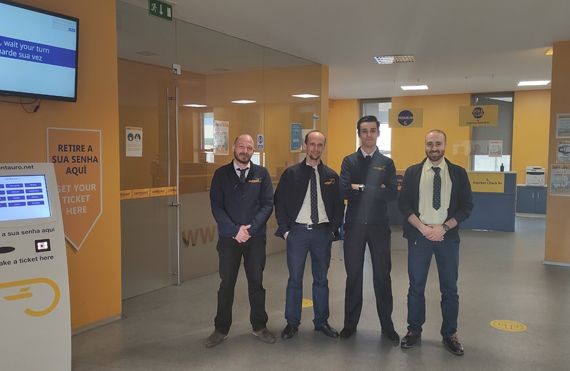 Car hire types available at Porto Airport
At Centauro Rent a Car we offer a wide selection of cars available to hire at Porto Airport which is renewed yearly.
Our range of cars at Porto Airport includes economical, family, convertibles, automatics, vans, minibuses…
What to see and do and where to visit in Porto with your hire car
Let's make a quick tour of the Portuguese city. We have thought of an easy itinerary you can do with your car hire in Oporto. You'll see how easy and fun it will be.
Porto is unreservedly spectacular. Many believe it to be a small town, but its size is magnified due to the many things that you can see and do on your visit. In addition, we are also talking about the second largest city in Portugal, so take advantage of your visit and let's start to make our way around the beautiful neighbourhoods.
It will be very helpful to rent a car in Porto as this will allow us to travel from one district to another really easily. We recommend that you begin with the 'Barrio de La Ribera' which is not to be missed, along the banks of the Duero, a sleepy fisherman's village with its small bars where you can have a drink.
Take advantage of the proximity of the area and visit the colourful houses of the 'Barrio de Miragaia', a very interesting place and a good choice to stay.
We continue with our car hire in Oporto and we go to 'Baixa', the centre of the city, the heart of Porto, near to the 'Avenida de los Aliados' and the main streets of the city.
There are many different districts in Porto, some very elegant, but we may not have time to visit them all, but don't leave without seeing the 'Bairro das Artes' which has become very popular due to its galleries, shops and café bars.

Visits & tours to the city of Porto 
Once you have decided to hire a car in Porto you will find it easy to mover around, especially if you choose any of the recommended organised tours to get to know the city.
Park the car for a little while and walk around by foot. You can also take the tourist bus so you can get to the main streets of the city and you can take a few photographs
Another choice is to take an organised tour so that you can get to know every part of the city, but be aware that these can last nearly 8 hours. You don't get to walk a lot, half of the time they show you the most famous tourist attraction sites in Porto, like the 'Mercado do Bolhao' (market), the 'Torre dos Clérigos', the 'Barrio Da Sé' , etc.,
You are also offered the possibility to go on a cruise along the river Duero and to end the tour you are offered a wine tasting which as you know, in Porto, wine is sacred!
If you like more rural tourism, you can hire your car in Porto, connect your GPS and choose a route for example to the 'Valle del Duero' from Porto. This is definitely worth it. You can visit local farms and take in a wine tasting tour in Oporto to also include local dishes. What a great plan!

'Cordoaria' is a must in Porto
Whatever you decide to do, we strongly recommend that you don't leave Porto without visiting the sights of 'Cordoaria' one of the most interesting places in the city centre.
This is a must-see place if you want to see one of the most beautiful and unique areas of this Portuguese city.
When you are here, we recommend that you also visit the 'Torre de los Clérigos', which is without a doubt one of the most amazing monuments in Porto.
You will have to take in a bit of exercise as there are a few steps involved, but it is well worth it. The views from the top are breathtaking. A panoramic view over Porto. Here you will be able to take some amazing pictures to remember your visit.

Now, and even though you have chosen a cheap car hire in Porto, we are going to make one of the most enchanting visits of all of the city.
We head to the 'Lello' bookshop, chosen by The Guardian newspaper as the Third most beautiful bookstore in the world.  We believe, without a doubt that it is the best on the planet!
Go inside and take a look and you will understand what we are talking about. It may interest you to know that the author of Harry Potter who lived for a time in Porto was inspired by the Lello bookstore to recreate some of the magician's story.
There are many different areas to see of the beautiful city of Porto and for this Reason we recommend that you hire a car in Porto so that you can see as much of it as you can.

Related posts

Porto is Portugal's second largest city, it has many charms. But if you want to go beyond this city center, we propose you 6 cities and villages that are within an hour of Porto. Rent your car, pick it up at our counter and set course for your adventure.

Discover with Centauro Rent a Car how the Portuguese motorways work and the way to enjoy your car rental hassle free in Portugal.

Easter is approaching and so we need to decide where to enjoy the first holidays of the year. We suggest a visit to Porto, a romantic city full of charm and where you can enjoy some delicious food. Let's get packing!