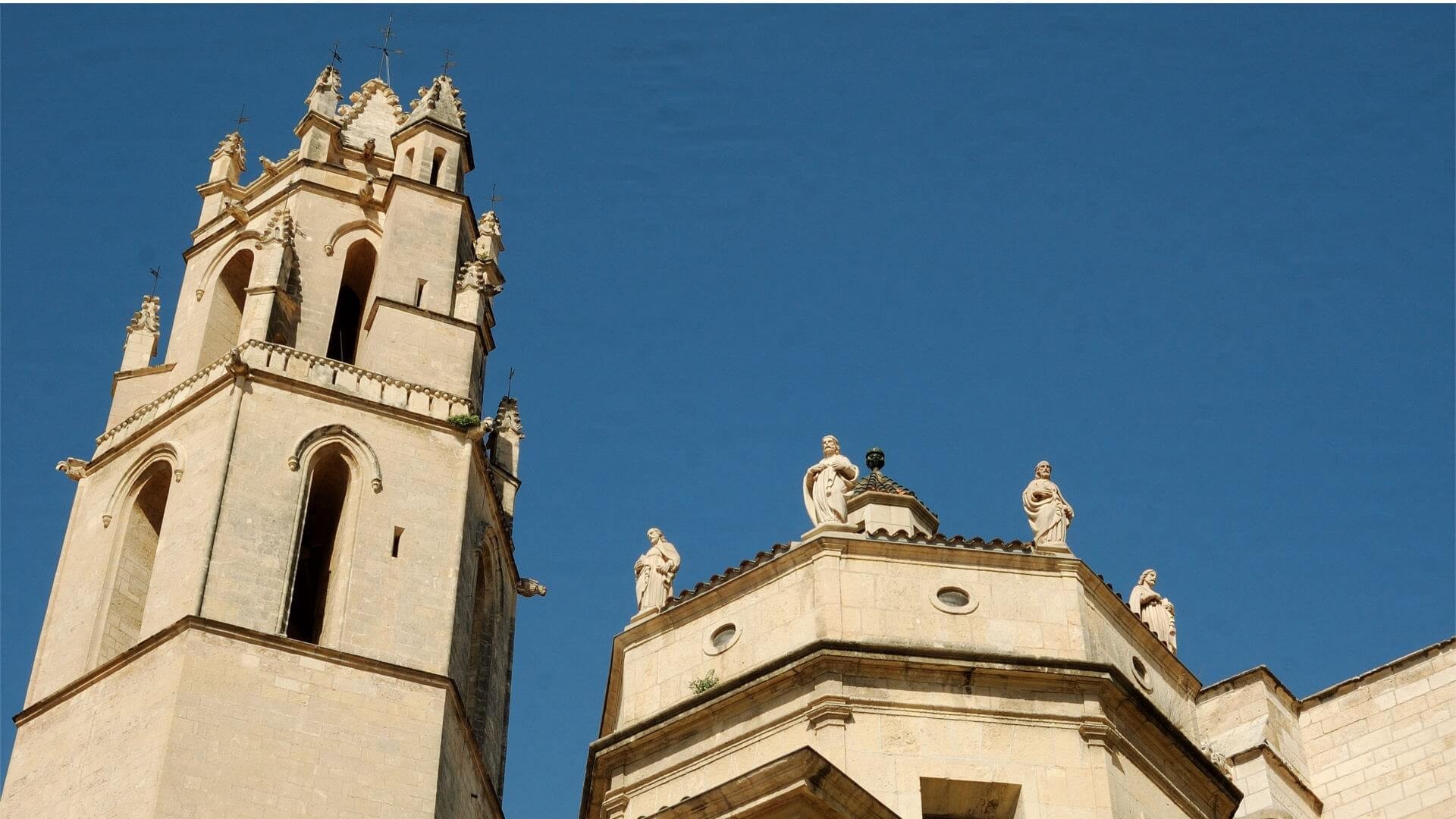 Cheap Car Hire at Reus Airport
What to see, do and where to visit Reus with your car hire
Reus Airport
Reus Airport is the main airport in Tarragona, it´s located just 3 km away from the city of Reus. You can get to Reus with your rental car using the main C-14 road (the old N-420) and have quick access to places with great cultural interest. Furthermore, Reus Airport is located only 7 km away from Tarragona, an attractive and antique city with an interesting cultural heritage thanks to the Roman Empire.
Reus Airport is one of the 4 major airports in the Catalan region, others are Barcelona El Prat where Centauro Rent a Car offers you a service from our own office, Alguaire airport in Lleida or Girona Airport.
Reus Airport has a wide choice of national and international flights; this airport has grown considerably over the last few years mainly because of the increased demand of low cost flights.
Car Hire in Reus
Renting a car in Reus Airport is the best option to enjoy your holiday at your own pace, it allows you to design your own route and decide how much time you want to spend in every area of this beautiful city.
Barcelona is located only 95 km from Reus, for this reason many travellers choose to make a journey using a car hire all along the 'Costa Dorada', visiting the main tourist destinations along the coastline until you reach Barcelona city.

Reus tourist information
Reus is considered a medieval city, which has been developed around the local trade and port environment. However, this popular destination has been inhabited for over a million years by many different civilizations, acquiring a wide cultural diversity during this time.
You can visit the city with your hire car, the heart of the city of Reus is by The 'Plaza de la Llibertat' & 'Calle Llovera' which is close to the 'Plaza de Prim' and the 'Plaza del Mercadall'.
We would like to recommend that you discover some of the most emblematic buildings which will help us reveal its history, such as the 'Teatre Fortune', the 'Casa Ravals' or 'Casa Rulls', the Art Deco buildings designed by some of the most famous Spanish artists, names like Antonio Gaudí or Lluis Domenech i Montaner .
A must place to visit is the Gaudi Centre, which is located in Reus and is a cultural centre dedicated to Antonio Gaudi who was born there. Here you can see some of his personal belongings and learn more about his life.

Reus beaches and bay areas
The city of Reus is located just 10km away from Costa Daurada, this close distance allows you to make trips to nearby towns and visit beautiful beaches and coves where you can enjoy the lovely mild climate with in winter or the hotter summer months.
We also recommend a visit with your car hire to other coastal towns like Salou or Cambrils located just 10 to 15 minutes away and you can enjoy this lovely area on the Mediterranean coast.
Renting a car is the best option to explore the town of Cambrils, known for its coast line of more than 9km of sandy beaches. Here you can find the popular beaches of 'Prat d'en Forés' and 'Regueral', 'Cavet', 'La l'Esquirol', 'Vilafortuny', 'Cap de Sant Pere', 'l'Horta Santa Maria','Llosa' and the 'L'Arcadia' beach on the Poniente side, to name but a few.
Salou is another lovely town to visit with your rental car from Centauro Rent a Car, it boasts more than 4km of white sandy beaches and several coves to get lost in. We recommend a walk along any of one the beaches; Levante, Poniente, Chaplains or 'Lenguadetes'.

Car routes around Reus
Reus is the ideal place for a road trip with your car hire.
In addition to visiting the coastal towns of Cambrils and Salou, you can also visit the famous amusement park called Port Aventura, located between the villages of Vilaseca and Salou, in Tarragona.
Port Aventura is the most visited amusement park in Spain and the sixth most visited in Europe.
This huge park has been expanded several times since opening in 1997, it currently has a complex with five themed hotels inside; the Gold River, Mansión de Lucy, Port Aventura, Caribe Aquatic Park and the El Paso.

Another destination we recommend you visiting with your rental car is the beautiful city of Tarragona, recognised as a World Heritage Site by Unesco in 2000. The ancient city of Tarraco was a settlement by the romans in the third century B.C. and it conserves many remains from the Roman era.
The archaeological city of Tarraco (in Tarragona) consists of ancient roman walls, the provincial forum, the Roman circus, the colonial forum, the Roman theatre and amphitheatre, among others.

If you rent a car, you cannot miss a trip to Barcelona, ​​located just 95km from Reus Airport. Barcelona is the second largest city in Spain after Madrid. This contemporary city is characterized by offering a cosmopolitan and metropolitan atmosphere, with an extensive culture, culinary and sports activities to enjoy.
Renting your car in Barcelona don't miss a visit to the impressive Gothic architecture such the Cathedral of Santa Cruz and Santa Eulalia or The Cathedral of Santa Maria del Mar, made famous by the author Ildefonso Falcones for his bestselling novel Cathedral of the Sea.
Barcelona or the 'Ciudad Condal' as it's known locally is also recognized by the wonderful architecture, the magic of Gaudi surrounds you with every step you take. A 'must' visit is to the 'Pedrera or Casa Milá', the 'Sagrada Familia', the 'Colonia Güell' crypt, 'Balló' house and the Park 'Güell' among others.

Other essential on your route by car to Barcelona is the Boqueria market, the Palau de la Música Catalana, The Palau Sant Jordi, which was built for the celebration of the Olympic Games in 1992 and where today are host to major sporting events and music festivals, as well as Camp Nou football ground, home to Barcelona Football Club.
Barcelona is one of the most attractive places to visit in the world, it stands at nº 26 on the Ranking of Top City Destinations to visit. Do not miss the opportunity to enjoy this amazing city with your car rental form Centauro Rent a Car. Hire your car at Barcelona El Prat Airport and drive into the city just 15kms away.